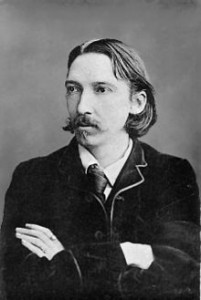 (1850 - 1894)
Robert Louis Balfour Stevenson was born on November 13th 1850 in Edinburgh in Scotland. Lighthouse design was his father's and his family's profession, and so at the age 17, he enrolled at Edinburgh University to study engineering, with the goal of following his father in the family business. Lighthouse design never appealed to Stevenson, though, and he began studying law instead. His spirit of adventure truly began to appear at this stage, and during his summer vacations he traveled to France to be around young artists, both writers and painters. He emerged from law school in 1875, but did not practice, as, by this point, despite his lengthy education at Edinburgh, he dreamed of becoming a writer. Soon he told his father that he would not be following in his footsteps to become an engineer. At the age of twenty-six he began to write for magazines and soon he was publishing his own books and articles. His first famous novel (Treasure Island) didn't come until 1883 after he had married Fanny Osborne. He met Fanny in September 1876. She was a 36-year-old American who was married (although separated) and had two children. Stevenson and Osbourne began to see each other romantically while she remained in France. In 1878, she divorced her husband, and Stevenson set out to meet her in California. The two married in 1880, and remained together until Stevenson's death.Eventually they moved to America for a time, before continuing on to Samoa. In Samoa he criticized Western domination of the islands and sided with the native Polynesians. The Strange Case of Dr. Jekyll and Mr. Hyde was published in 1886 in attempts to raise money to support the family. Stevenson dreamt the plot and soon feverishly jotted his memories down on paper, finishing the short novel in three days. The 1880s were notable for both Stevenson's declining health (which had never been good) and his prodigious literary output. He suffered from hemorrhaging lungs (likely caused by undiagnosed tuberculosis), and writing was one of the few activities he could do while confined to bed. In June 1888, Stevenson and his family set sail from San Francisco, California, to travel the islands of the Pacific Ocean, stopping for stays at the Hawaiian Islands, where he became good friends with King Kalākaua. In 1889, they arrived in the Samoan islands, where they decided to build a house and settle. Throughout his life he had suffered from a strange lung condition hampered by the cold, wet climates in which he lived. Robert Louis Stevenson died of a stroke on December 3rd, 1894, at his home in Vailima, Samoa. He was buried at the top of Mount Vaea, overlooking the sea.
My selection:
The Strange Case of Dr Jeckyll and Mr Hyde : (L'étrange cas / affaire du Dr Jeckyll et de M. Hyde) 1886
Dr Jeckyll, a physician conscious of the duality, the mixed good and evil, in his own nature, discovers a drug by means of which he can create for himself a separate personality, repulsive in appearance, he assumes from time to time and calls Mr hyde, and in it he gives rein to his evil impulse. Soon he commits a horrible murder. Jekyll finds himself involuntarily transformed into Hyde, while the drug loses its efficacy in restoring his original form and character. On the point of discovery and arrest he takes his own life.
Treasure Island : (L'île au trésor) 1883
It's a pirate adventure, but it's also a superb travel story about life in sea ports and on board ships in the 18th century. Stevenson was an excellent storyteller and a great traveller.
The Wrecker : (Le Trafiquant D'épaves) 1892
The story is a "sprawling, episodic adventure story, a comedy of brash manners and something of a detective mystery". It was written in collaboration with his stepson Lloyd Osbourne.It revolves around the abandoned wreck of the Flying Scud at Midway Island. Clues in a stamp collection are used to track down the missing crew and solve the mystery. It is only in the last chapter that different story elements become linked. Stevenson described it as a "South Sea yarn" concerning "a very strange and defective plan that was accepted with open eyes for what seemed countervailing opportunities offered". The different, loosely connected stories reflected how Robert Louis Stevenson and Lloyd Osbourne wrote the book. Each contributed different sections, but agreed to develop characters and descriptions of places they both knew well.