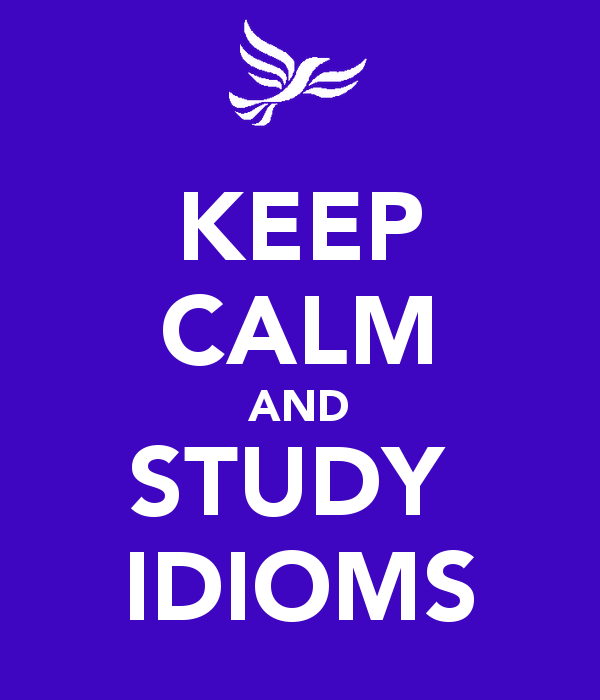 As you know, every language has its own collection of wise sayings. They offer advice about how to live and also transfer some underlying ideas, principles and values of a given culture / society. These sayings are called « idioms » – or proverbs if they are longer. These combinations of words have (rarely complete sentences) a « figurative meaning »and they basically work with « pictures ». A good List of commonly used idioms and sayings (in everyday conversational English), can help to speak English fluently by learning English idiomatic expressions.
This is the list we studied in 2012 – 2013.
1. TO HAVE AN AXE TO GRIND.
If you have an axe to grind with someone or about something, you have a grievance, and you want to get revenge or sort it out. Be careful in American English, it is spelt 'ax'. Also to have a dispute, resentment, or grudge.
Example: He seems like a nice man and I've got no axe to grind with him.
2. TO LOSE YOUR MARBLES.
If you lose your marbles it means that you go crazy, mad, insane. In other words to lose one's mind.
Example: Our teacher has really lost his marbles; he has assigned us seven essays this week!
3. TO BE A COLD FISH.
It basically means that a person lacks emotion and warmth of personality. An individual who is described this way usually gives the impression of being dull, disinterested, and in some cases, rather rude. Sometimes this phrase is even used to describe a person who lacks a healthy sex drive. So it is a person who is distant and unfeeling. (Typically we use to act like a cold fish; or to be a cold fish)
Example: John is so dull - a real cold fish, he hardly ever speaks to anyone.
4. TO BE A GOOD EGG!
It is used to describe a person with good qualities such as kindness. This expression means "a nice person" and it's used informally. A bad egg is the opposite.
Example: Sue's such a good egg - she visited me every day while I was ill.
5. TRYING TO FIT A SQUARE PEG INTO A ROUND HOLE.
To fit a square peg into a round hole means trying to combine two things that do not belong or fit together.
Example: Trying to teach me maths is like trying to fit a square peg into a round hole. I'm convinced my brain is not built right to understand algebra.
6. THAT TAKES THE BISCUIT!
It is used to express surprise at the extreme example of something. If something takes the biscuit, it is the absolute limit.
Example: Now, she's been opening my letters - that really takes the biscuit!
7. YOUR GUESS IS AS GOOD AS MINE.
It means I don't know! When you respond to someone's question by saying "your guess is as good as mine" you are letting them know that you can not speak with certainty about something. It is something that you say when you do not know the answer to a question.
Example: "Excuse me, what time does the bus arrive?" "Your guess is as good as mine, I almost never take the bus."
8. TO HAVE A FROG IN YOUR THROAT.
It means to be unable to speak clearly until you give a slight cough. You can't speak properly or you are losing your voice because you have a problem with your throat. To speak in a husky voice.
Example: I'm so sorry, I've a frog in my throat. It's this cold, I've had it for two weeks now.
9. TO HAVE A FINGER IN EVERY PIE!
It means to be involved in many things, to have a lot of influence and power.To have influence over many different activities, often in a way that other people do not approve of. It can often be used as a criticism.
Example : You can't make a decision on any kind of funding without consulting him - he has a finger in every pie.
Here is just a quick quote from Shakespeare from his play Henry VIII. In the play it's used as a criticism of someone who gets involved in everything when he shouldn't:
No man's pie is freedFrom his ambitious finger.
10. TO HAVE DEEP POCKETS.
To put it simply, when someone has deep pockets they have a great deal of money or resources. When referring to a company, the phrase "deep pockets" once again refers to wealth or assets.
Example: People think the government has very deep pockets, but in fact its broke and its borrowing from banks and other countries.
11. TO MEET YOUR WATERLOO.
As we all know, there was a battle in Waterloo, in present-day Belgium on June 18th, 1815, which Napoleon lost. The battle was on the 18th June 1815, and British and Allied forces under Wellington, almost exactly matched against the attacking French, withstood Napoleon's attacks all day, until Prince Bluecher of Prussia arrived in the evening. The Prussians had thrown off another pursuing French army, and the combined weight of the British, Allied and Prussian forces crushed Napoleon's main army by the end of the day. If someone has "met their Waterloo", it means they have been defeated or met their death. If someone who has been successful in the past meets their Waterloo, they are defeated by someone who is too strong for them or by a problem which is too difficult for them.
Example: She finally met her Waterloo when she tried to take on the club champion.
12. DOUBLE DUTCH.
If something is double Dutch, it is completely incomprehensible. Nonsense; gibberish - a language one cannot understand.
Example: This book on English grammar is written in double Dutch. I can't understand a word.
By the way, Double-Dutch is also the name of a children's skipping game, in which two ropes are used. This is referred to in Alice Gomme's The Traditional Games of England, Scotland, and Ireland, 1894. The game is still played, both on the street and at tournament level, most commonly in the USA, where skipping has the more descriptive name of 'jumping-rope'.
13. A FEATHER IN YOUR CAP.
It is used to speak about a great achievement or special honour; an accomplishment to be proud of. Something very good that someone has done.
Origin: It was once a common practice to award a feather to a soldier who had killed an enemy. These feathers were worn on the helmet, or other headgear and were considered symbols of social status much as modern soldiers receive and display medals.
Example: That contract will be a feather in his cap!
14. TO FACE THE MUSIC.
If you have to face the music, you have to accept the negative consequences of something you have done wrong.
Example: The robber was returned to the US from Spain to face the music for his part in a robbery more than 20 years ago.
15. TO BE FULL OF BEANS.
If someone's full of beans, they are very energetic. To have a lot of energy and enthusiasm. Very lively.
Example: I've never met anyone so full of beans before breakfast.