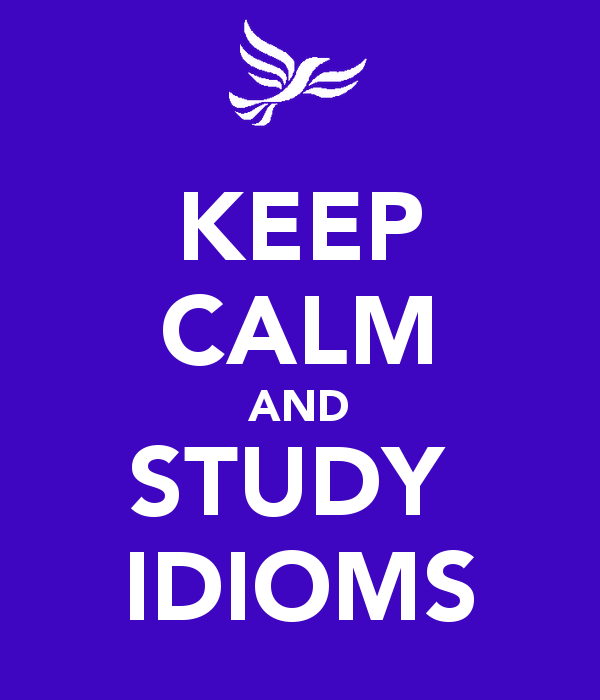 As you know, every language has its own collection of wise sayings. They offer advice about how to live and also transfer some underlying ideas, principles and values of a given culture / society. These sayings are called « idioms » or proverbs if they are longer. These combinations of words have (rarely complete sentences) a « figurative » meaning and they basically work with « pictures ». A good List of commonly used idioms and sayings (in everyday conversational English), can help to speak English fluently by learning English idiomatic expressions.
This is the list we studied in 2018 - 2019.
1. CURIOSITY KILLED THE CAT.
We use that idiom when being inquisitive can lead you into an unpleasant situation. Much curiosity can lead to dangerous situatins or get you into trouble. It is true that a prying behaviour can be harmful. This idiom is often used to warn someone not to ask too many questions about something. Cats are curious animals that like to investigate, but their curiosity can take them to places where they might get hurt. Children especially, like cats, are curious and like to test to find out what is dangerous.
Example : 'Are you two thinking of getting married by any chance?' 'Now, now. Curiosity killed the cat.
2. TO LET THE DUST SETTLE.
It means to allow a situation to become calm or normal again after something exciting or unusual has happened. To wait for a situation to become clear or certain. If you let the dust settle, or wait till the dust settles, you wait until things have become calmer or have returned to normality after conflict or a problem.
Example: I'll call you as soon as the dust settles from the move.
3. TO TAKE A RAINCHECK.
It is used to tell someone that you can't accept an invitation now, but would like to do so at a later time. If you tell someone you will take a rain check, you are saying that you will not accept their offer now but that you might accept it at a different time.
Example: I'm sorry but I'm just too exhausted to go out tonight. Could I take a rain check?
4. TO JUMP THE GUN.
It means to do something too soon, especially without thinking carefully about it. You jump the gun when you do something before everyone else or before the proper or right time. You act with haste, you are over-hasty, you act too soon or prematurely.
Example: They've only just met ! Isn't it jumping the gun to be talking about marriage already?
5. TO BE A LOOSE CANNON.
It is used for a person or thing that appears to be beyond control and is potentially a source of damage. Someone who has the propensity to act unpredictably or to lose their temper very quickly. If you call someone a loose cannon, you mean that their behaviour is unpredictable and could cause problems. The phrase refers to cannons carried by wooden warships in the 17th to 19th century as their primary weapons. If one of the cannons was not properly fastened down, it could spin round and make a hole in the ship or even worse than that. A cannon that was not thus restrained was called a loose cannon and was considered dangerous.
Example: They did not share any secrets with him since he was seen as being something of a loose cannon.
6. TO HAVE YOUR DAY IN THE SUN.
It is used when a person or thing receives deserved attention, praise, accolades or success. When you have your day in the sun, it means you get the attention you want and are appreciated.
Example: Kate has worked so very hard and produced so much for the company with very little recognition. She really deserves her day in the sun.
7. TO CUT THE MUSTARD.
It means to succeed; to come up to expectations. To be competent enough or to be adequate enough to participate or compete. To cut the mustard is to be up to the standard.
Example: This brand new chair has really cut the mustard, as it is much more comfortable than my old one. Here is another example: My best friend had applied for the post of architect in a big project, but did not cut the mustard.
8. THE PENNY DROPS.
If the penny drops, you suddenly understand something. You all of a sudden understand the meaning or significance of something.
Example: She never understands jokes. It usually takes about half an hour for the penny to drop.
9. DON'T GIVE UP YOUR DAY JOB.
This idiom is used in a humorous way to tell someone you do not think they are very good at something. Although this expression is supposed to be funny, when you say it to a person, don't expect them to laugh. You are not very good at something. You could definitely not do it professionally.
Origin : To understand the origin of "don't give up your day job" we have to understand the term day job. Of course, most of us have jobs that are carried out during the day, so why the term day job? A Day Job refers to a job that someone does to make money so they can do something else that they love to do but which they do not make much money doing. For example, many aspiring actors have 'day jobs.' Now, we can understand the origin of the idiom, as when someone is doing something, such as singing, acting, writing, or anything they love doing but are not being paid for, and they are not very good at it. This phrase is not usually used when someone actually wishes to become a professional at something other than their day job, as the idiom is meant to be humorous and to dash someone's dreams is not considered very funny.
Example: You want to try writing a novel? I've read your drafts and I advise you not to give up your day job.
10. THE FLAVOUR OF THE MONTH.
If someone or something is flavour of the month, they are very popular at the moment. This expression is often used to suggest that the popularity of someone or something is unlikely to last long. The origin is from the USA, in the past, ice cream companies in the USA would choose a particular flavour each month to advertise in their stores.
Example: If I were you, I'd keep quiet at the staff meeting. You're not exactly flavour of the month with the boss at the moment.
11. EVERY CLOUD HAS A SILVER LINING.
It means be optimistic because even difficult times will lead to better days. You should never feel hopeless because difficult times always lead to better days. Difficult times are like dark clouds that pass overhead and block the sun. When we look more closely at the edges of every cloud we can see the sun shining there like a silver lining. Looking at the positive side of things even when difficult times are present.
Example: I know you're disappointed that it's raining outside and so we can't go on that picnic we had planned. But every cloud has a silver lining, now we can do something fun indoors, like play a board game with everyone.
12. ELVIS HAS LEFT THE BUILDING.
It is said when an event or performance has come to an end, or when someone or something has left a place, especially in a dramatic fashion. The phrase refers to an announcement famously made at the end of Elvis Presley concerts alerting people that he vacated the premises and no further encores would be played.
Example: I came here, to take photos of the tornado from near, but it turned away before reaching to us. Elvis has left the building.
13. A CHIP OF THE OLD BLOCK.
You use it for someone whose character or personality resembles that of their parent. If you describe someone as a chip off the old block, you mean that they are just like one of their parents in appearance, character or behaviour.
Example: Mike's car repair skills really rival those of his father. He's a real chip off the old block!
14. TO MIND YOUR Ps AND Qs.
It means to make an effort to be especially polite in a particular situation. Be on your best behaviour; be careful of your language. Ps and Qs are just the plurals of the letters P and Q. The origin is quite controversial but some people argued that, closely fitting the "mind your manners" sense, it might just have been an abbreviation of mind your pleases and thank-yous, a view advanced in particular by some dictionaries.
Example: You'd better mind your Ps and Qs when you meet Julia's parents.
15. BIRDS OF A FEATHER FLOCK TOGETHER.
It is said about people who have similar characters or interests, especially ones of which you disapprove, and who often spend time with each other. Similar people tend to associate with each other.
Example: I always thought Marjory was pretentious, and now she's going out with that snobbish boy, Andrew. Birds of a feather flock together.