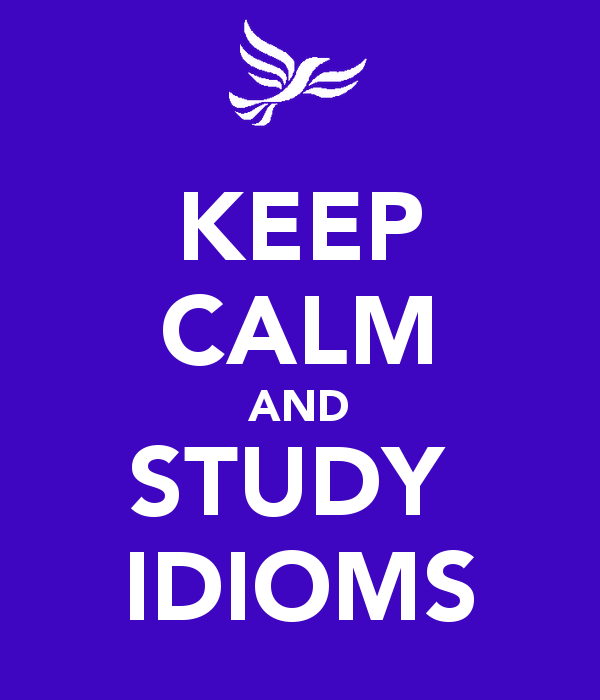 As you know, every language has its own collection of wise sayings. They offer advice about how to live and also transfer some underlying ideas, principles and values of a given culture / society. These sayings are called « idioms » or proverbs if they are longer. These combinations of words have (rarely complete sentences) a « figurative meaning and they basically work with « pictures ». A good List of commonly used idioms and sayings (in everyday conversational English), can help to speak English fluently by learning English idiomatic expressions.
This is the list we studied in 2016 - 2017.
1. TO THINK OUTSIDE THE BOX
It means to think imaginatively using new ideas instead of traditional or expected ideas. This idiom comes from the fact that a box, with its rigidity and squareness, symbolises constrained and unimaginative thinking.
Example:
These people at Apple are incredibly creative - they really know how to think out of the box.
2. OUT OF THE BLUE
If something happens out of the blue, it happens suddenly and you are not expecting it. It means at a completely unexpected time. You can use it when you are surprised by something that was not expected to happen. The meaning of the word "blue" is revealed by a longer (but much less common) version of the idiom: out of a clear blue sky. "The blue" refers to the blueness of the sky.
Example :
Then one day, completely out of the blue, I had a letter from her.
3. A KNEE-JERK REACTION
It is used for an automatic or reflex reaction; an immediate reaction made without examining causes or facts. It comes from the tendency of the knee to jerk involuntarily when hit sharply, properly called the patellar reflex. Some doctors will test your reflexes that way. So we can say that someone has a knee-jerk reaction when they act after an event without thinking carefully. Usually about an opinion or a statement.
Example :
He decided to leave his wife after he saw her having a drink with another man but it was a knee-jerk reaction. He will be back.
If someone tells you to hold your horses, you are doing something too fast and they would like you to slow down. It means wait a minute or hold on a minute! Don't go too fast! To relax and try to be patient! This idiom originates in the United States of America in the 19th century and is historically related to horse riding, or driving a horse-drawn vehicle. When a horse gets nervous or excited or is in a hurry to leave, you have to hold on to its reins.
Example:
Now, please hold your horses and let me explain.
5.
TO BE DOWN IN THE MOUTH
It means to be acting in a depressed way. To be sad. If someone is down in the mouth, they look unhappy.
Example:
I'm sorry I've been so down in the mouth lately. I'm just upset because my girlfriend left me.
If you show something warts and all, you show it exactly as it is without trying to hide any of its faults or weaknesses, .including all faults or other unpleasant facts. Etymology: It comes from the fact that warts (small, hard lumps that grow on the skin) are thought of as being ugly.
Example :
Rather unwisely, they decided to buy the house, warts and all.
If a plan or a project is on the back burner, it isn't being worked on at present, but it might be completed in the future. Out of the way; aside and out of consideration. The origin is probably metaphorical, from cooking and the fact that most stoves have front and back burners. Front burners are used for things that need attention now, while back burners are for things that don't need much attention just now.
Example:
Plans for the new factory have been put on the back burner until the economy improves.
8.
TO SAVE SOMETHING FOR A RAINY DAY
It means to keep something, especially money, for a time in the future when it might be needed. To provide contingency funds for when times are tough. There's no clear answer to when this expression began (some have traced it back to the 16th century), but it is clear that a "rainy day" is the symbol of gloom. Sometimes used with verbs other than save. (Keep, Hold something back, Put something aside...)
Example :
I have always tried to save a couple of thousand pounds for a rainy day.
If someone's up-and-coming, they show signs of being successful in their profession. To be likely to succeed; bright and industrious. To be about to become important, and well known.
Example :
For me Russell Tovey is an up–and–coming young British actor.
It means to do something before a deadline. To finish before the time is up. (It alludes to accomplishing something before a clock reaches a specific time.)
Example:
They managed to beat the clock and arrive a few minutes before the film started
It means to do the same things all the time so that you become bored, or to be in a situation where it is impossible to make progress. To be in a boring, repetitive, unchanging habit pattern of life with little change in the future.
Example:
Samantha felt that she was stuck in a rut, so she decided to go back to University to study English literature.
12.
TO DOT YOUR I'S AND CROSS YOUR T'S
When writing, many people complete a word before returning to dot the 'i's and cross the 't's. Someone in a rush might neglect to complete the task. The phrase has been extended to any job, not just writing. So it means to do something very carefully and in a lot of detail. To deal with all the details when you are finishing something. To be meticulous and precise or to take care of every detail, even minor ones.
Example:
Before you turn in your homework, make certain you dot your i's and cross your t's. Our teacher doesn't like misspelling and errors.
If something is a mug's game, it's something only a stupid person would do. (A mug is slang for a fool). It comes from the Scandinavian word mugg/mugge (drinking cup). In earlier times drinking cups were adorned with grotesque faces, which resulted in the various senses of the word, nouns (face, dupe, thug) and verbs (to assault, to make faces, to photograph). It is an activity that will not make you happy or successful or an activity in which it is foolish to engage because it is likely to be unsuccessful or dangerous. A mug is a person who is easily deceived.
Example:
I used to be a heavy gambler, but not any more. It's only a mug's game.
14.
TO BE LIKE A DOG WITH TWO TAILS
It means to look and be very happy. To be very excited. It is used to emphasize how delighted someone is.
Example:
John's been like a dog with two tails ever since she got his promotion.
We use this idiom to talk about an important, successful, or influential person.The boss, the key figure, the leader.The phrase seems to have come from, literally, a very large wheel of cheese. After President Jefferson was given one of Cheshire in 1802, other dairies made and displayed huge wheels for publicity purposes. The cheeses attracted lots of attention, and so it wasn't much of a jump to referring to someone who attracted attention as a "big cheese." Although some have suggested that "cheese" came from the Hindu word "chiz," for "thing" that the British heard as "cheese," no paper trail exists to show that Americans started using the phrase though any transatlantic connection. Similar "big" phrases are more common, such as big deal and big wheel.
Example:
He thinks he's a big cheese just because he's got a business card.