EMILY DICKINSON (1830 - 1886) was an American lyrical poet,and an obsessively private writer.
Only seven of her some 1800 poems were published during her lifetime.
Dickinson withdrew from social contact at the age of 23 and devoted herself in secret into writing.
Unrecognized in her own time, Dickinson is known posthumously for her unusual use of form and syntax.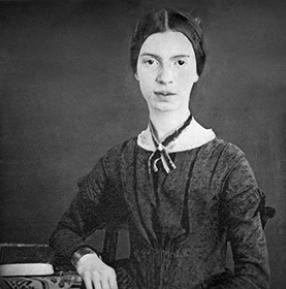 A LIGHT EXISTS IN SPRING
A light exists in spring
Not present on the year
At any other period.
When March is scarcely here
A color stands abroad
On solitary hills
That science cannot overtake,
But human nature feels.
It waits upon the lawn;
It shows the furthest tree
Upon the furthest slope we know;
It almost speaks to me.
Then, as horizons step,
Or noons report away,
Without the formula of sound,
It passes, and we stay:
A quality of loss
Affecting our content,
As trade had suddenly encroached
Upon a sacrament.
I NEVER LOST AS MUCH
I never lost as much but twice,
And that was in the sod.
Twice have I stood a beggar
Before the door of God!
Angels, twice descending,
Reimbursed my store.
Burglar, banker, father,
I am poor once more!
WHAT IF I SAY
What if I say I shall not wait?
What if I burst the fleshly gate
And pass, escaped, to thee?
What if I file this mortal off,
See where it hurt me, - that's enough, -
And wade in liberty?
They cannot take me any more, -
Dungeons may call, and guns implore;
Unmeaning,now, to me
As laughter was an hour ago,
Or laces, or a traveling show,
Or who died yesterday!