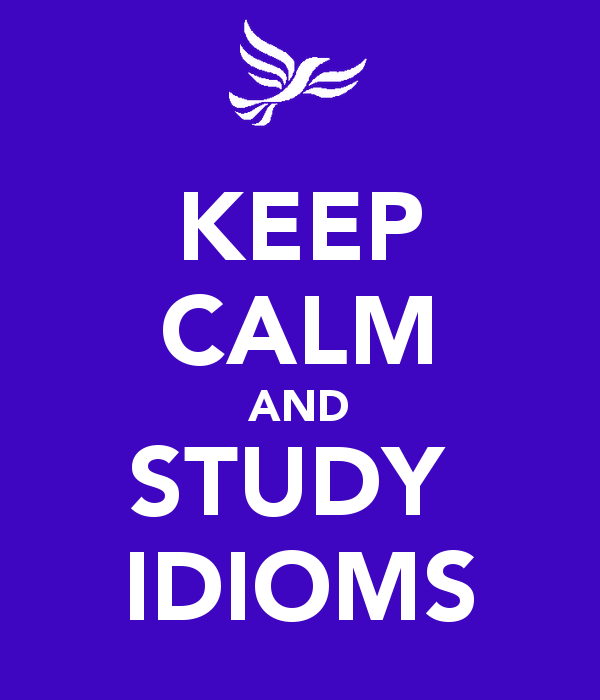 As you know, every language has its own collection of wise sayings. They offer advice about how to live and also transfer some underlying ideas, principles and values of a given culture / society. These sayings are called « idioms » or proverbs if they are longer. These combinations of words have (rarely complete sentences) a « figurative meaning » and they basically work with « pictures ». A good List of commonly used idioms and sayings (in everyday conversational English), can help to speak English fluently by learning English idiomatic expressions.
This is the list we studied in 2017 - 2018.
1. TO TAKE POT LUCK
It means to accept or choose from whatever is available, without knowing whether it will be good or not. To come to eat whatever happens to be served; also, take one's chances. This idiom alludes to accepting whatever happens to be in the cooking pot. [Second half of 1700s ]
Example : I've never heard of any of these restaurants. We'll have to take pot luck.
2.THE FINAL / LAST STRAW.
It means the last in a series of negative actions or events that makes the situation no longer tolerable. The final additional small burden that makes the entirety of one's difficulties unbearable.
The full version of this metaphorical phrase is 'the last/final straw which breaks the camel's back'.The last straw is the final problem that makes someone lose their temper or the problem that finally brought about the collapse of something. It comes from an Arabic story, where a camel was loaded with straw until a single straw placed on the rest of the load broke its back.
Example: She has been unhappy with him for a long time but when he crashed her car and blamed her, it was the final/last straw.
3.TO BE HOME AND DRY
It means to have successfully completed something, as a project or activity. I know it is mainly British but it is fairly common.In American English it is more likely to be home free. If you are home and dry, you have achieved victory or success, or are certain that you will achieve it. Being within sight of achieving one's objective.
Example: I'm pretty sure I did well on that last exam, so it looks like I'm home and dry for the semester.
4.TO GET YOUR WIRES CROSSED
When people get their wires crossed, they have a different understanding of the same situation. They get confused, mixed up or make a mistake. It is an allusion to telephone lines being wrongly connected and thus disrupting calls.
Example: Somehow we got our wires crossed because I had written the 23rd in my diary and John had the 16th.
5.TO BLOW YOUR OWN TRUMPET
It means to boast or brag about one's own abilities, skills, success, achievements, etc. If you blow your own trumpet, you tell people good things about yourself.
Example: I don't like to blow my own trumpet, but the office was much better run when I was in charge.
6.TO HIT THE ROAD
It means to begin a journey, to leave, to depart.
Example: We'd love to stay longer but we'd better hit the road before traffic gets worse.
7.YOU CAN'T JUDGE A BOOK BY ITS COVER
It is said to show that you can't know what something or someone is like by looking only at that person or thing's appearance. Don't base your opinion of something (or someone) on the way it (or one) looks.
Example: When we arrived we found that the hotel we had booked looked awful, but as they say, you should never judge a book by its cover.
8.A FAIR-WEATHER FRIEND
It is used for someone who remains a friend only when things are going well but abandons others during times of trouble or difficulty. Someone who cannot be relied on in a time of crisis. Somebody who is only a friend when it is pleasant for them, and stops being a friend when you are in trouble
Example: I had thought Simon would stand by me when I was in trouble at work, but it turned out he was only a fair-weather friend.
9.TO BE GLAD TO SEE THE BACK OF SOMEBODY OR SOMETHING
It means to be glad to see someone leave (usually because the speaker dislikes the person), to be happy when a person leaves or when an unpleasant situation is ended. To be glad to get rid of someone; to be glad someone has left.
Example: After his mother-in-law stayed for two weeks, he was glad to see the back of her.
10.AT THE ELEVENTH HOUR
It means at the last possible moment, almost too late. Just before the last clock hour, 12.
Example: We are a bit late, because we only received all the signatures at the eleventh hour.
11.HALF-BAKED
If something is half-baked, it hasn't been properly thought out or planned. Probably metaphorical, from the fact that if something is being cooked in an oven, or baked, it'll be half-baked if it's taken out of the oven too soon, and it won't be worth eating. we also use it for someone who is not very intelligent, foolish or stupid. Someone who is lacking in judgment, intelligence, or common sense.
Example: The government has come up with a half-baked scheme for training teachers on the job.
12.WAKE UP AND SMELL THE COFFEE
If you say that someone should wake up and smell the coffee, you mean they must start to be more realistic and aware of what is happening around them. It is used to tell someone that they are wrong about a particular situation and must realize what is really happening. To become aware of the realities of a situation, however unpleasant. It is like saying, come on! Face reality!
Example: My girlfriend wants me to buy her some diamond earrings, but I've got no money, she really needs to wake up and smell the coffee!
13.IT TAKES TWO TO TANGO
It takes two to tango is a common idiomatic expression which suggests something in which more than one person or other entity are paired in an inextricably-related and active manner, occasionally with negative connotations. If you say it takes two or it takes two to tango, you mean that a situation or argument involves two people and they are both therefore responsible for it.
The tango is a dance which requires two partners moving in relation to each other, sometimes in tandem, sometimes in opposition. The meaning of this expression has been extended to include any situation in which the two partners are by definition understood to be essential—as in, a marriage with only one partner ceases to be a marriage.
Example: Your son blames mine for their fight at school, but it generally takes two to tango.
14.TO BE ON THE BALL
It means to be knowledgeable and competent. To understands the situation well or to be quick to understand and react to a situation. To be on the ball describes someone who is efficient, someone who is talented, someone who is effective and can get things done.
This phrase originated in sports, specifically in ball games where the players were asked to keep their "eyes on the ball". The current usage of the phrase began in the 1900s.
Example: I'm so glad that my assistant is always on the ball because I'm too scatterbrained to manage my schedule on my own.
15.DON'T PUSH MY BUTTONS
It can be said to someone who is starting to annoy you. It means to do things that create a very strong emotional reaction in one, especially anger, irritation, or exasperation.
If someone "knows how to push your buttons", it means they have found out specific things that annoy or upset you.
Example : My boss knows how to push my buttons. He keeps telling me I am late, which is not true.
This idiom is also occasionally used in a positive way to indicate that someone knows exactly the right thing to do to get people to act the way they want. Also sometimes, to be sexually attractive or arousing to someone.
Example: He was an extremely good speaker and knew just how to push an audience's buttons to keep them interested.