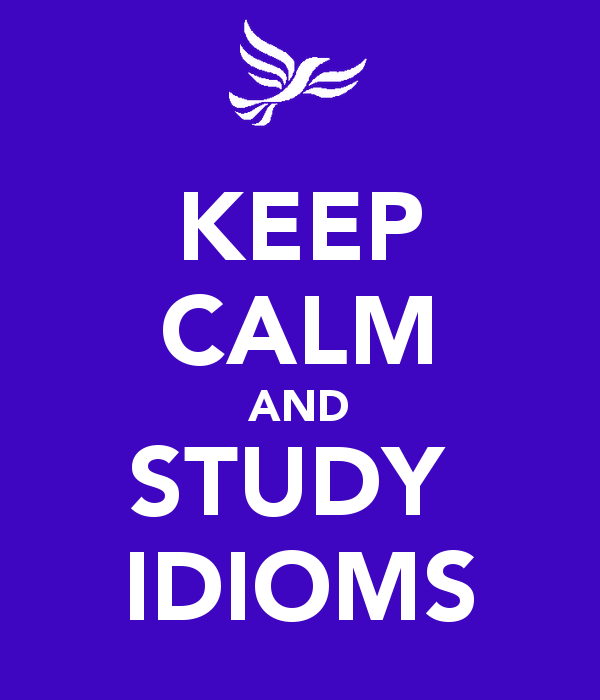 As you know, every language has its own collection of wise sayings. They offer advice about how to live and also transfer some underlying ideas, principles and values of a given culture / society. These sayings are called « idioms » – or proverbs if they are longer. These combinations of words have (rarely complete sentences) a « figurative meaning »and they basically work with « pictures ». A good List of commonly used idioms and sayings (in everyday conversational English), can help to speak English fluently by learning English idiomatic expressions.
This is the list we studied in 2005 – 2006.
To say that a person, group or country is top dog means that they are better or more powerful than others. We use it the most important and powerful person in a group or for a person who has achieved a position of authority.
Example :
She's top dog in politics today.
2. A WET BLANKET
A person who is a wet blanket is so boring or unenthusiastic that they prevent other people from enjoying themselves. We use this idiom for a dull or depressing person who spoils other people's enjoyment. (In the way that a wet blanket is used to put out a fire.)
Example :
Come on! Don't be such a wet blanket!
3. TO TURN A BLIND EYE TO SOMETHING
If you turn a blind eye to something, you ignore it intentionally. It means to pretend not to notice what someone is doing; to choose to ignore something.
Example :
My boss knew what the problem was but he just turned a blind eye and kept on going through the business of the day.
If something rings a bell, it is vaguely familiar to you, but you can't remember the exact details. it reminds you of something you have heard before, though you may not be able to remember it very well. A name may ring a bell, so you know you have heard the name before, but cannot place it properly.
Example :
Peter Johnson? The name rings a bell but I don't remember him.
You use that phrase when something is very easy, effortless...
Example :
Bob :This jar is stuck. Could you open it for me? Jane: Sure. Duck soup.
It means that there is no limit to the possibility of success or progress for someone or something. No limit to what something or someone can achieve.
Example :
How successful do you think the project will be? Who knows... the sky's the limit!
7. TO BE ALIVE AND KICKING
It means to continue to live or exist and be full of energy. When something is active and doing well.
Example :
Theatres in London are alive and kicking.
8. AT THE DROP OF A HAT
To do something quickly and easily, without thinking about it. When a hat drops off your head, it falls quickly and suddenly, and that is how fast you would do it at the drop of a hat. Immediately; instantly; on the slightest signal or urging.
Example:
If you need help, just call on me. I can come at the drop of a hat.
We say "shake a leg" when we are waiting for someone and we want them to go faster. It means to get up and get going. If you shake a leg, you are out of bed and active. It can also be used to tell someone to hurry up.
Example:
Come on! They are waiting outside in the car; let's shake a leg!
You go cold turkey when you suddenly stop taking a drug which you had been taking regularly. Going cold turkey is when you stop taking some habit forming drug (such as smoking or drinking) by stopping completely, all at once. It can be uncomfortable ("cold") at first, even painful, for a person to go cold turkey. To suddenly and completely stop doing something, especially a bad habit.
Example:
My doctor gave me morphine for pain after the surgery, but he gave me less each day so I would not need to go cold turkey.
11. THE POT CALLING THE KETTLE BLACK
You are the pot calling the kettle black when you point to another person and accuse that person of doing something that you are guilty of doing yourself. The pot and the kettle are like old friends who have turned black with time; the pot only sees the blackness which is on the kettle; he doesn't see the black on himself.
Example:
Here comes the guy who is always late for work.
Aren't you the pot calling the kettle black? You are usually the last person to show up!
To refer to a person's activities as monkey business is to suggest that the activities are dishonest, unacceptable or illegal.
Example:
He should stop that monkey business and try to do the job the correct way.
It means to make relaxed and casual conversation.
Example :
No, we weren't talking about anything important. We were just shooting the breeze.
14.
YOU CAN'T JUDGE A BOOK BY ITS COVER
It means that before you can judge something, you need to take a deeper, closer look at it. The value of something is not always obvious from what we see on the surface, so we should save our judgments until we have more experience.
Example:
He dresses in plain clothes and drives an old car. Who would know he is the richest man in town? You can't judge a book by its cover.
15.
ONCE BITTEN, TWICE SHY
If somebody is said to be once bitten, twice shy, it means that someone who has been hurt or who has had something go wrong will be far more careful the next time.
Example :
I once sent in money for something I ordered on the Internet, but the merchandise was of such poor quality I was sorry I'd bought it. I'll never buy anything that way again; once bitten, twice shy.