Alan SILLITOE (1928–2010) was an English novelist, children's book writer, playwright and social critic, compared to D.H.Lawrence, who also came from Nottingham.
He introduced in the post-World War II British fiction realistically portrayed working-class heroes.
Best known for his novels, Sillitoe also published poetry, plays, and an autobiography, LIFE WITHOUT ARMOUR (1995).
For more on Alan Sillitoe, click HERE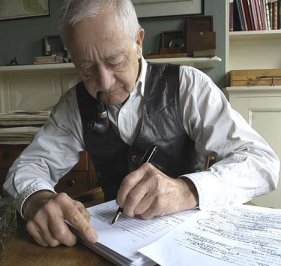 OUT OF MY THOUSAND VOICES
Out of my thousand voices
I speak with one
To the waves and flying saltfoam,
Flinging the dovetailed words
Of a single voice
At the knife-edged prow
Of the ship unbreakable
That carries her away.
I throw the one remaining voice
Of all my thousand out to sea
And watch it curving
Into the black-paunched water
Like a falling star,
A single word of love
That drops into the grave,
A thousand echoes falling from her ship.
WORK
Coming down first thing I see
The house in a lake of frost and mist,
Bare trees as in a battlefield
From which bodies have been moved.
By afternoon Life's all we've got,
No more over the horizon
Mottled flame on a sure bed of coal
Burns out in the parlour grate,
Me at the desk creating lives :
No strength to break my own.
SMALL AD
Fanatical non-smoking teetotal fruitarian,
Bearded, early fifties,
Good walker, plays chess –
But finding life dull,
Wants to meet big bosomed
Class-conscious
Fox-hunting
Country-type carnivore female
With view to conversation
Or conversion.