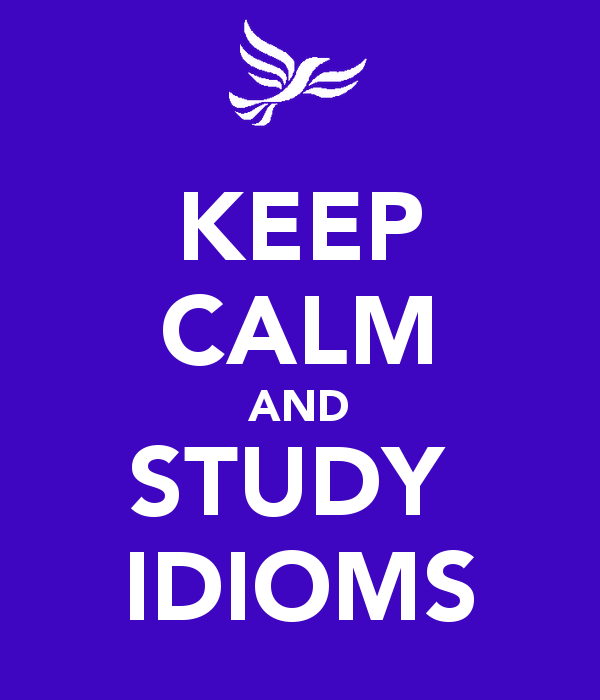 As you know, every language has its own collection of wise sayings. They offer advice about how to live and also transfer some underlying ideas, principles and values of a given culture / society. These sayings are called « idioms » or proverbs if they are longer. These combinations of words have (rarely complete sentences) a « figurative » meaning and they basically work with « pictures ». A good List of commonly used idioms and sayings (in everyday conversational English), can help to speak English fluently by learning English idiomatic expressions.
This is the list we studied in 2019 - 2020.
1. TO HIT THE NAIL ON THE HEAD.
It is a saying that simply means you have done or said something exactly right. You have matched someone's feelings/point. You are correct or accurate. You do exactly the right thing.
Example : You've hit the nail on the head. That's exactly what I want.
2. IT TAKES ONE TO KNOW ONE.
It is used for saying that someone must have a bad quality themselves if they can recognize it in other people. A childish retort used to suggest that the person who has accused someone of being some negative thing is in fact that thing (as if being that thing would help one to identify others of like kind). In other words, you are the same kind of person as the person you are criticizing.
Example: You say she's a terrible cook? You can't even fry an egg. It takes one to know one!
3. TO CUT A DASH.
It means to make a striking appearance or impression. To have an attractive, and elegant appearance. If someone cuts a dash, they impress other people with their stylish appearance.
Example: She cuts a dash with her designer clothes and expensive car.
4. TO BE HAIRY AT THE HEELS.
It means to be ill-bred or untrustworthy. Someone who is hairy at the heel is considered as dangerous. An unpredictable and unreliable person. It used to be said that it was a sign of poor breeding if a horse had too much hair about the fetlocks. The image of a hairy heel is indeed striking and funny. Agatha Christie used it several times in her books.
Example: I can't say I like Boris. I've once or twice had a row with him. He's a bit hairy at the heel.
5. GET YOUR SKATES ON.
It means to hurry up or to move faster. To make haste. If someone tells you to get your skates on, they are telling you to hurry up. The word skates in this idiom likely refers to roller skates or ice skates. Imagine someone moving quickly wearing a pair of skates.
Example: Our flight leaves in 15 minutes. Get your skates on or we'll miss it!
6. TO BE THE BEE'S KNEES.
It means to be exceptionally great, excellent, or high-quality. If something or someone is the bee's knees, they are extremely good. Some people believe that this expression refers to the way in which bees transfer pollen (= the powder that flowers make) from their bodies to pollen sacs on their back legs
Example: I loved this jacket when I bought it — I thought it was the bee's knees.
7. TO PAY THROUGH THE NOSE.
It means to pay an exorbitant amount of money (for something), especially more than is reasonable. To pay much more than a fair price. The origin of this term has been lost. Possibly it alludes to the Danish nose tax, imposed in Ireland in the 9th century, whereby delinquent taxpayers were punished by having their noses slit. [Second half of 1600s]
Example: If you drive into London, you have to pay through the nose for parking but also for the Congestion Charge.
8. TO GO ON A WILD GOOSE CHASE.
It means to do something pointless. If you are on a wild goose chase, you waste a lot of time searching for something that you have little chance of finding, because you have been given incorrect information. It is an absurd or hopeless pursuit, as of something unattainable.
Example: She ended up on a wild goose chase trying to find a rental house of her dream.
9. TO THROW A WOBBLY.
It means to lose your temper in a noisy, uncontrolled, and childish way, often about something unimportant. To become suddenly very agitated or angry. To suddenly become very upset or intensely angry and make a big display of it.
Example: John threw a wobbly at work after the boss criticized his report. Needless to say, he won't be welcome back in the office on Monday.
10. EASY DOES IT.
It means to relax; to do something gently, lightly or carefully. To slow down; to calm down. Don't lose your temper.
Example: Easy does it on the salt. I'm trying to cut down.
11. YOU CAN SAY THAT AGAIN.
You use this Idiom when you agree completely; it means what you said is especially true. You are correct. It is to express strong agreement with what someone has just said.
Example: Mary: ''It is hot today''.
Jane: ''You can say that again!''
12. A TASTE OF YOUR OWN MEDECINE.
A Taste of your own medicine is when you get treated the way you've been treating others.When someone is mistreated the same way he has mistreated other. The origin of this phrase can be found in one of Aesop's fables. It is about a swindler who sells fake medicine, claiming that it cures anything. When he himself falls ill, people give him his own medicine, which he knows will not cure him.
Example: I don't feel at all sorry that people are calling you names. You're getting a taste of your own medicine.
13. TO BE ALL FINGERS AND THUMBS.
It means to use your hands in an awkward or careless way, so that you drop or break things. To be clumsy with one's hands.
Example: Can you sew this button on for me? I'm all fingers and thumbs.
14. THROUGH THICK AND THIN.
If you support or stay with someone through thick and thin, you always support or stay with them, even if there are problems or difficulties. To support someone in good times and bad times, under all conditions, no matter how challenging or difficult.
The phrase dates back to the 1300s. It is believed that it relates to entering a dark forest, in some places the trees are thick and overgrown while in other places it is sparse and easy to navigate. During this time the majority of England was covered in wooded areas. It is derived from an old hunting expression "through thicket and thin wood." The thicket is a group of trees or bushes that grow close together.
Example: I will go on loving Jenny through thick and thin no matter what happens.
15. BETTER TO BE SAFE THAN SORRY.
It means it is better to expend the time or effort to be cautious with one's actions than to feel regret about one's carelessness later. Being careful may avoid disaster. It is good to be careful, even if it may not seem necessary, in order to avoid problems.
Example: We'd better fill the car up with petrol now. It's better to be safe than sorry.