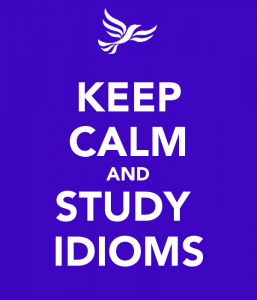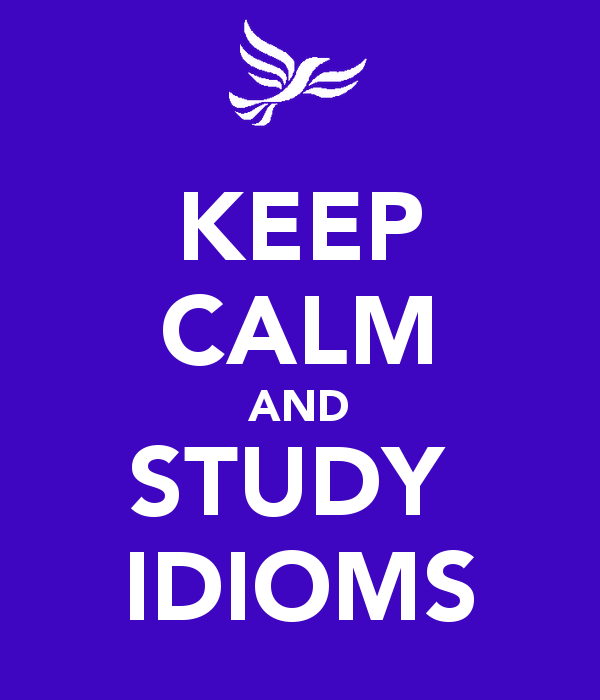 As you know, every language has its own collection of wise sayings. They offer advice about how to live and also transfer some underlying ideas, principles and values of a given culture / society. These sayings are called "idioms" - or proverbs if they are longer. These combinations of words have (rarely complete sentences) a "figurative meaning"and they basically work with "pictures". A good List of commonly used idioms and sayings (in everyday conversational English), can help to speak English fluently by learning English idiomatic expressions.
This is the list we studied in 2013 - 2014.
1 . TO HAVE EGG ON YOUR FACE
If someone has egg on their face, they are made to look foolish or embarrassed. You have egg on your face if you've said or done something wrong, and it's made you feel embarrassed or stupid.
Example: Peter had egg on his face after saying he could easily do fifty push-ups, and then giving up after doing just twenty.
2. TO BEAT A DEAD HORSE
It means to waste time doing something that has already been attempted. This is used when someone is trying to raise interest in an issue that no-one supports any more; beating a dead horse will not make it do any more work. This is used when someone is trying to raise interest in an issue that no-one supports anymore; beating a dead horse will not make it do any more work. This is used when someone is trying to raise interest in an issue that no-one supports anymore; beating a dead horse will not make it do any more work.
Example: Do you think it's worth sending my manuscript to other publishers or am I just beating a dead horse?
3. TO WIN HANDS DOWN
It means to win easily or without even making a big effort. The origin: Jockeys need to keep a tight rein in order to encourage their horse to run. Anyone who is so far ahead that he can afford to slacken off and still win he can drop his hands and loosen the reins - hence winning 'hands down'. This is recorded from the mid 19th century.
Example: She won the debate hands down.
4. CAN'T MAKE HEAD NOR TAIL OF SOMETHING
It means that you are not be able to understand something at all or make any sense of it.
Example: We couldn't make head nor tail of the film. I can't make head nor tail of these instructions on the packet.'
5. TO WEAR YOUR HEART ON YOUR SLEEVE
It means to make your feelings and emotions obvious rather than hiding them. If you wear your heart on your sleeve, you show your emotions openly and you don't try to hide your feelings.
Example: ''Some people love her and some people hate her, but my wife always lets you know how she feels. She wears her heart on her sleeve.''
6. NEVER SAY DIE !
It is something that you say which means that you should not accept that you have failed while there is still a chance that you may succeed. In other words never give up! You can say "Never say die!" if you want to tell someone to keep trying while there's still a chance of success.
Example: After falling off his surfboard for the fiftieth time, John climbed back on and said with a laugh, "Never say die!"
7. TO GIVE SOMEONE THE COLD SHOULDER
It means to behave towards someone in a way that is not at all friendly, sometimes for reasons that this person does not understand. Its is a form of body language what occurs when a person is ignoring you completely.
Example: What have I done to her ? She gave me the cold shoulder the whole evening at the party.
8. WATCH YOUR STEP
If you tell someone to watch their step, you are advising them to be careful how they behave in order to avoid danger. It means that you must be careful because your current actions will get you into trouble.
Example: He's always late for work. He'll have to watch his step if he wants to keep his job!
9. A NEST EGG
It is used to describe an amount of money that you have saved for the future. If you have a nest egg, you have money put away for the future.
Example: Regular investment of small amounts of money is an excellent way of building a nest egg.
10. TO BE AT A LOOSE END
It means to have nothing to do. You have spare time but don't know what to do with it.
Example: If you find yourself at a loose end, you could always clean your bedroom or read a good book.
11. TO HAVE A BALL
It means to have an exciting time or to enjoy yourself very much .
Example :'So how was your trip to Scotland?' 'It was wonderful - we had a ball!'
12. TO HAVE YOUR EAR TO THE GROUND
If you have your ear to the ground, you know what's really going on in a situation. You watch and listen carefully to what is happening around you. The origin is perhaps related to the fact that Native Americans put an ear to the ground and listen in order to find out if there are animals or other people moving in the distance.
Example : We've had our ear to the ground, but we haven't learned anything about the company's new plans.
13. TO BE QUAKING IN YOUR BOOTS
To be quaking in your boots means to be very frightened or anxious.
Example: My first teacher had one of those deep voices. Every time I heard him I can tell you I was quaking in my boots.
14. TO PULL A FACE
It means to show that you do not like something or someone by making an unpleasant expression.
Example: They pulled a face when they were not selected in the national football team.
15. KEEP YOUR SHIRT ON
It means to keep calm. It is said to tell someone to stop being so angry or upset. The origin of this idiom dates back to the old days, when men fought each other, they took off their shirts first. Why? Well, because they were more expensive than they are now. If you wanted someone to keep calm and not start a fight, you would ask him to keep his shirt on.
Example: Keep your shirt on! Your car isn't badly damaged!