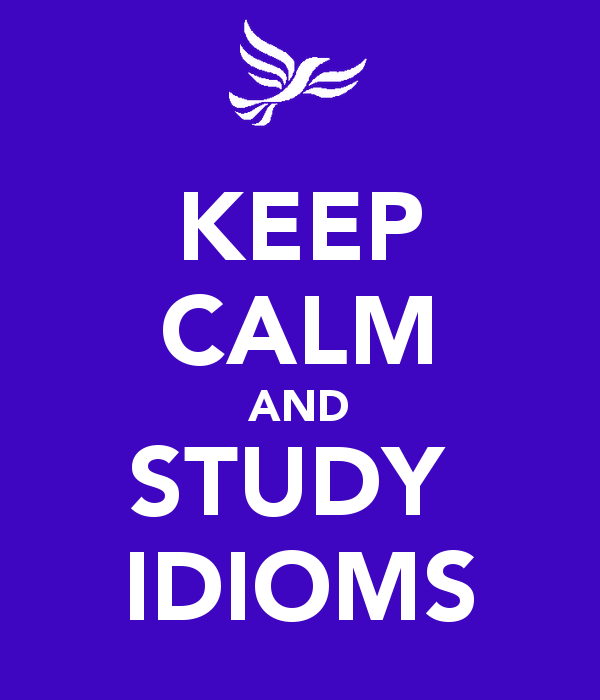 As you know, every language has its own collection of wise sayings. They offer advice about how to live and also transfer some underlying ideas, principles and values of a given culture / society. These sayings are called « idioms » – or proverbs if they are longer. These combinations of words have (rarely complete sentences) a « figurative meaning »and they basically work with « pictures ». A good List of commonly used idioms and sayings (in everyday conversational English), can help to speak English fluently by learning English idiomatic expressions.
This is the list we studied in 2006 – 2007.
1. TO HAVE AN ACE UP YOUR SLEEVE
If you have an ace up your sleeve, it means that you have something in reserve with which you can gain an advantage. To have a secret or hidden plan ready to implement if necessary.
Example : It sounds like a lot of people are auditioning for this movie. Fortunately, I have an ace up my sleeve. I knew the director when we were kids. His sister was my best friend.
2. BUTTER WOULDN'T MELT IN YOUR MOUTH
If you say that somebody looks as if butter wouldn't melt in their mouth, you are saying that they look completely innocent, but that they are capable of doing unpleasant things. The allusion in this expression is to people who maintain such a cool demean or that they don't even have the warmth to melt butter.
Example : By the time her parents came home, Nancy had cleaned up all evidence of having broken the valuable vase, and she looked as though butter wouldn't melt in her mouth.
3. IN THE DOGHOUSE
It means facing punishment for doing something wrong … A person who is "in the doghouse" [with someone] has likely done something to anger that person and will have to face some kind of punishment. You are "in the doghouse" when you have done something which has made someone angry.
Example : You kids will be in the doghouse with your mother after that mess you made in her garden!.
4. WITH FLYING COLOURS
It means to pass an examination with a very high score or to complete a difficult activity very successfully. The origin: "Passed with flying colours" comes from sailing ships that, when passing other ships at sea, would fly their colours (flags) if they wanted to be identified.
Example : She took her university entrance exam in December and passed with flying colours.
5. IN A JIFFY
If something happens in a jiffy, it happens very quickly. Very fast, very soon. Right away, immediately.
Example : Just wait a minute. I'll be there in a jiffy.
6. ON THE HOUSE
It means it is free of charge, you won't have to pay for it.
Example: We apologize you had to wait so long. Your dinner will be on the house. You won't be charged for it.
7. EVERYTHING BUT THE KITCHEN SINK
Everything but the kitchen sink is what you brought with you when you included almost everything you could think to bring. When we we are deciding what to bring with us, we try to take everything possible. But some things, like the kitchen sink, are just not convenient.
Example: Every time we go camping my wife packs everything but the kitchen sink.
8. TO BE AT WIT'S END
When you have been thinking about a problem, and you are not able to come up with a good answer, you are at wit's end. Your "wit" is your imagination and your creativity which help you to find solutions, but sometimes it seems like our wit is at an end, and will not give us the answer we need.
Example: I have to write a paper and I just can't come up with a topic. I'm at wit's end!
9. TO BE (LIKE) CHALK AND CHEESE
If two people are like chalk and cheese, they are completely different from each other. The earliest example — from 1393 — suggests that some shopkeeper was making an illicit profit by changing his products. The buyer was surely undiscerning; though some British cheeses are rather chalk-like in appearance, substituting more than a tiny proportion of cheese with chalk wouldn't fool anybody for very long. By the sixteenth century, the phrase had become a fixed expression. Hugh Latimer wrote rather sarcastically around 1555: "As though I could not discern cheese from chalk."
Example: I don't have anything in common with my brother. We're like chalk and cheese.
10. NITTY GRITTY
If people get down to the NITTY GRITTY, they concentrate on the most important and serious issues. The heart of the matter or the basic essentials.
Example : The nitty-gritty of an election is the vote itself - the numbers!
11. TOUCH AND GO
If something is touch-and-go, the outcome or result is uncertain. Extremely risky,
Example: Brian's life is out of danger now, but it was touch-and-go after the operation.
12. ONCE IN A BLUE MOON
Something that happens once in a blue moon is something that happens rarely or hardly ever.
Example : We only see our daughter once in a blue moon because she lives and works in New Zealand with her husband.
13. NOT ON YOUR LIFE!
It means: absolutely not! (a strong "no"). It is something that you say in order to tell someone with a lot of force that you will not do something.
Example: A: "Someone said you cheated on the test. Did you?"B: "Not on your life!"
14. TO LEARN THE ROPES
It means to understand how to do a particular job or activity. Sometimes used in the forms to know the ropes to understand how something is done and show someone the ropes or teach someone the ropes is to teach someone how something is done.
Example : It'll take some time for the new receptionist to learn the ropes.
15 . IT'S ALL GREEK TO ME
This is something that you say when you do not understand something that is written or said.
Example: I've tried reading the manual but it's all Greek to me.