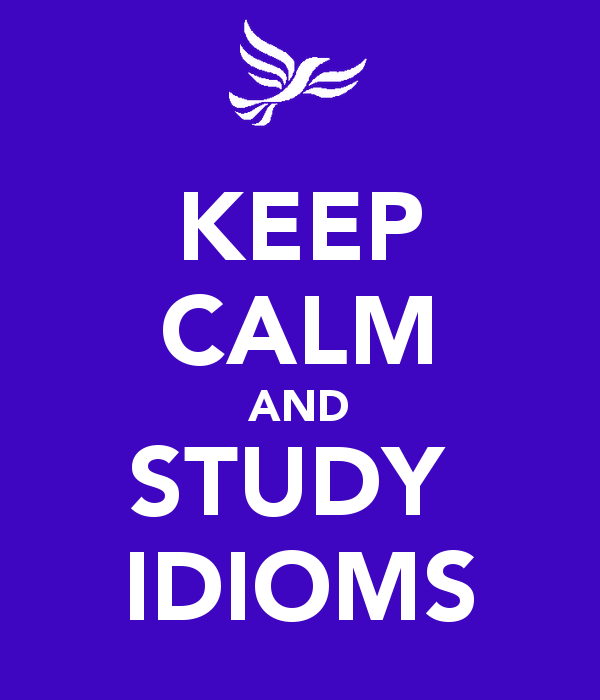 As you know, every language has its own collection of wise sayings. They offer advice about how to live and also transfer some underlying ideas, principles and values of a given culture / society. These sayings are called « idioms » – or proverbs if they are longer. These combinations of words have (rarely complete sentences) a « figurative meaning »and they basically work with « pictures ». A good List of commonly used idioms and sayings (in everyday conversational English), can help to speak English fluently by learning English idiomatic expressions.
This is the list we studied in 2011 – 2012.
1. TO BE WORKSHY.
It means not in action or at work, you're idle. When you're workshy you're not inclined to work at all. You don't like work. It is colloquial.
Example: He's not a good colleague because he's workshy, so other people have to do his share of the work.
2. TO BUTTER SOMEBODY UP.
It means to flatter someone or to treat someone especially nicely in hopes of receiving special favors. You use it when you're trying to persuade someone to do something for you.
Example: I tried to butter my boss up because I wanted to get a promotion.
3. TO BE BORN ON THE WRONG SIDE OF THE BLANKET.
A child born on the wrong side of the blanket is illegitimate- his or her parents were not married at the time of the birth.
Example: All his life, Edward felt that people looked down on him because he was born on the wrong side of the blanket.
4. TO BE ON PINS AND NEEDLES.
You are "on pins and needles" when you are very nervous about something happening, or even worried.
Example: At my office, we heard that someone was going to get fired, but we didn't know who it will be; so the whole office was on pins on needles all day.
5. TO BE A JACK OF ALL TRADES.
You use this phrase to speak about a person who can do several different jobs instead of specializing in one. A person who can do many different kinds of work.
Example: He was a real jack-of-all-trades, and could repair anything you can imagine.
6. TO BE IN YOUR BIRTHDAY SUIT.
It means to be in a state of total nakedness, as at birth. The state of being without clothing or covering of any kind. (from the fact that a person would not have any clothes on the minute they were born)
Example: Bobby got really drunk last night and ran around in the streets in his birthday suit!
7. TO BE TWO OF A KIND.
People who are two of a kind are similar in character, attitude or tastes. we can also use it for things of the same type.
Example: John and Garry are two of a kind. They enjoy football and they wouldn't miss a match. they also like gambling and betting.
8. TO BE AS MAD AS A MARCH HARE.
It means to be competely mad. Hares have long been thought to behave excitedly in March, which is their mating season. Lewis Carroll is among many who have used that in stories - Alice's Adventures in Wonderland:
"The March Hare ... as this is May, it won't be raving mad - at least not so mad as it was in March."
More recently this behaviour has been questioned and it is now thought that hares behave oddly - boxing, jumping etc. - throughout their breeding season, which extends over several months.
Example : This old woman was dancing in the road and singing very loudly - I thought she was as mad as a March hare.
9. EASY ON THE EYES.
First it is a compliment. This phrase is used to speak about someone or something good to look at. A very attractive person. When used towards a person, it can be applied to either a male or a female.
Example : Some of the celebrities in the glossy magazines could also be called easy on the eyes since they're all supposedly good-looking.
10. OFF YOUR OWN BAT.
If you do something off your own bat, you do it without being asked to or told to.
Example: I didn't tell the gardener to cut down the tree. He did it off his own bat.
Origin: Possibly related to the game of cricket, in which a player scores runs by hitting the ball "off his own bat". This idiom is typically used in British English but may be used in other varieties of English too.
11. TO BE IN THE PINK.
If you are in very good health, you are in the pink. You are in very good condition, both physically and emotionally.
Example: He recovered completely from his surgery and has been in the pink ever since.
12. BOLD AS BRASS.
It means with no shame or embarrassment, although someone else would feel shame or embarrassment.
Example: He walked up to me as bold as brass and asked if I had any spare change.
In 1770, a newspaper called the London Evening Post published the day's business in Parliament, which was in those days illegal. The editor of the newspaper was promptly arrested and thrown in gaol. The Lord Mayor of London, a man named Brass Crosby, went to the prison and released him, thereby going against the wishes of Parliament, which was obviously a reckless thing to do. He ended up being put into prison himself, but gained immortality with this idiom. If you do something with no shame or embarrassment, you are as bold (courageous) as Brass Crosby!
13. NO ROOM TO SWING A CAT.
To be a very small space, room, house etc.Origins of the expression: The cat originally was a cat-of-nine-tails, a type of whip used on sailors on old sailing ships. The cat-of-nine-tails has one handle which has nine thin strips of leather attached, each perhaps three foot long. The cat-of-nine-tails would be used to punish sailors. These whippings would take place on the deck of the ship, because below deck there was not enough ceiling height to swing a cat-of-nine-tails.
Example : "What's your new flat like ?""It is very tiny. Not enough room to swing a cat. And it costs them £500 a month in rent. It is terrible to have to live and work in London, believe me !"
14. TO PUT YOUR FOOT IN YOUR MOUTH.
It means that if you put your foot in your mouth, you say something stupid or embarrassing. You say or do the wrong thing and usually make matters worse.
Example: I really put my foot in my mouth when I asked him how his wife was. I forgot that she died last year.
15. SOMEBODY'S PET HATE.
It is used about something that you do not like at all.. A person or thing that is hated.
Example: Mathematics is my pet hate.