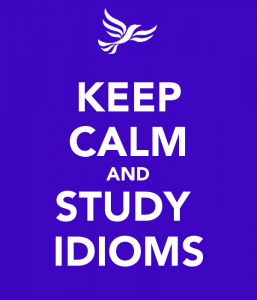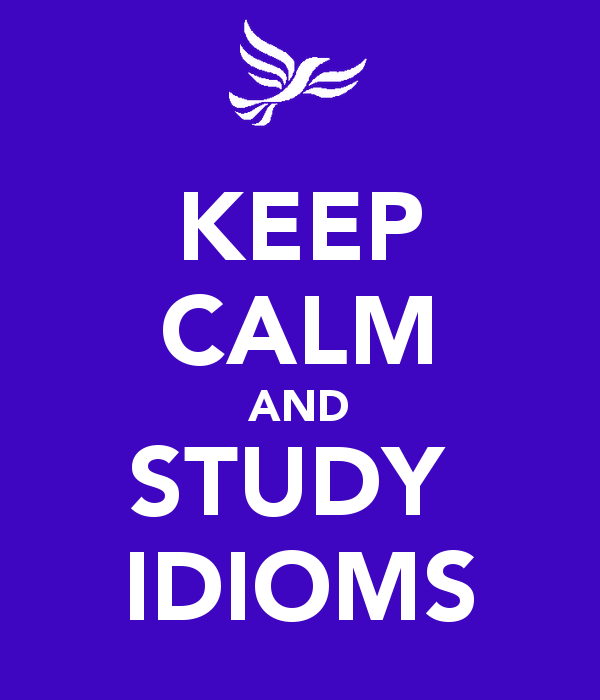 As you know, every language has its own collection of wise sayings. They offer advice about how to live and also transfer some underlying ideas, principles and values of a given culture / society. These sayings are called « idioms » – or proverbs if they are longer. These combinations of words have (rarely complete sentences) a « figurative meaning »and they basically work with « pictures ». A good List of commonly used idioms and sayings (in everyday conversational English), can help to speak English fluently by learning English idiomatic expressions.
This is the list we studied in 2014 – 2015.
1 . TO BEND OVER BACKWARDS
It means to work very hard to accomplish something for someone; to go out of one's way (to do something) (for someone). To do whatever it takes to help.
Example: I bent over backwards for you, and you showed no thanks!
2. A RED-LETTER DAY
It means a very happy or exciting day. An important or significant day. A red-letter day is a day that is remembered as special or happy. This comes from the practice of marking the dates of church festivals on calendars in red. Indeed, in the 15th century Medieval church calendars and manuscripts wrote religious holiday, festivals and saints' days in red ink, while all other days were written in black ink. The red-letter days were the special ones.
Example: Today is a fantastic day for me - a real red-letter day! I've just had a promotion!
3. THE HAIR OF THE DOG
It is an alcoholic drink taken to make you feel better after drinking too much alcohol the night before. Why this strange phrase? It refers back to the practice of treating dog bites with an ointment containing the hair of the dog that attacked you. Indeed, in the past people believed that if you were bitten by a crazy dog, the injury could be made better by putting hairs from the dog's tail on it.
Example: They offered me the hair of the dog, but I couldn't stand the thought of drinking any more.
4. TO SAY SOMETHING UNDER YOUR BREATH
If you say something under your breath, you say it very quietly so that people cannot hear the exact words. You whisper or mumble it.
Example: My friend was saying something under his breath, and I don't think it was very pleasant. I'm glad he said it under his breath.
5. TO TALK TURKEY
If you talk turkey, you discuss something seriously, usually to do with business or money. To talk frankly. To discuss a problem in a serious way with a real intention to solve it.
Example: John wanted to talk turkey, but Jane just wanted to joke around.
6. SPICK AND SPAN
We use spick and span for a place that is very tidy and clean. Immaculately clean or spotless.
Example: My mother's kitchen was always spick and span, every surface was wiped down and everything was in its place.
7. TO HAVE A BAD HAIR DAY
You have a bad hair day when you don't feel attractive or happy all day because you cannot make your hair look nice. If a machine has a bad hair day, it does not work as it should all day. Thus a bad hair day is a day when everything is going bad.
Example: Today my computer is having a bad hair day!!!! It crashes every ten minutes.
8. IN THE NICK OF TIME
It means just at the critical moment; just in time; not too late, but very close!
Example: I almost missed the train but I got to the station just in the nick of time.
9. TO SHOW YOUR TRUE COLOURS
You show your true colours if you show what you're really like, or you reveal your true character. It means to let others see what someone or something is really like.The expression goes back to the days of fighting sail when ship captains would disguise the nationality of their vessels by flying a false flag. Once in range of their enemy, they would strike the false flag and hoist their own country's flag (their true colours). While one could say that it means to "show who you really are", the connotations of the expression refer more exactly to showing what your loyalties are.
Example: Peter always acted like he was a strong and brave man but when the tornado hit, he showed his true colours.
10. TO BE BEHIND THE TIMES
If someone is behind the times, they are old-fashioned and their ideas are out of date.
Example: My friend Gareth is really behind the times. He doesn't even know how to use a smart phone
11. TO PICK SOMEBODY'S BRAIN
If you pick somebody's brain, you ask them for detailed information or ideas about something. To obtain ideas or information from another person knowledgeable.
Example: I know you love gardening. Can I pick your brain about how to get rid of those weeds?
12. TO COLLECT DUST
If something is collecting (or gathering) dust, it isn't being used any more. Dust is the fine dirt that builds up on surfaces that have not recently been cleaned. Objects become dusty if they are not used for a long time.
Example: "Where's the silver tray?""On the shelf, collecting dust."
13. THE BEST THING SINCE SLICED BREAD
If someone or something is described as the best thing since sliced bread, people think they are extremely good, often better than they really are.
Example: Smart phones are marketed as the best thing since sliced bread.
14. A MONTH OF SUNDAYS
You use the idiom ''a month of Sundays'' to say that something is going to take a very long time…. A seemingly endless or prolonged period of time. In other words: far too long....
Example: It will take you a month of Sundays to get through all the phrasal verbs!
15. TO RACK YOUR BRAIN(S)
If you rack your brains, or rack you brain, you try hard to remember something or think of a solution to a problem or a puzzle.
Example: I'm racking my brains, but I just can't think of his name.