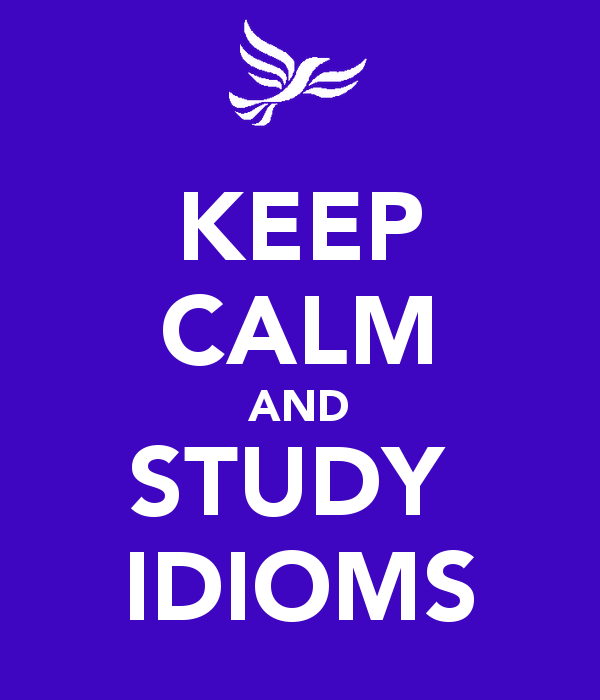 As you know, every language has its own collection of wise sayings. They offer advice about how to live and also transfer some underlying ideas, principles and values of a given culture / society. These sayings are called « idioms » – or proverbs if they are longer. These combinations of words have (rarely complete sentences) a « figurative meaning »and they basically work with « pictures ». A good List of commonly used idioms and sayings (in everyday conversational English), can help to speak English fluently by learning English idiomatic expressions.
This is the list we studied in 2009 – 2010.
1. EVERY NOOK AND CRANNY.
It means every small, out-of-the-way place or places where something can be hidden. Every part of a place.
Example: We looked for the plane tickets in every nook and cranny. They were lost!
2. IN DONKEY'S YEARS.
It means in a very long time. It probably comes from the fact that donkeys tend to plod along slowly, they take a long time to complete a task or journey. Therefore, a donkey year takes a long time to elapse.
Example : I've been doing this job for donkey's years.
3. TO THE BITTER END.
If you do something to the bitter end, you continue it until it is finished, although it is difficult and takes a long time.
The source of this expression may have been nautical, a bitter being a turn of a cable around posts, or bitts, on a ship's deck, and the bitter end meaning "the part of the cable that stays inboard." Thus, when a rope is paid out to the bitter end, no more remains.
Example: Many climbers gave up before they reached the summit, but I was determined to stick it out to the bitter end.
4. TO BE DRESSED TO KILL.
It means to make yourself look really good by wearing your best clothes. To be dressed very smartly, in fancy or stylish clothes.
Example : Sue has just bought a new outfit and was dressed to kill.
5. TO BE AS COOL AS A CUCUMBER.
If someone is as cool as a cucumber, they don't get worried by anything. They're extremely calm and imperturbable. In control of your emotions.
Example: I expected him to be very nervous before his interview but he was as cool as a cucumber.
6. TO TALK THROUGH YOUR HAT.
It means to be talking about a subject as if you know a lot about it when in fact you know very little. You're talking about something without knowing much about it, or you claim something is true when it isn't.
Example : This man's talking through his hat. He doesn't know the first thing about the computers.
7. NOTHING TO WRITE HOME ABOUT.
You use this idiom for something that is not especially good or exciting.
Example: I went to that new restaurant last night, it was Ok but it's nothing to write home about.
8. DRUNK AS A LORD.
As you can easily imagine, it means to be very drunk. Members of the nobility could afford to keep quantities of wine, beer, and liquor on hand, and as much out of envy as stating a fact, the common folk described anyone, titled or not, who had a load on by that phrase.
Example: Last night he went to the Blue Lion Pub and got as drunk as a lord, he couldn't make it up the stairs.
9. PARDON MY FRENCH or EXCUSE MY FRENCH.
It is a common English language phrase ostensibly disguising profanity as French.
The phrase is uttered in an attempt to excuse the user of curses in the presence of those offended by it under the pretense of the words being part of a foreign language.
So in other words it means excuse my use of swear words or taboo words. (Of course it does not refer to real French!! but something that you say which means you are sorry because you have said an impolite word).
Example: What she needs is a kick in the ass, if you'll excuse my French!
10. TO EAT HUMBLE PIE.
If someone apologises and shows a lot of contrition for something they have done, they eat humble pie. The expression derives from umble pie, which was a pie filled with liver, heart and other offal, especially of cow but often deer or boar. Umble evolved from numble, (after the French nomble) meaning 'deer's innards'. Umbles were considered inferior food; in medieval times the pie was often served to lower-class people.
Although "umbles" and the modern word "humble" are etymologically unrelated, each word has appeared both with and without the initial "h" after the Middle Ages until the 19th century. Since the sound "h" is often dropped in many dialects, and "umble" was a humble meal anyway, the phrase became "humble pie". While "umble" is now gone from the language, the phrase remains.
Example: Politicians won't eat humble pie even when it's clear they've made a mistake. They just say they were "misinformed".
11. TO BE IN THE CLINK.
If someone is in the clink, they are in prison. The Clink was a notorious prison in Southwark in London which functioned from the 12th century until 1780. The prison was owned by the Bishop of Winchester and situated next to his residence at Winchester Palace. The Clink was possibly the oldest men's prison and probably the oldest women's prison in England.
Example: We'll throw you in the clink if you don't talk.
12. TO BE WET BEHIND THE EARS.
It means to be naive or inexperienced.
Origin: The allusion is to the inexperience of a baby, so recently born as to be still wet. To be wet behind the ears essentially means to be inexperienced, unseasoned or even a bit naïve or immature. In the business world, this phrase is often applied to new employees who are not quite ready to accept the full responsibility of their positions yet.
It is also common for older people to express skepticism over a younger person's skills or level of authority by claiming he or she is still "wet behind the ears." At some point in history, however, a rookie or trainee does gain enough experience or wisdom to no longer be considered wet behind the ears by others.
Example: John's too young to take on a job like this! He's still wet behind the ears!
13. IT IS NOT CRICKET.
If something is not cricket, it is unfair. It's not done; It's not acceptable. This come from the game of cricket which is regarded as a gentleman's game were fairplay was paramount.
Example: You can't do that! It's not cricket to let him go without notice!
14. RIGHT UP YOUR STREET.
If something is ideal for you, it is right up your street. In other words it would be perfect for you or ideal for your skills and interests. The idioms "right down your alley" and "right up your alley" have the same meaning, but they're used more in American English.
Example: I thought a tour of British castles would be right up your street, John. You love history and Britain...
15. CHEAP AS CHIPS.
If something is very inexpensive, it is as cheap as chips. It is very cheap, not costing much.
Example: USB keys these days are as cheap as chips...