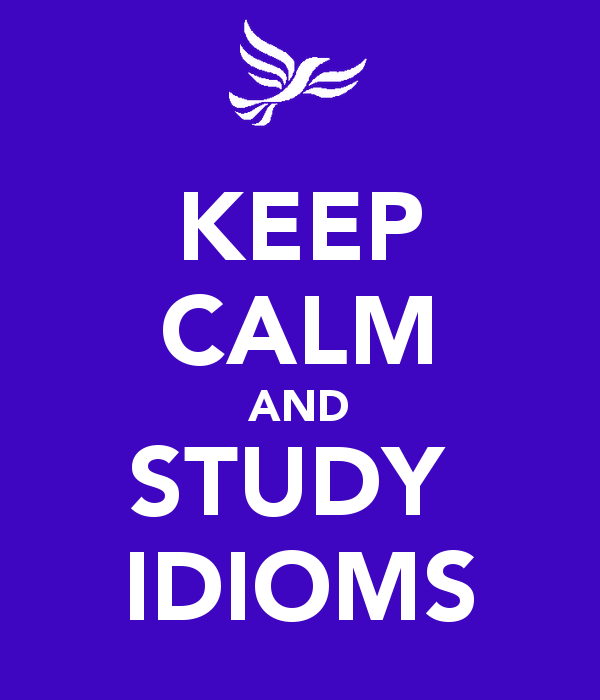 As you know, every language has its own collection of wise sayings. They offer advice about how to live and also transfer some underlying ideas, principles and values of a given culture / society. These sayings are called « idioms » or proverbs if they are longer. These combinations of words have (rarely complete sentences) a « figurative » meaning and they basically work with « pictures ». A good List of commonly used idioms and sayings (in everyday conversational English), can help to speak English fluently by learning English idiomatic expressions.
This is the list we studied in 2020 - 2021.
1. TO TAKE THE HEAT.
If you take the heat, you take the criticism or blame for something you didn't do, normally to protect the guilty person. It means to receive and enduring some amount of criticism or scorn, especially for a perceived mistake or wrongdoing. If you can take the heat, you can take criticism and handle stressful situations.
Example : The president has been taking the heat for his comments about refugees.
2. TO HAVE STICKY FINGERS.
It means to have a tendency or inclination to steal things. If someone has sticky fingers, they steal things. This phrase is from Britain in the mid-1800s and is a metaphor suggesting that if someone tends to steal then valuable items and cash naturally 'adhere' to their hands. The phrase is used more for a petty thief rather than a hardened criminal though for example, a shop worker stealing cash from the till, rather than an armed robber stealing from a bank.
Example: A lot of things have gone missing lately from the store cupboard. Do you think someone has sticky fingers?
3. TO BE IN A PICKLE.
To be in a troublesome situation. The adjectives "pretty" and "right" are commonly used before "pickle." To be in a right/pretty pickle. To be in a bad situation; in trouble. Although it sounds very up to date, this expression dates from Shakespeare's time. "How camest thou in this pickle?" says Alonso to his fellow-conspirator (The Tempest, 5.1). The term has been so used ever since.
Example: John found himself in a pickle when he accidentally locked his keys and wallet inside his car.
4. MEAT AND POTATOES.
It is the most basic and important part of something. The most fundamental aspects of something.
Example: This paragraph is the meat and potatoes of the contract.
5. TO CHEW THE FAT.
It means to discuss, chat, converse, etc., especially at length and in a leisurely, friendly manner. To have friendly banter for hours on end or a long and informal conversation with someone. To gossip with friends at leisure.
Example: My friend Gareth and I haven't seen each other in nearly five years, so we stayed up half the night chewing the fat.
6. NOT PLAYING WITH A FULL DECK.
A saying to suggest someone lacks intelligence or common sense. Not very bright or intelligent; dim witted. The implication of the insult is that the person has some part of the brain missing. Deck is a reference to a deck of cards.
Example: As the president of the United States, he may be an influential person, but some of the things he does gives the impression that he is not playing with a full deck.
7. TO RUB SHOULDERS WITH.
It means to meet and talk with (someone) in a friendly way. To meet or spend time with someone socially, especially someone important or famous.
Example: He loved his job because he got to rub shoulders with The Royal Family.
8. TO BE OVER THE HILL.
To be over the hill is to be too old for a specific purpose. Past the peak of one's life or career. It is often hyphenated. For example, one might refer to a late thirties footballer as 'over the hill.' This term, alluding to a climber who has reached a mountaintop and is now descending, has been used figuratively for the decline caused by aging since the mid-1900s.
Example: I used to think that being 50 meant you were over the hill, but I still feel as youthful as ever.
9. A DARK HORSE.
This idiom is used for someone whose skills, abilities, plans, or intentions are or had been unapparent to others. It is also used for someone who unexpectedly wins a competition.
Example: Angela was suddenly viewed as a dark horse when she displayed her beautiful sculptures at the art fair. Nobody knew she had such artistic talent.
10. NO DICE!
It means : no luck; no chance; certainly not. It is often said as a response indicating a total refusal or rejection.
Example: Nope, sorry, we're not interested, no dice.
Also, if you are trying to achieve something and you say there's no dice, you mean that you are having no success with it.
The phrase originated in the USA in the early 20th century. Gambling was illegal in many states and the gamblers took considerable trouble to hide their dice when confronted by the police. The rule said no dice, no conviction; so gamblers escaped punishment if the dice was not found.
Example: I tried calling her and I tried one or two of her old friends in Hampstead, but there was no dice.
11. TO KEEP UP WITH THE JONESES.
If you say that someone is keeping up with the Joneses, you mean that they are doing something in order to show that they have as much money as other people, rather than because they really want to do it. To always want to own the same expensive objects and do the same things as your friends or neighbours, because you are worried about seeming less important socially than they are.
Example: First the Smiths got a swimming pool, and now their neighbours, the Sinclairs, are building one. It's silly the way people always have to keep up with the Joneses.
12. UNTIL THE COWS COME HOME.
For a very long, indefinite amount of time, forever.
This phrase alludes to the time a herd of cows take to make their way home. Cows are very languid animals and take their own sweet time at an unhurried pace to return home. The phrase was first seen in print in 1829 but was probably in use before that.
Example: We can keep on arguing about this until the cows come home, but it won't solve anything.
13. A DIME A DOZEN.
To be common and or of very little value. Something that is abundant, cheap and very common. Something that's easily acquired.
Origin : The dime – is a ten-cent U.S. coin worth one tenth of a United States dollar. It was introduced in 1796. During the 1800s, this phrase was used in its literal meaning, referring to items that cost a dime for a dozen of those items. Since the early 1900s, the phrase has been used in its figurative sense, meaning something common and of less value.
Example: People who can write good books are not a dime a dozen.
14. TO PICK HOLES (IN).
To make an effort to find flaws or negative aspects in something through excessive analysis or criticism. If you pick holes in an argument or theory, you find weak points in it so that it is no longer valid. To actively find mistakes and faults and criticize something someone had said or done.
Example: Why do you always have to pick holes in everything I say?
15. TO HAMMER SOMETHING HOME.
If you want to be really sure someone understands what you're saying, then you need to "hammer your point home." It means to make certain that something is understood by expressing it clearly and forcefully. To try extremely hard to make someone understand or realize something.
Example: The advertising campaign will try to hammer home the message that excessive drinking is a health risk.