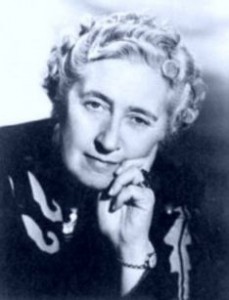 (1890 - 1976)
Agatha Christie is the world's best-known mystery writer. Her books have sold over a billion copies in the English language and another billion in over 45 foreign languages. She is outsold only by the Bible and Shakespeare. Agatha Miller was born in Torquay in England on September 15th, 1890. The youngest of three siblings, she was educated at home by her mother, who encouraged her daughter to write. As a child, Christie enjoyed fantasy play and creating characters, and, when she was 16, moved to Paris for a time to study vocals and piano. In 1914 she married Colonel Archibald Christie, an aviator in the Royal Flying Corps. The couple had one daughter, Rosalind. They divorced in 1928. In a writing career that spanned more than half a century, Agatha Christie wrote 79 novels and short story collections. She also wrote over a dozen plays including The Mousetrap, which opened in London on November 25th, 1952, and is now the longest continuously running play in theatrical history. Christie's first novel, The Mysterious Affair at Styles (1920), was also the first to feature her eccentric Belgian detective Hercule Poirot. Surely one of the most famous fictional creations of all time, Poirot's "little grey cells" triumphed over devious criminals in 33 novels and many dozens of short stories. Christie's last published novel, Sleeping Murder (1976), featured her other world-famous sleuth, the shrewdly inquisitive Miss Jane Marple of St. Mary Mead. Miss Marple appeared in twelve novels, beginning with The Murder at the Vicarage in 1930. Both Hercule Poirot and Miss Marple have been widely dramatized in feature films and made-for-TV movies. Murder on the Orient Express (1974), Witness for the Prosecution (1957), , and Death on the Nile (1978) are a few of the successful films based on her works. Agatha Christie also wrote six romantic novels under the pseudonym Mary Westmacott. She wrote nonfiction as well - four books including an autobiography and an entertaining account of the many archeological expeditions she shared with her second husband, Sir Max Mallowan. In 1971, she received the Order of Dame Commander of the British Empire. Agatha Christie died on January 12th, 1976.
My selection:
Murder on the Orient-Express : ( le Crime de l'Orient-Express) 1934
Judicious mixture of mystery, murder and nostalgia. Just after midnight, a snowdrift stopped the Orient Express in its tracks. The luxurious train was surprisingly full for the time of year. But by the morning there was one passenger fewer. An American lay dead in his compartment, stabbed a dozen times, his door locked from the inside. With tension mounting, Detective Hercule Poirot comes up with not one, but two solutions to the crime.
Death on the Nile : (Mort sur le Nil) 1937
The tranquillity of a cruise along the Nile was shattered by the discovery that Linnet Ridgeway had been shot through the head. She was young, stylish and beautiful. A girl who had everything …. Until she lost her life. Hercule Poirot recalled an earlier out-burst by a fellow passenger. ' I'd like to put my dear little pistol against her head and just press the trigger'. Yet in this exotic setting nothing was ever quite what it seemed.
And Then There Were None : (Dix Petits Nègres) 1945
Ten strangers, apparently with little in common, are lured to an island mansion off the coast of Devon by the mysterious U.N.Owen. Over dinner, a record begins to play, and the voice of an unseen host accuses each person of hiding a guilty secret. That evening, former reckless driver Tony Marston is found murdered by a deadly dose of cyanide.The tension escalates as the survivors realise the killer is not only among them but is preparing to strike again… and again…