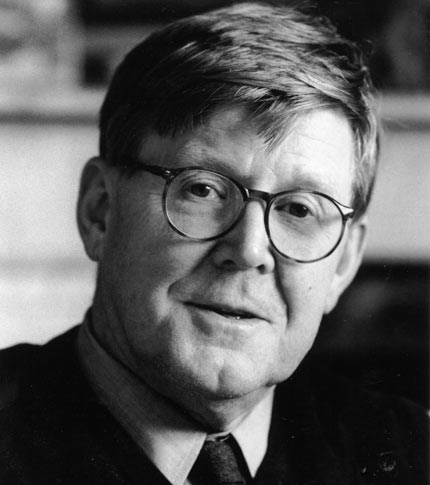 (1934 - )
Alan Bennett was born on May 9th 1934 in Leeds. The son of a co-op butcher, Walter, and his wife Lilian Mary (née Peel), Bennett attended Christ Church, Upper Armley, Church of England School. He learned Russian at the Joint Services School for Linguists during his national service before applying for a scholarship at Oxford University. He was accepted by Exeter College, Oxford, from which he graduated with a first-class degree in history. While at Oxford he performed comedy with a number of eventually successful actors in the Oxford Revue. He was to remain at the university for several years, where he researched and taught Medieval History, before deciding he was not cut out to be an academic. He co-wrote and starred in Beyond the Fringe (1963), a satirical review, along with Dudley Moore, Peter Cook and Jonathan Miller, at the Edinburgh Festival in 1960. Around this time Bennett often found himself playing vicars and claims that as an adolescent he assumed he would grow up to be a Church of England clergyman, for no better reason than that he looked like one.Later the show travelled to the West End and to New York. After this, he started writing for the stage, and later, plays for television. To date he has been actor, director, broadcaster, and written for stage, television, radio and film. His work focuses on the everyday and the mundane; on people with typically British characteristics and obsessions.His first stage play was Forty Years On (1969). Other well-known stage plays include Kafka's Dick (1987), The Wind In The Willows (1991), and The Madness of George III (1992).
His first work for television was a sketch show, On the Margin, and he also wrote the television series Fortunes of War. His first television play was A Day Out, followed by several more television plays, five for the BBC, published as Objects of Affection and Other Plays for TV (1982), and five for London Weekend Television, published as The Writer in Disguise (1985). His two series of monologues for television, Talking Heads I (1988) and Talking Heads 2 (1998), proved Bennett to be the master of television monologue, a genre he had first anticipated in A Woman Of No Importance (1982) - his first play starring a single actress.
Alan Bennett has also written for radio, including The Lady In The Van (1990), an autobiographical memoir of a deranged woman who parked her car in his garden and stayed for 15 years; and films, including A Private Function (1984), Parson's Pleasure, Prick Up Your Ears (1987), and The Madness of King George (1994), for which he was nominated for an Oscar for his screenplay adaptation.
Alan Bennett has won many prestigious awards for his writing. His prose collection Writing Home (1994), was followed by a sequel, Untold Stories, in 2005. His latest play, which won the 2004 Evening Standard Award for Best Play of the Year is The History Boys (2004). The Uncommon Reader (2007), is a novella in which the Queen develops a taste for reading.
Bennett lives in Camden Town in London, and shares his home with Rupert Thomas, the editor of World of Interiors magazine.
My selection:
The Uncommon Reader : (La Reine des Lectrices) 2007
It is a novella which appeared first in the London Review of Books in March 2007. It was published later the same year in book form by Faber & Faber and Profile Books.The title's "uncommon reader" (Queen Elizabeth II) becomes obsessed with books after a chance encounter with a mobile library. The story follows the consequences of this obsession for the Queen, her household and advisers, and her constitutional position.
The title is a play on the phrase "common reader". This can mean a person who reads for pleasure, as opposed to a critic or scholar. It can also mean a set text, a book that everyone in a group (for example, all students entering a university) are expected to read, so that they can have something in common. A Common Reader is used by Virginia Woolf as the title work of her 1925 essay collection. Plus a triple play – Virginia Woolf's title came from Dr. Johnson: "I rejoice to concur with the common reader; for by the common sense of readers, uncorrupted by literary prejudices, after all the refinements of subtilty and the dogmatism of learning, must be generally decided all claims to poetical honours."
In British English, "common" holds levels of connotation. A commoner is anyone other than royalty or nobility. Common can also mean vulgar, as common taste; mean, as common thief; or ordinary, as common folk.
The Lady In The Van : (La Dame à la Camionnette) 1989
The Lady in the Van tells the true story of Alan Bennett's strained friendship with Miss Mary Shepherd, an eccentric homeless woman whom Bennett befriended in the 1970s before allowing her temporarily to park her Bedford van in the driveway of his Camden home. She stayed there for 15 years. As the story develops Bennett learns that Miss Shepherd is really Margaret Fairchild (died 1989), a former gifted pupil of the pianist Alfred Cortot. She had played Chopin in a promenade concert, tried to become a nun, was committed to an institution by her brother, escaped, had an accident when her van was hit by a motorcyclist for which she believed herself to blame, and thereafter lived in fear of arrest.
Smut : two unseemly stories : (So Shocking!) 2011
The central characters in these comedies of ill manners are two of Bennett's stock-in-trade older ladies: they take tea and attempt to keep up appearances in the emotional wastes of a suburbia where curtains twitch and desires go, for the most part, unfulfilled.
In the first story, "The Greening of Mrs Donaldson", the eponymous heroine gains a new lease of life on the death of her very average husband. Defying her "joyless" daughter Gwen, Mrs Donaldson starts mounting minor insurrections against respectability – the first of which is participating in medical training scenarios at her local hospital. She is glad of the extra money and the chance not to be herself, and discovers an aptitude for feigning duodenal ulcers. But her new routine is upset when she takes in a couple of student lodgers who have some creative ideas about ways to pay the rent: Mrs Donaldson finds she can engage in role-playing without leaving the house, and likes it.
"The Shielding of Mrs Forbes", the second story, plays out like some kind of bleak Carry On Little England. Prim Forbes is displeased that her banker son Graham marries beneath him; he is shallow and vain and, although gay, finds sex with his new wife surprisingly liberating. When a blackmailing rent boy threatens to expose his double life, Graham turns to the police, only to discover his blackmailer is in fact the gay liaison officer. Everyone hops in and out of everyone else's bed, and secrets turn out not to be. As in the previous story, there is a lack of real communication between characters, and sex is only ever a tool to be used in the most perfunctory way.