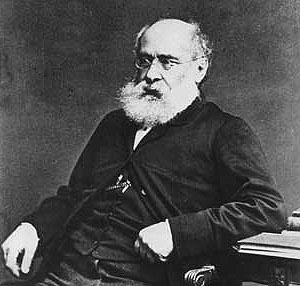 (1815 - 1883)
Anthony Trollope was born on 24th April 1815 in Bloomsbury, London. He was the fourth son of Thomas Anthony Trollope and Frances (née Milton). His father, who suffered from bouts of depression, was an unsuccessful lawyer and farmer. The family's humiliating state of poverty formed a lasting impression on Trollope, who was a tall, poorly dressed unhappy lad amongst the aristocratic youth of the famous schools he attended. In 1827, while Trollope attended his father's old school, Winchester, his mother left for America to assist in the set up of an English goods bazaar in Cincinnati. It was a total failure, pushing the Trollope family to the last stages of financial ruin. The family moved to Bruges in Belgium in 1834, where Frances supported the family with her writing which she was quite successful at. Her Domestic Manners of the Americans (1832) was well received in England. Trollope's father Thomas died in Bruges in 1835. His older brother Henry and his younger sister Emily died in Bruges too the following year.
Trollope started work as a clerk with the post office when he was nineteen years old and in 1841 he became the postal surveyor for Banagher in Ireland, which finally gave him some financial freedom and self-confidence. He travelled to Egypt, Scotland and the West Indies in 1858 and 1859 and the United States in 1861 on postal missions. In 1859 Trollope moved to Waltham Cross, just outside of London, to be surveyor general to the Post Office for £800 a year. Trollope is credited with the introduction of "pillar boxes", the now ubiquitous red British postal mail boxes.
In 1844 Trollope married Rose Heseltine and they had two sons, Henry (born in 1846) and Frederick (born in 1847). Trollope's study into Irish discontent, The MacDermots of Ballycloran (1847) was his first book, however, while in England he wrote The Warden (1855) the first of his famous Barchester Chronicles series, based on English upper middle-class Victorian life, which was his first acknowledged success. Barchester Towers (1857), Doctor Thorne (1858), Framley Parsonage (1861), The Small House at Allington (1864), and The Last Chronicle of Barset (1867) completed the series, readers especially enjoying his intense study of everyday social life, ecclesiastical politics and character developments in the imaginary cathedral city (modeled on Winchester) and the surrounding county of Barchester (modeled on Somerset). Trollope was then successful and prosperous and became friends with many literary figures including W. E. Forster, Wilkie Collins and George Eliot. He was involved in some business dealings concerning various magazines and gazettes and even tried his hand at editorship for St. Paul's Magazine in 1867.
Trollope's Palliser series: Can You Forgive Her? (1864), Phineas Finn (1869), The Eustace Diamonds (1873), Phineas Redux (1876), The Prime Minister (1876) and The Duke's Children (1880) were well-received, and he also produced insightful novels on political and social issues of the day during this time. In 1867 Trollope resigned from the post office and unsuccessfully ran an election campaign as a Liberal parliamentary candidate. In 1871 to 1872 he gave up his Waltham house and traveled to visit his son in Australia, tirelessly writing along the way. In 1872 he moved back to London, following his strict regime of writing for many hours before breakfast, whether he was travelling to Ceylon and Australia in 1875, South Africa in 1877 or Iceland in 1878, or writing at home. He was also working on his Autobiography (1883) between October 1875 and April 1876 (published posthumously). His diligent, business-like approach to writing, as was revealed in his Autobiography offended many and he fell out of favour with some of his admirers after his death. Trollope moved again in 1880 for want of better air, with hints of asthma and angina pectoris. He produced a few more novels the next year, one of them being The Plumber (1881). In May of 1882 he was staying at Garland's Hotel in Pall Mall, London. On the 3rd of November, 1883, whilst laughing during a family reading of F. Anstey's Vice Versa, he suffered a paralytic stroke. He died about a month later, on 6th December 1883. He is buried in the Kensal Green Cemetery of London.
Anthony Trollope was one of the most popular and prolific Victorian novelists, producing 47 novels and numerous essays and short stories.
My selection:
The Warden : (Le Directeur) 1855
This novel is an excellent introduction to Trollope because of its relative brevity. It was his first novel to win significant acclaim, in part because the titular Warden struggles so realistically and charmingly with the moral dilemma he faces. This is also the first of the Barsetshire novels, a series set in a cathedral town and revolving around clergymen and their families. In the 15th century, Hiram's Hospital was established as a perpetual charitable home for 12 poor old men, each being replaced at his death. Over the years the income from the property of the estate has increased to the point where the warden of the hospital enjoys a substantial salary.The Rev. Septimus Harding (the Warden), kind, gentle, and conscientious, loves his comfortable position and is loved by the old men under his care - until his life is disrupted by a Reformer, in the person of young John Bold, who questions the ample income of the warden, while the old men still receive only pennies a day. Bold brings in a solicitor and interests the newspaper The Jupiter (obviously the London Times), which makes the issue a national debate.Although the church stands behind the warden with all its influence, the gentle Mr. Harding himself begins to doubt the propriety of his position. The matter becomes further complicated when Bold and Harding's daughter Eleanor fall in love.This first of the six Barsetshire novels is by far the shortest and concentrates almost exclusively on the main plot. (In fact, Trollope inserts a criticism of the long serial novels of the day, although he later adopted that same mode.) "The Warden" is not so rich in detail or in the extensive cultural ambience of the later novels, but it is an excellent introduction to this deservedly acclaimed series. It introduces many vivid characters who grow and develop delightfully in the later novels.
The Small House At Allington : 1864
It is Anthony Trollope's fifth novel in the sequence that has become known as the Barsetshire series. Set against the vividly imagined backdrop of the cathedral town of Barchester, it is the story of the embittered old bachelor Squire Dale and his impoverished nieces, Lily and Bell. Lily Dale is sublimely happy when she becomes engaged to Adolphus Crosbie, assistant secretary in a government agency and a mortal Apollo to Lily. And Crosbie is happy too--while he is with Lily. But when he is invited to spend a week at Courcy Castle and is looked upon with favor by Lady Alexandrina De Courcy, the temptation to marry into a noble family is too much for him, and he becomes engaged for the second time in a few weeks.John Eames, a young government clerk, has loved Lily Dale for years. He longs to replace Crosbie in the jilted girl's affections, but she still loves Crosbie, despite his treachery. The ambitious Crosbie, however, soon finds that his aristocratic bride brings no money into the marriage, but maintains her expensive tastes. The marriage is a disaster from the start.As John Eames' fortunes rise and Crosbie's decline, the reader is led to believe, as all Lily's friends urge, that Eames will eventually win the heartbroken lass, but Lily stubbornly clings to her hopeless love.There are several subplots, some of them humorous, as Trollope's settings range from castle to rooming house, with vivid characters from varying social strata. As always, the characterizations are thorough and convincing. These are real people who behave realistically. Even when their actions seem surprising, they flow logically from the strong personal basis which the author has built into each character. Although the outcome is not nearly so pleasing as that of "Dr. Thorne," for instance, this book is a solidly enjoyable novel from one of the greatest literary series.
Miss Mackenzie : 1865
Margaret Mackenzie, unattractive and colourless at thirty-five, inherited a small fortune at the death of her brother, and for the first time in her drab existence was free to seek some measure of happiness.To secure this she moved from her gloomy London home to a cheerful apartment in Littlebath where, with an eye on her fortune, she was sought in marriage by the Rev. Jeremiah Maguire, an Evangelical clergyman; by Samuel Rubb, Jr, son of her brother's partner; and by her cousin John Ball, a widower with nine children. She refused them all, but did fall in love with her elderly cousin, and, when it was proved that her fortune was really his, they were married.In "Miss Mackenzie" Trollope made a deliberate attempt "to prove that a novel may be produced without any love," but as he candidly admits in his "Autobiography," the attempt "breaks down before the conclusion."In taking for his heroine an middle-aged spinster, his contemporaries of writing about young girls in love. Instead he depicts Margaret Mackenzie, overwhelmed with money troubles, as she tries to assess the worth and motives of four very different suitors.Although her creator calls her "unattractive," most readers will warm to Miss Mackenzie and admire her modesty, dignity, and shrewdness.