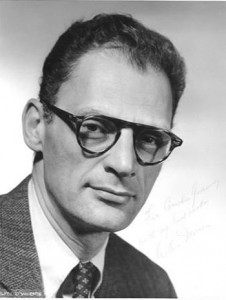 (1915 - 2005)
Arthur Miller was born in Harlem on October 17th, 1915, the son of Polish immigrants, Isidore and Augusta Miller. Miller's father had established a successful clothing store upon coming to America, so the family enjoyed wealth; however, this prosperity ended with the Wall Street Crash of 1929. Financial hardship compelled the Miller family to move to Brooklyn in 1929. Miller graduated from high school in New York in 1933. He applied to Cornell University and the University of Michigan, but both schools refused him admission. Miller worked a variety of odd jobs — including hosting a radio program — before the University of Michigan accepted him. At school, he studied journalism, became the night editor of the Michigan Daily, and began experimenting with theater. In addition to hosting a radio program, Miller held a variety of jobs during his early career. After he left the University of Michigan, Miller wrote plays for the Federal Theatre in 1939. The Federal Theatre provided work for unemployed writers, actors, directors, and designers. Congress closed the Federal Theatre late in 1939. Arthur Miller was awarded the Pulitzer Prize in 1949 for Death of a Salesman. Miller died on February 10th, 2005, of a heart failure. He was 89 years old.
My selection:
Death of a Salesman : (Mort d'un Commis Voyageur) 1949
It is the story of a travelling salesman, Willie Loman, is brought to disaster by accepting the false values of contemporary society. Death of a Salesman is a tragedy of the common man. It is mainly concerned with the fulfillment of the American Dream, but it also shows aspects of family life and commercialism. Willy Loman is a failed salesman, who forces his dreams onto his two sons, Biff and Happy. Biff had a promising future but after an incident, refused to take part in the American Dream, and chooses to 'Bum around' on farms 'out West'. His Brother Happy is the assistant to one of the assistant buyers, but sees himself as a great success. Miller concentrates on how the characters lie to themselves about who and what they are, and this is ultimatly the downfall of Willy, Happy and possibly Biff. The play is an important lesson for all. Although written in the forties, it is still incredibly relevant today in this age of consumerism and the tremendous desire for success. I have recently seen this play again, and it has changed my perspective on life, aspects of the play are constantly mirrored in every day life, and I am sure one of the characters could be relevant to any of you. This play - contraversial in the forties and fifties leading to Miller being charged with anti-American activities - should be read by all.
The Crucible : (Les Sorcières de Salem) 1953
This play shows how ignorance and good intentions can interweave to destroy lives. The Salem witchcraft trials of 1692 - 1693 are used as a parable for McCarthyism in America in the 1950s (the anti communist movement). Miller criticises the anti-Communist hysteria of McCarthyism in this play about the witch-hunts in 17th century Massachusetts. The U.S. government blacklisted accused communists. It tells the story of how the small community of Salem is stirred into madness by superstition, paranoia and malice, culminating in a violent climax, is a savage attack on the evils of mindless persecution and the terrifying power of false accusations. One man resists this fanaticism, and pays the ultimate price.