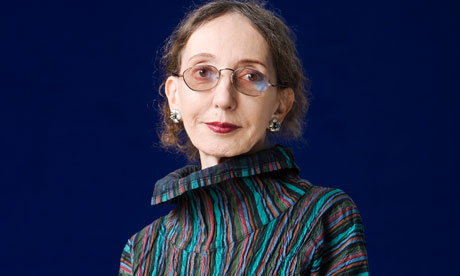 (1938 - )
Joyce Carol Oates, pseudonyms Rosamond Smith and Lauren Kelly was born on June 16th, 1938, in Lockport, New York, in the USA. She's a novelist, short-story writer, and essayist noted for her vast literary output in a variety of styles and genres. She also wrote plays and novellas. Oates was born in New York state, the daughter of a tool-and-die designer and a homemaker. She was raised Catholic but is now an atheist. She became interested in reading at an early age. Her paternal grandmother who lived with them at the time gave her Lewis Carroll's Alice's Adventures in Wonderland. She thought this book was the great treasure of her childhood, and the most profound literary influence of her life. This was love at first sight! In her early teens, she devoured the writing of Charlotte Brontë, Emily Brontë, Fyodor Dostoevsky, William Faulkner, Ernest Hemingway, and Henry David Thoreau, whose influences remain very deep. Oates began writing at the age of 14, when Blanche gave her a typewriter. As a teen, Oates also received early recognition for her writing by winning a Scholastic Art and Writing Award.
She studied English at Syracuse University and the University of Wisconsin. She taught English at the University of Detroit from 1961 to 1967 and at the University of Windsor in Ontario, Canada, from 1967 to 1978. From 1978 she taught at Princeton University. In 1961 she married Raymond J. Smith who died in 2008. He was a fellow English student who himself became a professor and an editor. With him she published The Ontario Review, a literary magazine.Early in her career Oates contributed short stories to many magazines and reviews, including the Prairie Schooner, Literary Review, Southwest Review, and Epoch, and in 1963 she published her first collection of short stories, By the North Gate. Her first novel, With Shuddering Fall, appeared in 1964 and was followed by a second short-story collection, Upon the Sweeping Flood (1965). She wrote prolifically thereafter, averaging about two books per year.
In 2001 she published the short-story collection Faithless: Tales of Transgression, "richly various" tales of sin. An extensive and mainly retrospective volume of her stories, High Lonesome: New & Selected Stories, 1966–2006, was published in 2006. Wild Nights!: Stories About the Last Days of Poe, Dickinson, Twain, James, and Hemingway (2008) featured fictionalized accounts of the final days of various iconic American writers. The stories in Black Dahlia and White Rose (2012) were threaded with menace and violence; the title piece fictionalized the sensational 1947 Black Dahlia murder in Los Angeles. Evil Eye: Four Novellas of Love Gone Wrong (2014) is a collection of tales that explore the sinister possibilities of romantic entanglement.
Oates also wrote mysteries (under the pseudonyms Rosamond Smith and Lauren Kelly), plays, essays, poetry, and literary criticism. In 2011 Oates published the memoir A Widow's Story, in which she mourned her husband's death. Oates described the partnership as "a marriage of like minds—both my husband and I are so interested in literature and we read the same books; he'll be reading a book and then I'll read it—we trade and we talk about our reading at meal times…".Oates's novels show a variety of historical settings and literary genres. She typically portrays American individuals whose intensely experienced and obsessive lives end in bloodshed and self-destruction owing to larger forces beyond their control. Her books blend a realistic treatment of everyday life with horrific and even sensational depictions of violence.
My selection:
The Falls : (Les Chutes) 2004
It is 1950 and, after a disastrous honeymoon night, Ariah Erskine's young husband throws himself into the roaring waters of Niagara Falls. Ariah, "the Widow Bride of the Falls," begins a relentless seven-day vigil in the mist, waiting for his body to be found. At her side is confirmed bachelor and pillar of the community Dirk Burnaby, who is unexpectedly drawn to this plain, strange woman. What follows is a passionate love affair, marriage, and family--a seemingly perfect existence. But the tragedy by which they were thrown together begins to shadow them, damaging their idyll with distrust, greed, and even murder.
I loved this book. The Falls is a thick novel and a hypnotic one as well. It is easy to get lost in its opening 100 pages or so – not lost as in confused, lost as if in a strange waking dream, or the sleepy thoughts before slumber takes over. At first it is a story of an eccentric woman and a good man, and the love that brings them together. It is a novel that is dense with detail and characterization from beginning to end, but I had such an odd time with that first part. Perhaps it was due to that odd woman. Ariah is dreadful and admirable but also fascinating and frustrating. The story of Ariah and her suitor Dick Burnaby ends in two remarkable chapters that lit me right up: one about Ariah's acceptance of a marriage proposal, detailed in prose so sharp and fierce and idiosyncratic that it woke all of the different parts of my mind; the other a much longer chapter depicting the early years of the marriage itself – a chapter full of love and wisdom, passion and sadness.
The story after that first 100 pages is quite different. More traditional, well as far as Oates can ever be traditional. It is a sort of miniature family saga that focuses on Ariah's three children, their loves and lives and ambitions and failures, and the battle that is being waged over the poison that has been dumped in the Niagara Falls region for decades. It becomes one of those Big Novels about Important Issues... but yet it still stays intimate. I was able to feel anger at corporate cupidity and the crass banality at the heart of many evil people, but The Falls' biggest attribute even amidst all of that is its brilliant characterization. The children of Ariah and Dick Burnably are amazing creations.
Oates is known to be a chilly writer, at times even callous or cruel. Not so much with The Falls. With the possible exception of the monstrous, deluded Ariah, her protagonists are written with much kindness and empathy. Even better,I think this novel somehow finds its way to grace in the end.
A young girl's disappearance rocks a community and a family, in this stirring examination of grief, faith, justice and the atrocities of war. Zeno Mayfield's daughter has disappeared into the night, gone missing in the wilds of the Adirondacks. But when the community of Carthage joins a father's frantic search for the girl, they discover instead the unlikeliest of suspects – a decorated Iraq War veteran with close ties to the Mayfield family. As grisly evidence mounts against the troubled war hero, the family must wrestle with the possibility of having lost a daughter forever.
Carthage plunges us deep into the psyche of a wounded young Corporal, haunted by unspeakable acts of wartime aggression, while unraveling the story of a disaffected young girl whose exile from her family may have come long before her disappearance. Dark and riveting, Carthage explores the human capacity for violence, love and forgiveness, and asks it it's ever truly possible to come home again. Reading a long epic novel by Oates is a wholly immersive experience.It's a dramatic, extraordinary story that explores large subjects like the Iraq war, the American penitentiary system, alcoholism and spousal abuse. Yet, the main thrust of the tale is a deeply personal story of a family that's been splintered apart and slowly draws itself back together to form anew.
In the fictional town of Carthage, a small community in upstate New York, a young college-aged woman named Cressida goes missing. Her respected ex-mayor father Zeno desperately tries to find her. A war-veteran named Brett who is the fiancé of Cressida's sister is suspected of being involved. Like the drawings of M.C. Escher (whose art Cressida has an intense passion for) the laws of logic/gravity are suspended as the family desperately tries to find out what happened to their youngest daughter and are forced to go around in endless circles while the search is conducted. Time becomes distorted for them "time passed with dazzling swiftness even as, perversely, time passed with excruciating slowness." This description shows the feeling of life in a time of crisis. The truth of Cressida's fate is surprising and heartbreaking. Over the course of the artfully composed narrative we learn what happens to her and the other compelling characters involved.
Freaky Green Eyes :
(Zarbie Les Yeux Verts) 2005
A true psychological thriller, Freaky Green Eyes really fascinated me! With a plot that gradually unfolds to expose a family's destructive private life, this book covers a topic touched upon by many but seldom handled so artfully. Franky Pierson's dark side "Freaky Green Eyes" shows herself after a college boy tries to rape her at one of her dad's ritzy parties and she defends herself. Franky notices that her family is falling apart and that her mother is distancing herself from them after her father threatens her. It is up to her and "Freaky Green Eyes" to find out the truth about what happened to her mother before her family gets hurt.
Francesca, who prefers to be called "Franky," is the daughter of a famous sportscaster who is a former Seattle Seahawk, Reid Pierson. He is very strong, charismatic and controlling. He hates weakness, and has to always be right. 15-year-old Franky adores him and sees her mother's sensitivity as shameful weakness. Her mother, scared to death of Reid, pursues her own art and spends a few days a week at her cabin out of town. Franky feels betrayed and abandoned by her mother. Then the story gets really started!
Although the story is told in first person by 15-year-old Franky, this is not a "teen" novel. I only recommend it for very mature teens and for adults. The story, while not graphic in the least, is subtle in its ability to keep the reader feeling uneasy.
This is a masterful young adult novel about the sensitive subject of domestic violence. Readers will empathize with children growing up in such an environment after reading it. Highly recommended.