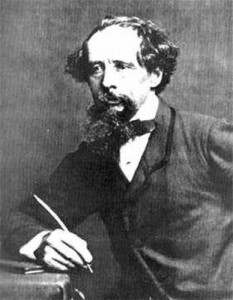 (1812 - 1870)
Charles John Huffman Dickens was born on February 7th 1812 in Portsmouth to a clerk who worked in the office responsible for navy salaries. His first, and happiest, years were spent at Chatham. However, his father was imprisoned in the Marshalsea prison for debts and at the age of twelve he began working in a blacking warehouse. It was a miserable time for the young Dickens, and its themes recur frequently in his novels, where the Marshalsea itself features, and the mistreatment of children and child labour are common subjects. Subsequently, he worked as an office boy, then studied shorthand and reported House of Commons debates for the Morning Chronicle. Chapman and Hall published Dickens's first novel, The Posthumous Papers of the Pickwick Club in twenty monthly parts between April 1836 and 1837. Pickwick gradually began to sell extremely well and Dickens - aged only twenty-five - was looking at a life of great success with his wife Catherine Hogarth. Dickens was extremely fond of Catherine's sister Mary and even requested (unsuccessfully) to be buried next to her when he died, after she passed away a year after she had moved in with the young couple in 1836. Dickens became the first editor of Bentley's Magazine in 1837 and began to publish Oliver Twist and then Nicholas Nickleby in its pages, again in monthly numbers. A new Dickens weekly, Master Humphrey's Clock was introduced in 1840 where Dickens intended to publish not only novels but also brief sketches. However, after the success of Master Humphrey novels The Old Curiosity Shop (1840-1) and Barnaby Rudge (1841), the linking idea was scrapped. In 1842 Dickens visited America where he was well received, but his American Notes (1842) was considered offensive by Americans, and Martin Chuzzlewit's stereotyping of the American character did nothing to improve their low opinion of the writer. The relative lack of success experienced by Martin Chuzzlewit did not last long, however, since sales were considerable for A Christmas Carol (1843). A trip to Italy in 1844 was followed by another to Switzerland in 1846 where he began work on Dombey and Son (1848) that signally the start of the greatest period in his writing. In the next decade he wrote David Copperfield (1849-50), Bleak House (1852-3), Hard Times (1854), Little Dorrit (1855-7) and A Tale of Two Cities (1859). During this period, Dickens separated from his wife and there were rumours about his relationship with his sister-in-law Georgina. Ignoring the scandal and protesting his innocence, he took to passionate and popular dramatic appearances reading selections from his books where he would sometimes get become so excited that he would faint. His final novels, Great Expectations (1860-1) and Our Mutual Friend (1864-5) kept up the extraordinarily high standard, but he did not publish another novel in his lifetime (The Mystery of Edwin Drood was unfinished at his death). He made a final visit to America in the late 1860s for further readings but after his return he died suddenly on June 9th 1870. He is buried at Westminster Abbey.
My selection:
Great Expectations : (Les Grandes Espérances) 1861
Pip is a young orphan boy living with his sister Mrs. Joe and her husband Joe Gargery in the marshes of Kent. One evening Pip sits in the nearby graveyard staring at his parent's tombstones, when out of nowhere a convict pops up from behind the tombstones and grabs Pip. The convict orders Pip to get him food and a file for his leg irons. Pip obeys in fear, but when he comes back with the items the convict has been captured. The convict also defends Pip by saying he stole these items from him. Days go by and Pip gets picked up by his uncle Mr. Pumblechook to play at Satis house, the wealthy Miss Havisham. During his visit he meets this young girl named Estella, although she treats him poorly on his visit. Pip falls in love with her and dreams of becoming a wealthy gentlemen becoming worthy of her. Time goes by and Pip visits the Satis house regularly. With Miss Havishams guidance Pip becomes an apprentice of his brother-in-law, Joe, who is the village blacksmith. Pip is works but unhappily and struggles to get a better education from the help of plain, Biddy. Later one night Pips sister, Mrs. Joe, is attacked viscously by an unknown suspect. Pip thinks he knows who did it but he isn't positive. Time flies by and Pip meets a lawyer named Jaggers who tells him he has a secret benefactor with a large fortune for him, but he must go to London. What is Pips fortune? Who is this benefactor? It is a heart-warming story of a young man befriending an escaped convict who becomes his unknown benefactor. But can a poor boy become a gentleman in snobbish London?
Oliver Twist : 1839
One of Dickens' most enduringly popular stories. Like many of his later novels, its central theme is the hardship faced by the dispossessed and those of the outside of 'polite' society. Oliver himself was born in a workhouse and treated cruelly there as was the norm at the time for pauper children, in particular by Bumble, a parish council official. The story follows Oliver as he escapes the workhouse and runs away to London. Here he receives an education in villainy from the criminal gang of Fagin that includes the brutal thief Bill Sikes, the famous 'Artful Dodger' and Nancy, Bill's whore. Oliver is rescued by the intervention of a benefactor - Mr Brownlow - but the mysterious Monks gets the gang to kidnap the boy again. Nancy intervenes but is murdered viciously by Sikes after she has showed some redeeming qualities and has discovered Monk's sinister intention. The story closes happily and with justice for Bumble and the cruel Monks who has hidden the truth of Oliver's parentage out of malice. Accusations were made that the book glamorised crime (like the 'Newgate Group' of the period) but Dickens wisely disassociated himself from criminal romances. His achievement was in fact in presenting the underworld and problems of poverty to the well-off.
A Christmas Carol : (Les Contes de Noël) 1843
Scrooge, an old curmudgeon, receives on Christmas Eve a visit from the ghost of Marley, his late partner in business, and beholds a series of visions of the past, present and future, including one of what his own death will be like unless he is quick to amend his ways. As a result he wakes up on Christmas morning an altered man. He sends a turkey to his ill-used clerk Bob Cratchit, and behaves like the genial old fellow that he has become.
Nicholas Nickleby : 1839
Dickens wrote this book during the height of the industrial revolution, when factories and mines hired children because their hands and bodies were small and they could do detailed work or fit in tiny places more easily than adults. When children's hands were chopped off by machinery, factory bosses said it was the children's fault for carelessness. Boarding schools were frequently simply stages on which frustrated adults could strike out physically, emotionally and psychologically at children under their so-called care. Nicholas Nickleby contains one of Dickens' most vivid characters, headmaster Wackford Squeers. Along with Nicholas' unethical uncle, Ralph, the title character goes through the usual heartaches we expect in Dickens, befriends a retarded orphan who had been abandoned at the boarding school, and comes out safe and sound at the end.
Little Dorrit : (La petite Dorrit) 1857
A novel of serendipity, of fortunes won and lost, and of the spectre of imprisonment that hangs over all aspects of Victorian society. When Arthur Clennam returns to England after many years abroad, he takes a kindly interest in Amy Dorrit, his mother's seamstress, and in the affairs of Amy's father, William Dorrit, a man of shabby grandeur, long imprisoned for debt in Marshalsea prison. As Arthur soon discovers, the dark shadow of the prison stretches far beyond its walls to affect the lives of many, from the kindly Mr Panks, the reluctant rent-collector of Bleeding Heart Yard, and the tipsily garrulous Flora Finching, to Merdle, an unscrupulous financier, and the bureaucratic Barnacles in the Circumlocution Office. A masterly evocation of the state and psychology of imprisonment, Little Dorrit is one of the supreme works of Dickens's maturity. Stephen Wall's introduction examines Dickens's transformation of childhood memories of his father's incarceration in the Marshalsea debtors' prison.