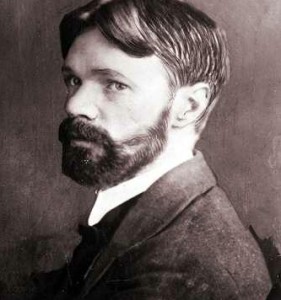 (1885 - 1930)
David Herbert Lawrence was born on September 11th in 1885 in Eastwood, a town just outside Nottingham, in England. He was the fourth of the five children of Arthur John Lawrence (1846-1924) and his wife Lydia (1851-1910). Growing up in Eastwood, which depended almost completely on the mining industry – ten pits lay within walking distance – was difficult for a boy like Bert Lawrence, often in poor health and obviously frail. He was bullied at school, he failed to join in games with the other boys and (still worse) clearly preferred the company of girls, who talked rather than fought. When Lawrence was twelve he won a scholarship to Nottingham High School, but he remained at home, commuting from Eastwood to Nottingham daily. After School, he went to work for several years as an uncertified teacher in Eastwood and nearby Ilkeston and then he went on to take a two year teacher - training course at the University of Nottingham, he completed in 1908. About this time, Lawrence was appointed as a regular teacher at the Davidson Road School in the London suburb of Croydon. In 1909, Lawrence made his first serious attempt to get published when a friend sent some of his poems to the editor of The English Review, who was immediately enthusiastic, printed them in the lead spot in the magazine's November issue. Lawrence has produced many works, including Sons and Lovers and The Rainbow (1915) and Women in Love (1916), which are considered his greatest works. Lawrence had trouble getting these works published and accepted due to their sexual frankness. Around 3 March 1912, visiting his Nottingham Professor Ernest Weekley for advice about the future, he met and fell in love with Weekley's wife Frieda von Richthofen, six years older than himself. In the years between 1925 and 1929, though he travelled extensively his health worsened, as he contracted bronchitis. In a final attempt to stave off his illness, he agreed with an English doctor to spend a month doing nothing; and then, at the start of February 1930, he went into the ominously-named Ad Astra sanatorium in Vence. It did not help; he was terrifyingly thin, and almost incapable of walking. Determined to die, he discharged himself from the sanatorium on 1st March 1930, and Frieda helped him move into the Villa Robermond (a rented house) in Vence. He was not going to die where he did not choose to live: it was his last independent act. He died the evening of the following day, Sunday 2nd March 1930, and was buried in the cemetery at Vence on the 4th.
My selection:
Sons and Lovers : ( Amants et Fils) 1915
It is a faithful autobiographical account of his early years in a Nottinghamshire coalmining village, with a truly working-class background. Paul Morel is the son of an English coalminer, but he wants more than a life down the mine. Aided by his mother, Paul fights against the macho prejudices of his father and becomes a writer. This was Lawrence's tribute to his own mother.The first part of the novel focuses on Mrs. Morel and her unhappy marriage to a drinking miner. She has many arguments with her husband, some of which have painful results: on separate occasions, she is locked out of the house and hit in the head with a drawer. Estranged from her husband, Mrs. Morel takes comfort in her four children, especially her sons. Her oldest son, William, is her favorite, and she is very upset when he takes a job in London and moves away from the family. When William sickens and dies a few years later, she is crushed, not even noticing the rest of her children until she almost loses Paul, her second son, as well. From that point on, Paul becomes the focus of her life, and the two seem to live for each other. Paul falls in love with Miriam Leivers, who lives on a farm not too far from the Morel family. They carry on a very intimate, but purely platonic, relationship for many years. Mrs. Morel does not approve of Miriam, and this may be the main reason that Paul does not marry her. He constantly wavers in his feelings toward her. Paul meets Clara Dawes, a suffragette who is separated from her husband, through Miriam. As he becomes closer with Clara and they begin to discuss his relationship with Miriam, she tells him that he should consider consummating their love and he returns to Miriam to see how she feels. Paul and Miriam sleep together and are briefly happy, but shortly afterward Paul decides that he does not want to marry Miriam, and so he breaks off with her. She still feels that his soul belongs to her, and, in part agrees reluctantly. He realizes that he loves his mother most, however. After breaking off his relationship with Miriam, Paul begins to spend more time with Clara and they begin an extremely passionate affair. However, she does not want to divorce her husband Baxter, and so they can never be married. Paul's mother falls ill and he devotes much of his time to caring for her. When she finally dies, he is broken-hearted and, after a final plea from Miriam, goes off alone at the end of the novel.
The Rainbow : (L'Arc-en-ciel) 1915
This is Lawrence's version of a social saga, spanning three generations of the Brangwen family. It is the women characters in this novel who remain memorable as they strive to express their feelings. The story concludes with the struggle of two sisters, Ursula and Gudrun, to liberate themselves from the stifling pressures of Edwardian English society. They also feature in his next and some say greatest novel, Women in Love – so it's a good idea to read this first.
Women In Love : (Femmes Amoureuses) 1920
Ursula and Gudrun Brangwen are two sisters living in the Midlands of England in the 1910s. Ursula is a teacher, Gudrun an artist. They meet two men who live nearby, school inspector Rupert Birkin and coal-mine heir Gerald Crich. The four become friends. Ursula and Birkin become involved, and Gudrun eventually begins a love affair with Gerald. All four are deeply concerned with questions of society, politics, and the relationship between men and women. At a party at Gerald's estate, Gerald's sister Diana drowns. Gudrun becomes the teacher and mentor of his youngest sister. Soon Gerald's coal-mine-owning father dies as well, after a long illness. After the funeral, Gerald goes to Gudrun's house and spends the night with her, while her parents are asleep in another room. Birkin asks Ursula to marry him, and she agrees. Gerald and Gudrun's relationship, however, becomes stormy. The four holiday in the Alps. Gudrun begins an intense friendship with Loerke, a physically puny but emotionally commanding artist from Dresden. Gerald, enraged by Loerke and most of all by Gudrun's verbal abuse and rejection of his manhood, and driven by the internal violence of his own self, tries to strangle Gudrun. Before he has killed her, however, he realises that this is not what he wants, and he leaves Gudrun and Loerke and climbs the mountain, eventually slipping into a snowy valley where he falls asleep and freezes to death. The impact on Birkin of Gerald's death is profound; the novel ends a few weeks after Gerald's death, with Birkin trying to explain to Ursula that he needs Gerald as he needs her—her for the perfect relationship with a woman, and Gerald for the perfect relationship with a man.