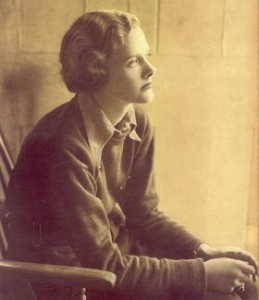 (1907 - 1989)
Daphne Du Maurier also known as 'Lady Browning' was born on 13th May 1907 in London. She belonged to a creative family where her father and mother both were actors, her uncle was a magazine editor and her grandfather was a writer. This became the base for her literary talent as she started writing when she was very young. As a child she knew how to stay in the limelight having met many celebrities because of her parents' career. She was called 'the mistress of suspense'. She was home schooled by well-educated governesses and later attended the elite schools of London, Meudon and Paris. Because of her childhood literary and artistic experiences, she was a voracious reader. she was fascinated by imaginary worlds and developed a male alter ego for herself. Her first novel 'The Loving Spirit' was published in 1931. It was after reading this very novel that Lieutenant-Colonel Frederick also called 'Boy Browning' sailed all the way to London to meet the author of this book. So Lieutenant Colonel Frederick Arthur Montague Browning II, who was knighted for his distinguished service during World War II married her the next year and they remained married for the next 33 years till Boy died in 1965. They had three children. The marriage had its share of difficulties because of Daphne du Maurier's secret bisexuality however she denied this fact.On top of books, Daphne du Maurier also wrote three plays. The first was an adaptation of her novel 'Rebecca' that was published in 1938. The play was released on 5th March 1940. The second play was 'The Years Between' that opened on 10th January 1945 and the third one was called 'September Tide' which first opened on 15th December 1948. She was given the honour of being the 'Dame Commander of the Order of the British Empire' in the 'Queen's Birthday Honours'. However she never really used this title. Later on in her life Du Maurier also wrote some non-fiction work. 'Gerald' was published in 1934, 'The Du Mauriers' in 1937, 'The Young George du Maurier' in 1951, 'The Infernal World of Branwell Bronte' in 1960 and 'Growing Pains' in 1970. Many of her works were made into film adaptations such as 'My Cousin Rachel', 'The Birds', 'Jamaica Inn', 'Hungry Hill' and 'Frenchman's Creek'. Du Maurier had a 'romantic' style of writing although she did not like being called as a romance novelist. She received the Grand Master Awards from the 'Mystery Writers of America'. She died on 19th April 1989 in Cornwall at the age of 81.
My selection:
Jamaica Inn : (L'Auberge de la Jamaique) 1936
Mary Yellan , a farmer's daughter from Helford, obeyed her mother's dying wish and went to live with her Aunt Patience and her Uncle Joss at Jamaica inn, miles from anywhere on Bodmin Moor, in Cornwall. Her uncle drinks heavily and is very violent at times. The coachman had warned her: 'respectable folk don't go to Jamaica Inn anymore' and Mary yellan soon understands her Uncle is the leader of a gang of cruel men …. that go to the beach at night.
Rebecca : 1938
It's no wonder that the woman who becomes the second Mrs. de Winter (whose first name we never learn) eagerly accepts Maxim de Winter's offer of matrimony. She's young, orphaned, and employed as companion to a mean-spirited fading beauty. The handsome widower simply sweeps her off her feet. In a matter of days, the new bride accompanies her seemingly devoted husband to Manderley, his isolated home on the Cornish coast. From the first, the sinister housekeeper, Mrs. Danvers, frightens the new bride with her chilling devotion to the dead first Mrs. de Winter, Rebecca. And, all too soon, the second Mrs. de Winter realizes that Maxim married her for her youth and warmth, hoping to use her as a shield against Rebecca's malignant presence - a lingering evil that threatens to destroy them both from beyond the grave.