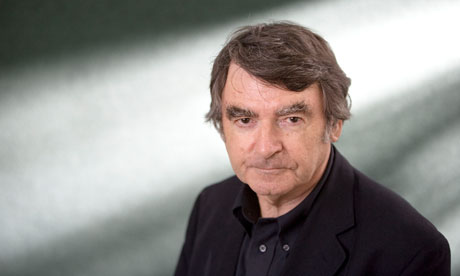 (1935 - )
David Lodge was born on January 28th, 1935, to working-class Catholic parents. They lived on the outskirts of London. As a child, he lived through the darkest days of the blitz—the German bombing attacks in 1940. Like many other schoolboys, he was evacuated to the countryside for the remainder of the war years. He grew up during postwar years of economic hardship. At the age of ten, he was enrolled in the St. Joseph's Academy Catholic grammar school, and entered University College in London in 1952. He graduated with a Bachelor's degree in English (with honors) in 1955 and a Masters degree in 1959. After a two-year period in the Royal Armored Corps (1955-1957), he went on to earn a Ph.D. at the University of Birmingham and joined the English faculty in 1960. 1959 was also the year that he married Mary Frances Jacob and with whom he had two sons and a daughter. Lodge spent part of 1969 as a visiting professor at the University of California, Berkeley. He was an assistant to the British Council in London and became a Lecturer. In 1976, he was appointed professor of modern English literature at Birmingham and fellow of the Royal Society of Literature. In 1987, he took early retirement from his university post to devote himself to his writing. Lodge has also written a number of distinguished books of criticism, including The Modes of Modern Writing (1977) and Working with Structuralism (1981). His latest collection The Practice of Writing focuses on writing techniques needed for any practicing writer in any medium.
My selection:
Author, Author : ( L'Auteur, L'Auteur) 2004
In David Lodge's novel called Thinks... the novelist Henry James was invisibly present in quotation and allusion. In Author, Author he is centre stage, sometimes literally. The story begins in December 1915, with the dying author surrounded by his relatives and servants, most of whom have private anxieties of their own, then loops back to the 1880s, to chart the course of Henry's 'middle years', focusing particularly on his friendship with the genial Punch artist and illustrator, George Du Maurier, and his intimate but chaste relationship with the American writer Constance Fenimore Woolson. By the end of the decade Henry is seriously worried by the failure of his books to 'sell', and decides to try and achieve fame and fortune as a playwright, at the same time that George Du Maurier, whose sight is failing, diversifies into writing novels. The consequences, for both men, are surprising, ironic, comic and tragic by turns, reaching a climax in the years 1894-5. As Du Maurier's Trilby, to the bewilderment of its author himself, becomes the bestseller of the century, Henry anxiously awaits the first night of his make-or-break play, Guy Domville ... Thronged with vividly drawn characters, some of them with famous names, others recovered from obscurity, Author, Author presents a fascinating panorama of literary and theatrical life in late Victorian England, which in many ways foreshadowed today's cultural mix of art, commerce and publicity. But it is essentially a novel about authorship - about the obsessions, hopes, dreams, triumphs and disappointments, of those who live by the pen - with, at its centre, an exquisite characterisation of one writer, rendered with remarkable empathy.
Thinks ... : (Pensées Secrètes) 2001
David Lodge's novels have earned comparisons to those of John Updike and Philip Roth and established him as "a cult figure on both sides of the Atlantic" (The New York Times). Thinks . . . , this witty novel about secret infidelities and the nature of consciousness, unfolds in the alternating voices of Ralph Messenger, director of the Centre for Cognitive Science at the University of Gloucester, and Helen Reed, a novelist and writer in residence at the university. Mutually attracted, the two end up in a moral standoff that is shattered by events that dramatically confirm the truth of Ralph's dictum: "we can never know for certain what another person is thinking."Ralph Messenger is the clever and manipulative Director of the Holt Belling Center for Cognitive Science at the imaginary University of Gloucester, a nuts-and-bolts scientist investigating the physical, quantifiable aspects of thought and consciousness. Helen Reed, a visiting lecturer and grieving widow, on the other hand, is an artist, a novelist who celebrates feeling, imagination, and creation. When Ralph, an unapologetic woman-chaser, finds Helen irresistibly attractive, their totally different worlds collide, exposing the reader to various theories of cognitive science but also illuminating the limitations in explaining the soul, love, relationships, imagination, and the creative life.
Clandestine rendezvous, academic gamesmanship, office politics, secret lives kept hidden from spouses, and even involvement in pornography all contribute to the ensuing complications and suspense. The sometimes farce-like action is kept in check, however, by the very real presence of death, which hovers over the action and grounds the comedy, adding to the realism and providing a setting for arguments about whether the soul and Heaven can exist in a strictly scientific world.
The many delights of this novel are highlighted by Lodge's choice of appropriate points of view for his characters.