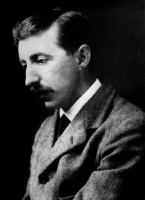 (1879 - 1970)
Edward Morgan Forster was born on the first of January 1879 in London. His father, an architect from a strict evangelical family, died soon after Forster was born, thus Forster was raised by his mother and paternal great-aunt. Since his mother was from a more liberal and somewhat irresponsible background, Forster was raised in a household that exposed him to great domestic tension. Forster was raised at Rooksnest, the house that inspired Howards End. Forster was educated as a dayboy at the Tonbridge School in Kent, an experience responsible for a good deal of his later criticism of the English public school system. Forster attended college at King's College in Cambridge, which greatly broaded his intellectual interests and gave him his first exposure to Mediterranean culture, which counterbalanced the more rigid English culture in which he was raised. Forster became a writer shortly after graduating from King's College. His first novels were products of that particular time, stories about the changing social conditions at the decline of Victorianism. Forster was part of the Bloomsbury Group, a set of unconventional bohemian thinkers in England that included Virginia Woolf, John Maynard Keynes, Dora Carrington and Lytton Strachey. Forster spent three wartime years in Alexandria doing civilian work. Forster visited India in the early 1920s where he was the private secretary to Tukojirao III, the Maharajah of Dewas and he went back to India a second time. He was against filming books. In his opinion a film or stage performance did not do justice to a literary piece of work. Despite that many of his works were adapted to films which were highly praised. In 1946 Forster was voted as an honorary 'Fellow' of King's College. He was presented knighthood in 1949; an offer he declined. He was made a 'Companion of Honor' in 1953 and in 1969 a member of the 'Order of Merit' by Queen Elizabeth II. The essays by Forster as well as his frequent lecture son political topics established his reputation as a liberal thinker and strong advocate of democracy. Forster continued to write until his death. He died on June 7th 1970 in Coventry after a series of strokes.
My selection:
Howards End : (Retour à Howards End) 1910
On the one hand are the Schlegel sisters, Margaret and Helen, and their brother Tibby, who care about civilised living, music, literature and conversations with their friends; on the other hand, Wilcoxes, Henry and his children Charles, Paul and Evie, who are concerned with the business side of life and distrust emotions and imagination. Helen Schlegel is drawn to the Wilcox family, falls briefly in love with Paul Wilcox and thereafter reacts away from them. Margaret becomes more deeply involved. She marries Henry Wilcox, to the consternation of both families. Her marriage cracks but does not break. In the end, torn between her sister and her husband, she succeeds in bridging the mistrust that divides them. Howards End, where the story begins and ends, is the house that belonged to Henry Wilcox's first wife, and is a symbol of human dignity and endurance.
A Room With A View : (Chambre Avec Vue) 1908
The story of a beautiful young English girl whose emotions are rocked when she witnesses a murder. This Edwardian social comedy explores love and prim propriety among an eccentric cast of characters assembled in an Italian pensione and in a corner of Surrey, England. A charming young English woman, Lucy Honeychurch, faints into the arms of a fellow Britisher when she witnesses a murder in a Florentine piazza. Attracted to this man, George Emerson - who is entirely unsuitable and whose father just may be a Socialist - Lucy is soon at war with the snobbery of her class and her own conflicting desires. Back in England she is courted by a more acceptable, if stifling, suitor, and soon realizes she must make a startling decision that will decide the course of her future: she is forced to choose between convention and passion. The enduring delight of this tale of romantic intrigue is rooted in Forster's colorful characters, including outrageous spinsters, pompous clergymen and outspoken patriots.
Maurice : 1971
When Maurice enters university, he soon makes friends with fellow student Clive Durham, who introduces him to the ancient Greek writings about same-sex love. For two years they have a committed partnership, which they keep hidden from everyone they know. Maurice hopes for more from their attachment, but it becomes clear that Clive intends to marry, even though Forster's prose leaves no doubts that his marriage will probably entail a joyless union. Maurice is devastated, and gets a good job as a stockbroker. In his spare time, he helps to run a Christian mission's boxing gym for working-class boys in the East End, although under Clive's influence he has long since abandoned his Christian beliefs. He makes an appointment with a hypnotist, Mr. Lasker Jones, in an attempt to "cure" himself. Lasker Jones refers to his condition as "congenital homosexuality" and claims a 50 per cent success rate in "curing" this "condition." After the first appointment it is clear that the therapy has failed. Maurice's unfulfilled emotional longings come closer to being resolved when he is invited to stay at Penge with the Durhams. There, at first unnoticed by him, is the young under-gamekeeper Alec Scudder, who has noticed Maurice. One night he uses a ladder to climb into Maurice's bedroom. After their first night together, Maurice panics and, because of his treatment of Alec, the latter threatens to blackmail Maurice. Maurice goes to Lasker Jones one more time. Knowing that the therapy is failing, he tells Maurice to consider relocating to a country that has adopted the Code Napoleon, meaning one in which same-sex affectional expression is not the state's concern, such as France or Italy. Maurice wonders if same-sex relationships will ever be acceptable in England, to which Lasker Jones replies "I doubt it. England has always been disinclined to accept human nature." Maurice and Alec meet at the British Museum in London to discuss the supposed blackmail. It becomes clear that they are in love with each other, and Maurice calls him Alec for the first time. Alec has a ticket for a trip to Argentina, and will not return. Maurice asks Alec to stay with him, and indicates that he knows he has to give up his social and financial position, even his class status. Alec does not accept the offer. After initial resentment Maurice decides to give Alec a sendoff. He is taken aback when Alec is not at the harbour. In a hurry, he makes for Penge, where the two lovers were supposed to have met before at a boathouse. He finds there Alec, who tells him that he had sent a telegram stating that he was to come to the boathouse. Alec had changed his mind, and intends to stay with Maurice. Maurice visits Clive and outlines what has happened with Alec. Clive is left speechless and can't understand. Maurice goes to the boathouse where he hopes Alec is waiting for him. He is, and they plan a future life together, in happiness.