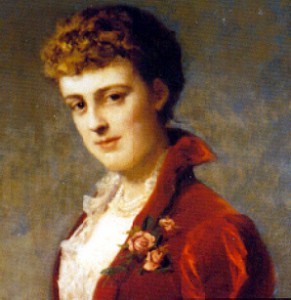 (1862 - 1937)
Edith Wharton was born Edith Newbold Jones on January 24th, 1862, in New York City to George Frederic Jones and Lucretia Stevens Rhinelander Jones. Her family on both sides was established, old-money New York business aristocracy. She was educated privately at home and also while travelling in Europe. The Jones family frequently took trips to the country and to Europe. From the beginning of her life, Edith was immersed in a society noted for its manners, taste, snobbishness, and long list of social do's and don'ts. She became proficient in French, German, and Italian. The books in her father's large library became her passion. She read English and French literature by Jonathan Swift, Daniel Defoe, William Shakespeare, John Milton, Jean Racine, Jean La Fontaine, and Victor Hugo. She read all of Johann Goethe's plays and poems and the poetry of John Keats and Percy Bysshe Shelley. At the age of seventeen, Edith spent her time studying, reading, and writing and was indifferent to people her own age. Worried about Edith, her parents decided that she should make her debut in society. Despite her natural shyness, she was a social success. In August 1882, at the age of nineteen, Edith became engaged to Harry Stevens, a prominent figure in New York society. By October of the same year, the engagement was broken as a result of meddling by the mothers of the engaged couple. On April 29th, 1885, Edith married Edward R. "Teddy" Wharton, a friend of her brother. Teddy, who was thirteen years older than Edith, was from a socially acceptable Boston family. After their wedding, the Whartons settled in New York City and soon purchased a home in Newport, Rhode Island. Teddy supported them both on his inherited income, which made it possible for the couple to live in New York and Newport, and to travel to Europe frequently. Her marriage to Edward Robbins Wharton was one filled with unhappiness and difficulties resulting from the writer's nervous illnesses and her husband's problems with his mental state. They had married in 1885 and would move to France in 1907. The Whartons settled in Paris in the fashionable Rue de Varenne. They divorced in 1913. In between, Wharton had begun to engage in social functions, meeting such literary acolytes as Henry James with whom she struck up a good friendship. After her divorce, Edith continued to visit the United States to retain her American citizenship, even though she chose to live permanently in France. During World War I, Edith established two organizations for war refugees: the Children of Flanders and the American Hostel for Refugees. She also made several visits to the French front where she distributed medical supplies.Edith won the French Legion of Honor and was awarded many decorations by the French and Belgian governments for her contributions to charity. She continued her charitable efforts after the war by providing aid to tubercular patients in France.In 1919, Edith purchased two homes in France: the chateau Ste Claire in Hyeres, and the Pavillon Colombe, located north of Paris. Both homes had elaborate gardens where Edith immersed herself. Because she felt as though she had been cut off from the life she knew before the war, she was anxious to re-establish friendships and stability. She began entertaining well-known literary personalities such as Walter Berry, Robert Norton, Percy Lubbock, Paul Bourget, and of course, her close friend Henry James. She was so fond of writing that she did much of it in bed, and reputedly threw an ugly tantrum when the light in a hotel room she was occupying did not shine on it. Edith continued to write until her death in Hyeres, in the south of France on August 11th, 1937 at the age of 75. She was buried in a cemetery at Versailles in France. All of Edith's papers and unfinished work were given to Yale University with the stipulation that certain of them not be released until 1968.
My selection:
The Age Of Innocence : (Le temps de l'Innocence) 1920
Edith Wharton was known initially for her short stories and her much admired novel Ethan Frome from the last years of her unhappy marriage in 1911. She is most remembered now for The Age of Innocence that was published in 1920. Many of her works are concerned with failed romance and disappointed marriage and The Age of Innocence is no exception. Newland Archer, the main character of the story is a lawyer living in New York who is in love with a certain Ellen Olenska. Ellen is married to a Polish count but the two are separated, and she is of a slightly extravagant and artistic nature that is juxtaposed with the hesitant but single-minded ways of Newland's fiancée May. The love of Newland for the unusual and exciting Polish lady is destroyed by the surprisingly devious May's intervention. The American has on her side the acceptable ways of society and convention and as such we watch as Newland is dragged down into a marriage to May that is not in keeping with his true desires. Typically, the novel deals with Wharton's desire to expose the conflicts between conventional, convenient love and the true desires of the individual that are so often undermined by society itself. The novel shows her ability to satirise in a humorous way the difficulties of life while also displaying a sense of the sadness intrinsic to foiled passions.
Ethan Frome : 1911
Critics have called Ethan Frome the most carefully constructed of Edith Wharton's novels, and have praised the economy of its language and its intensity. The novel is a naturalistic—that is, unsentimental—portrait of emotional frigidity set in the New England winter. Young Mattie Silver arrives in the mountain village of Starkfield to help with housekeeping for her cousin Zeena, the sickly, cantankerous wife of Ethan Frome.
Ethan, who has long been resigned to the care of his ailing wife and farm, is drawn to Mattie's youthful beauty and good humor. When Zeena realizes their mutual attraction, she arranges to engage a less attractive companion and to have Mattie sent away. Unable to bear the idea of parting, the lovers attempt to kill themselves by sledding into a tree. The attempt is a failure, and it leaves Mattie and Ethan crippled for life and condemned to Zeena's care.
Early reviewers praised Wharton's style but were dismayed by the novel's bleakness and the inability of her characters to find a way out of their situation. Later critics were even harsher in their evaluations, citing numerous inconsistencies and debating whether Ethan Frome himself is truly tragic or simply morally inert. All the same, this study in frustration, loneliness, and moral responsibility became a popular favorite, somewhat to the surprise of its author, and is frequently taught at the high school and college level.
The House of Mirth : (Chez les Heureux du Monde ) 1905
In The House of Mirth, the story of Lily Bart begins with her visiting the apartment of Lawrence Selden, a man for whom she has romantic feelings, but, for the sake of a high social-standing, decides that she must marry Percy Gryce, a young, timid millionaire who is wealthier than Selden. Despite the people of her social circle being convinced that Percy will propose marriage to Lily when they next meet, Lily changes her mind, and withdraws from their relationship, on account of an unexpected visit from Lawrence Selden. Despite feeling convinced that he loves Lily, Selden does not yet want to risk marriage; meanwhile, Gryce marries another girl, from within their social circle.Lily Bart, lingers at the broad staircase, observing the high-society people gathered in the hall below. Her social standing begins to erode when Gus Trenor, husband of friend Judy, gives Lily a large sum of money, accepted in the innocent belief that it represents profits from investments Gus had made in her behalf. The rumors that arise from that transaction, worsened by her injudicious and mysterious visit to Gus's townhouse in the city, further erode Lily's social standing. In the event, Lily one day receives a note from Selden, who asks to meet with her; certain that he shall propose marriage, Lily accepts to meet him the next day. Surprised by her acceptance, Selden becomes frightened by Lily's apparent change of heart, because earlier, Lily had escaped his attempt to kiss her; the fearful Selden flees New York City, first to Havana and then to Europe, cravenly leaving Lily with no notice. To escape the rumors arisen from the gossip caused by her financial dealings with Gus Trenor, and also disappointed by Selden's emotional cowardice, Lily accepts Bertha Dorset's invitation to join her and her husband, George, on a cruise of Europe aboard their yacht, the Sabrina. Unfortunately, whilst at sea, Bertha falsely accuses Lily of adultery with George, in order to thwart the attention and suspicion of their social circle away from Bertha's infidelity with the poet Ned Silverton. The ensuing social scandal ruins the personal reputation of Lily Bart, which then causes her abandonment by friends and disinheritance by Aunt Peniston. Undeterred by such misfortunes, Lily fights to regain her place in high society, by befriending Mr and Mrs Gormer, but her enemy, the malicious Bertha Dorset, gradually communicates to them the "scandalous" personal background of Lily Bart, and, so, undermines the friendship with the Gormers, by way of whose sponsorship Lily hoped to become socially rehabilitated. Only two friends remain for Lily: Gerty Farish (a cousin of Lawrence Selden) and Carry Fisher, who help her cope with the social ignominy of a degraded social-status, whilst continually advising Lily to marry as soon as reasonably possible. Despite the efforts and advice of Gerty and Carry to help her overcome notoriety, Lily descends through the social strata of the high society of New York City. She obtains a job as personal secretary of Mrs. Hatch, who is a disreputable woman; and Lily resigns after Lawrence Selden returns to rescue her from complete infamy. Lily then finds a job in a milliner's shop; yet, unaccustomed to the rigors of working class manual labour, her rate of production is low and the quality of her workmanship is poor, and is fired at the end of the New York social season, when the demand for fashion hats has ceased. Meanwhile, Simon Rosedale, a Jewish suitor who earlier had proposed marriage to Lily, when she was higher in the scale of social classes, returns to her life and tries to rescue her, but Lily is unwilling to meet his terms: Simon wants Lily to use love letters, which she bought from her servant, to confirm the occurrence, years earlier, of a love affair between Lawrence Selden and Bertha Dorset. For the sake of Selden's reputation, Lily does not act upon Rosedale's request, and secretly burns the love letters when she visits Selden, one last time. In the event, Lily Bart receives a ten-thousand-dollar inheritance, from her Aunt Peniston, with which she repays Gus Trenor. Distraught by her misfortunate life, Lily had begun regularly using a sleeping draught of chloral hydrate to escape the pain of poverty and social ostracism; yet one day, Lily takes an overdose of the sleeping draught, and kills herself. Hours later, Lawrence Selden arrives to her quarters, to finally propose marriage, but finds Lily Bart dead; only then was he able to be close to her in the way he had proved incapable of being when she was alive.