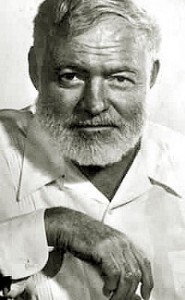 (1899 - 1961)
Ernest Miller Hemingway was born on July 21st, 1899, in Oak Park, Illinois, a conservative upper middle-class suburb of Chicago. He graduated from high school in 1917 and worked as a reporter for the Kansas City Star. Hemingway sailed to Europe in May 1918 to serve as a volunteer ambulance driver for the Italian Red Cross during World War I. Within weeks, Hemingway suffered a serious injury from fragments of an exploding mortar shell on the Italian front. Hemingway recovered in a hospital in Milan where he had a romantic relationship with a nurse, Agnes von Kurowsky. This incident provided the inspiration for his novel A Farewell to Arms. When he returned home in 1919, his parents did not understand the psychological trauma he had suffered, and they asked him to get a job or go to college.
Hemingway eventually began working for the Toronto Star Weekly. He married his first wife, Hadley Richardson, in 1921. He became the European correspondent for the Toronto Daily Star and moved to Paris with his wife in December 1921. There, Hemingway became friends with Ezra Pound, Gertrude Stein, Miró, Picasso, and other people belonging to the group of prominent expatriate writers and artists living in post-war Paris. Hemingway's reputation began to grow both as a journalist and as an author of fiction. His novel The Sun Also Rises, published in 1926, established him as one of the pre-eminent writers of his day. In the midst of the increasing literary success that followed the publication of The Sun Also Rises, Hemingway's marriage began to fall apart, and he divorced Hadley in 1927. He quickly got re-married to Pauline Pfeiffer, a fashion reporter. In 1928, they moved to Key West, Florida, where they lived for over a decade. Hemingway's father, Clarence Hemingway, committed suicide in 1928 after developing serious health and financial problems.
Hemingway had an affair with Martha Gelhorn, which led to his divorce from Pfeiffer. He married Gelhorn in 1940. In 1937, Hemingway travelled to Spain to cover the Spanish Civil War for the North American Newspaper Alliance. Hemingway's For Whom the Bell Tolls, became an instant success, but he did not publish another novel for ten years. Meanwhile, he and Martha divorced, and Hemingway married Mary Welsh, his fourth and last wife. Hemingway won the Pulitzer Prize in 1953 for his phenomenally successful The Old Man and the Sea, and the Nobel Prize in Literature in 1954. Hemingway then began to suffer from deteriorating health. His heavy drinking increased his health problems, and he began to suffer from wild mood swings. In 1960, Hemingway and Mary moved to Ketcham, Idaho. Not long afterward, he entered the Mayo Clinic to undergo treatment for severe depression. His depression worsened in 1961, and on July 2 of that year, Hemingway woke early in the morning and committed suicide by shooting himself in the head.
Hemingway's work changed both British and American literature. Hemingway's style differs distinctively from that of writers before him. His prose is extremely spare, succinct, and seemingly very direct, although his speakers tend to give the impression that they are leaving a tremendous amount unsaid. Modern prose fiction continues to be heavily influenced by Hemingway's technique in this regard. His body of work continues to be considered among the most important in the development of 20th-century letters.
My selection:
A Farewell to Arms : (L'Adieu aux Armes) 1929
One of Hemingway's war and love stories, this novel takes place in Italy during World War I and is tied closely to the author's own experience as an American Ambulance Driver for the Italian Army. The story opens during a lull in the action and the reader meets a group of men who work with the wounded during battle. In the course of waiting for action, the protagonist, Henry, meets and courts an English nurse stationed in Italy. The core of the tale is the evolution of the love of these two in the face of increasing military involvement, including an engagement in which Henry is wounded and after his return to the front, an Italian retreat from which he barely escapes with his life. Ultimately, he and Catherine, his English love, defect and enter Switzerland to await the birth of their child. Baby and mother both die and Henry is left alone, his future left by the author unplotted.
The Old Man and The Sea : (Le vieil homme et la mer) 1952
It is a parable novella about man's struggle against nature. The Old Man and the Sea, is a story of friendship between a young boy and an aging fisherman tormented by hunger and weeks of ill luck. Santiago, a once strong, proud man is coming to terms with his failing abilities and age. After many weeks of returning home to his small village, day after day with nothing in his boat, Santiago is forced to accept the other villager's small charities. He resolves to sail far out to sea in search of a catch that will redeem his self-confidence. Early the next morning, he descends to his fishing skiff, and rows out, into the dark sea, saying good-bye to his friend, the small boy, and the safety of the beach, perhaps for the last time. Later that day his luck turns and he hooks the giant marlin. The battle begins, not just with the fish, but with himself as well; the battle for his life, his regained youth and the return of his peer's respect. For two days and two nights his adversary pulls him further out to sea. Memories of his youth fill his vision, memories of battles fought and of scars healed. For hours at a time the physical game, he convinces himself, is only winnable if he can triumph mentally. Unable to loosen or even adjust his grip, for fear that his foe would sense his failing strength, Santiago is forced into a motionless prison, escape from which, is in the hands of his greatest adversary ever.
The Sun Also Rises : ( Le soleil se lève aussi ) 1926
The Sun Also Rises portrays the lives of the members of the so-called "lost generation," the group of men and women whose early adulthood was consumed by World War I. On the surface the novel is a love story between the protagonist American Jake Barnes—a man whose war wound has made him impotent—and the promiscuous divorcée Lady Brett Ashley. Brett's affair with Robert Cohn causes Jake to be upset and break off his friendship with Cohn; her seduction of the 19-year-old matador Romero causes Jake to lose his good reputation among the Spaniards in Pamplona. Barnes is an expatriate American journalist living in Paris. He is in love with Lady Brett Ashley, a twice-divorced Englishwoman. Brett, with her bobbed hair and numerous love affairs, embodies the new sexual freedom of the 1920s.
Book One is set in the café society of young American expatriates in Paris. In the opening scenes, Jake plays tennis with his college friend Robert Cohn, picks up a prostitute (Georgette), and runs into Brett and Count Mippipopolous in a nightclub. Later, Brett tells Jake she loves him, but they both know that they have no chance at a stable relationship.
In Book Two, Jake is joined by Bill Gorton, recently arrived from New York, and Brett's fiancé Mike Campbell, who arrives from Scotland. Jake and Bill travel south and meet Robert Cohn at Bayonne for a fishing trip in the hills northeast of Pamplona. Instead of fishing, Cohn stays in Pamplona to wait for the overdue Brett and Mike. Cohn had an affair with Brett a few weeks earlier and still feels possessive of her despite her engagement to Mike. After Jake and Bill enjoy five days of fishing the streams near Burguete, they rejoin the group in Pamplona. All begin to drink heavily. Cohn is resented by the others, who taunt him with anti-semitic remarks. During the fiesta the characters drink, eat, watch the running of the bulls, attend bullfights, and bicker with each other. Jake introduces Brett to the 19-year-old matador Romero at the Hotel Montoya; she is smitten with him and seduces him. The jealous tension among the men builds—Jake, Campbell, Cohn, and Romero each want Brett. Cohn, who had been a champion boxer in college, has fistfights with Jake, Mike, and Romero, whom he beats up. Despite his injuries, Romero continues to perform brilliantly in the bullring.
Book Three shows the characters in the aftermath of the fiesta. Sober again, they leave Pamplona; Bill returns to Paris, Mike stays in Bayonne, and Jake goes to San Sebastián in northeastern Spain. As Jake is about to return to Paris, he receives a telegram from Brett asking for help; she had gone to Madrid with Romero. He finds her there in a cheap hotel, without money, and without Romero. She announces she has decided to go back to Mike. The novel ends with Jake and Brett in a taxi speaking of the things that might have been.
For Whom The Bell Tolls : (Pour qui Sonne Le Glas) 1940
Jordan is an American in the International Brigades who travels to Spain to fight for the Republic in opposition of Francisco Franco's fascist forces. An experienced dynamiter, he is ordered by a Soviet general to travel behind enemy lines and destroy a bridge with the aid of a band of local anti-fascist guerrillas, in order to prevent enemy troops from responding to an upcoming offensive. On his mission, Jordan meets the rebel Anselmo who brings him to the hidden guerrilla camp and initially acts as an intermediary between Jordan and the other guerrilla fighters. In the camp, Jordan encounters María, a young Spanish woman whose life had been shattered by her parents' execution and her rape at the hands of the Falangists (part of the fascist coalition) at the outbreak of the war. His strong sense of duty clashes with both the unwillingness of the guerrilla leader Pablo to commit to an operation that would endanger himself and his band, and Jordan's own new-found lust for life which arises from his love for María. Pablo's wife, Pilar, usurps Pablo's leadership and pledges the allegiance of the guerrillas to Jordan's mission. However, when another band of anti-fascist guerrillas, led by El Sordo, is surrounded and killed, Pablo steals the dynamite detonators and exploder, hoping to prevent the demolition and thereby avoid fascist reprisals. Although he disposes of the detonators and exploder by throwing them down a gorge into the river, Pablo regrets abandoning his comrades and returns to assist in the operation. However, the enemy, apprised of the coming offensive, has prepared to ambush it in force and it seems unlikely that the blown bridge will do much to prevent a rout. Regardless of this, Jordan understands that he must still demolish the bridge in an attempt to prevent Fascist reinforcements from overwhelming his allies. Lacking the detonation equipment stolen by Pablo, Jordan and Anselmo coordinate an alternative method to explode the dynamite by using hand grenades with wires attached so that their pins can be pulled from a distance. This improvised plan is considerably more dangerous because the men must increase their proximity to the explosion. While Pablo, Pilar, and Maria create a distraction for Jordan and Anselmo, the two men plant and detonate the dynamite, costing Anselmo his life when he is hit by a piece of shrapnel. While escaping, Jordan is maimed when a tank shoots his horse out from under him. Knowing he would only slow his comrades down, he bids goodbye to María and ensures that she escapes to safety with the surviving guerrillas. He refuses an offer from another fighter to shoot him and lies in agony, hoping to kill an enemy officer and a few soldiers, and delay their pursuit of his comrades before dying or being killed. The narration ends right before Jordan launches his ambush.