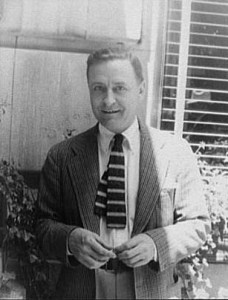 (1896 - 1940)
F. Scott Fitzgerald was born Francis Scott Key Fitzgerald on September 24th, 1896, in St. Paul, Minnesota. He is widely considered the literary spokesman of the "jazz age" (the decade of the 1920s). He was one of the American expatriate community living in Paris during the 20s. This group is also known as "the lost generation". Fitzgerald's mother, Mary McQuillan, was from an Irish-Catholic family that had made a small fortune in Minnesota as wholesale grocers. His father, Edward Fitzgerald, had opened a wicker furniture business in St. Paul, and, when it failed, he took a job as a salesman for Procter & Gamble that took his family back and forth between Buffalo and Syracuse in upstate New York during the first decade of Fitzgerald's life. However, Edward Fitzgerald lost his job with Procter & Gamble in 1908, when F. Scott Fitzgerald was 12, and the family moved back to St. Paul to live off of his mother's inheritance. Fitzgerald was a bright, handsome and ambitious boy. He attended the St. Paul Academy. In 1911, when Fitzgerald was 15 years old, his parents sent him to the Newman School, a prestigious Catholic preparatory school in New Jersey. There, he met Father Sigourney Fay, who noticed his talent and encouraged him to pursue his literary ambitions. After graduating from the Newman School in 1913, Fitzgerald decided to stay in New Jersey to go to Princeton University. However, Fitzgerald's writing came at the expense of his coursework. He was placed on academic probation, and, in 1917, he dropped out of school to join the U.S. Army. Fitzgerald was commissioned a second lieutenant in the infantry and assigned to Camp Sheridan outside of Montgomery, Alabama. It was there that he met and fell in love with a beautiful 18-year-old girl named Zelda Sayre. Sayre was the daughter of a local judge. He moved to New York City hoping to launch a career in advertising. He quit his job after only a few months, however, and returned to St. Paul to write. He married Zelda Sayre and they had a daughter named Frances Scott Fitzgerald, born in 1921. The young couple moved to New York City, where they became notorious for their madcap lifestyle. Fitzgerald made money by writing stories for various magazines. In 1924, Fitzgerald moved to France, and it was there, in Valescure, that Fitzgerald wrote what would be credited as his greatest novel, The Great Gatsby. After The Great Gatsby, Fitzgerald's life began to unravel. Always a heavy drinker, he progressed steadily into alcoholism. His wife, Zelda, also suffered from mental health issues, and the couple spent the late 1920s moving back and forth between Delaware and France. In 1930, she suffered another breakdown and was treated at the Sheppard Pratt Hospital in Towson, Maryland, and then was admitted to differentl health clinics. Fitzgerald spent years lost to alcohol and depression. Fitzgerald's later years were plagued by financial worries and his wife's progressive insanity. The author spent his last years as a scriptwriter in Hollywood, California. He died of a heart attack on December 21st, 1940 at the age of 44.
My selection:
The Great Gatsby : (Gatsby Le Magnifique) 1925
It is about the American Dream, and the downfall of those who attempt to reach its illusionary goals. In the past, Jay Gatsby, had a love affair with the affluent Daisy. Knowing he could not marry her because of the difference in their social status, he leaves her to amass wealth to reach her economic standards. Once he acquires this wealth, he moves near to Daisy, and throws extravagant parties, hoping by chance she might show up at one of them. He, himself, does not attend his parties but watches them from a distance. Soon he meets Nick Carraway, a cousin of Daisy, who agrees to set up a meeting. Gatsby's personal dream symbolizes the larger American Dream where all have the opportunity to get what they want. Jay still believes that Daisy loves him. Nick attempts to show Jay the folly of his dream, but he is confident. For Jay, his American Dream is not material possessions, although it may seem that way. He only comes into riches so that he can fulfil his true American Dream, Daisy. However, it never comes about and he ends up paying the ultimate price for it. The idea of the American dream still holds true in today's time, be it wealth, love, or fame. Everyone desires something in life, and everyone, somehow, strives to get it. Gatsby is a prime example of pursuing the American Dream.
Tender is the Night : (Tendre est la Nuit) 1934
This is the story of the rise and fall of Dick Diver, a promising young psychoanalyst, and his wife, Nicole, who is also one of his patients. It was the last novel that he would complete. The book reveals the detrimental days of Fitzgerald's past as he lives out his last remaining years with his wife, Zelda. The novel almost mirrors the events that take places as characters are pulled and put back into mental care, and the male figure, Dick Diver, starts his descent into alcoholism. While working on the book, several times he ran out of cash and had to borrow from his editor and agent and write short stories for commercial magazines. The early 1930s, when Fitzgerald was conceiving and working on the book, were the darkest years of his life and, accordingly, the novel has its very bleak elements that he experienced himself. Two versions of this novel are in print. The first version, published in 1934, uses flashbacks; the second, revised version, prepared by Fitzgerald's friend and noted critic Malcolm Cowley on the basis of notes for a revision left by Fitzgerald, is ordered chronologically and was first published posthumously in 1948. Critics have suggested that Cowley's revision was undertaken due to negative reviews of the temporal structure of the first version of the book.