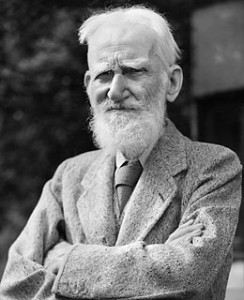 (1856 - 1950)
George Bernard Shaw (he hated the "George" and never used it, either personally or professionally) was born on July 26th, 1856 in Dublin, in a lower-middle class family of Scottish-Protestant ancestry. His father was a failed corn-merchant, with a drinking problem and a squint (which Oscar Wilde's father, a leading Dublin surgeon, tried unsuccessfully to correct); his mother was a professional singer, the sole disciple of Vandeleur Lee, a voice teacher claiming to have a unique and original approach to singing. When Shaw was sixteen, his mother left her husband and son and moved with Vandeleur Lee to London, where the two set up a household, along with Shaw's older sister Lucy. Shaw remained in Dublin with his father, completing his schooling (which he hated passionately), and working as a clerk for an estate office (which he hated just as much as school). In 1876, Shaw left Dublin and his father and moved to London, moving in with his mother's menage. There he lived off of his mother and sister while pursuing a career in journalism and writing. The first medium he tried as a creative writer was prose, completing five novels before any of them were published. He read voraciously, in public libraries and in the British Museum reading room. And he became involved in progressive politics. Standing on soapboxes, at Speaker's Corner in Hyde Park and at socialist rallies, he learned to overcome his stagefright and his stammer. And, to hold the attention of the crowd, he developed an energetic and aggressive speaking style.With Beatrice and Sidney Webb, Shaw founded the Fabian Society, a socialist political organization dedicated to transforming Britain into a socialist state, not by revolution but by systematic progressive legislation, bolstered by persuasion and mass education. The Fabian society would later be instrumental in founding the London School of Economics and the Labour Party. Shaw lectured for the Fabian Society, and wrote pamphlets on the progressive arts. Meanwhile, as a journalist, Shaw worked as an art critic, then as a music critic (writing under the pseudonym "Corno di Bassetto"), and finally, from 1895 to 1898, as Theatre Critic for the Saturday Review, where his reviews appeared over the infamous initials "GBS."In 1891, Shaw wrote his first play, Widower's Houses. For the next twelve years, he wrote close to a dozen plays, though he generally failed to persuade the managers of the London Theatres to produce them. A few were produced abroad.In 1898, after a serious illness, Shaw resigned as theatre critic, and moved out of his mother's house (where he was still living) to marry Charlotte Payne-Townsend, an Irish woman of independent means. Their marriage (quite possibly sexually unconsummated) lasted until Charlotte's death in 1943.In 1904, Harley Granville Barker, an actor, director and playwright twenty years younger than Shaw who had appeared in a private theatre society's production of Shaw's Candida, took over the management of the Court Theatre on Sloane Square in Chelsea and set up it up as an experimental theatre specializing in new and progressive drama. Over the next three seasons, Barker produced ten plays by Shaw and Shaw began writing new plays with Barker's management specifically in mind. With royalties from his plays, Shaw, who had become financially independent on marrying, now became quite wealthy. Throughout the decade, he remained active in the Fabian Society, in city government (he served as vestryman for the London borough of St. Pancras), and on committees dedicated to ending dramatic censorship, and to establishing a subsidized National Theatre.The outbreak of war in 1914 changed Shaw's life. For Shaw, the war represented the bankruptcy of the capitalist system, the last desperate gasps of the nineteenth-century empires, and a tragic waste of young lives. He expressed his opinions in a series of newspaper articles under the title Common Sense About the War. These articles proved to be a disaster for Shaw's public stature: he was treated as an outcast in his adopted country, and there was even talk of his being tried for treason. After the war, Shaw found his dramatic voice again and rebuilt his reputation. In 1925 he was awarded the Nobel Prize for Literature. (Not needing the money, he donated the cash award towards an English edition of the Swedish playwright August Strindberg, who had never been recognized with a Nobel prize by the Swedish Academy). Shaw's plays were regularly produced and revived in London. Shaw lived the rest of his life as an international celebrity, travelling the world, continually involved in local and international politics. He visited the Soviet Union at the invitation of Stalin and he visited briefly the United States.In 1950, Shaw fell off a ladder while trimming a tree on his property at Ayot St. Lawrence in Hertfordshire, outside of London, and died a few days later on the 2nd of November of complications from the injury, at age 94. In his will, he left a large part of his estate to a project to revamp the English alphabet. After that project failed, the estate was divided among the other beneficiaries in his will: the National Gallery of Ireland, the British Museum, and the Royal Academy of Dramatic Art. Royalties from Shaw's plays (and from the musical My Fair Lady, based on Shaw's Pygmalion) have helped to balance the budgets of these institutions ever since.
My selection:
Pygmalion : 1912 - 1913
Based on classical myth, Bernard Shaw's Pygmalion plays on the complex business of human relationships in a social world. Phonetics Professor Henry Higgins tutors the very Cockney Eliza Doolittle, not only in the refinement of speech, but also in the refinement of her manner. When the end result produces a very ladylike Miss Doolittle, the lessons learned become much more far reaching. The successful musical My Fair Lady was based on this Bernard Shaw classic.Two old gentlemen meet in the rain one night at Covent Garden. Professor Higgins is a scientist of phonetics, and Colonel Pickering is a linguist of Indian dialects. The first bets the other that he can, with his knowledge of phonetics, convince high London society that, in a matter of months, he will be able to transform the cockney speaking Covent Garden flower girl, Eliza Doolittle, into a woman as poised and well-spoken as a duchess. The next morning, the girl appears at his laboratory on Wimpole Street to ask for speech lessons, offering to pay a shilling, so that she may speak properly enough to work in a flower shop. Higgins makes merciless fun of her, but is seduced by the idea of working his magic on her. Pickering goads him on by agreeing to cover the costs of the experiment if Higgins can pass Eliza off as a duchess at an ambassador's garden party. The challenge is taken, and Higgins starts by having his housekeeper bathe Eliza and give her new clothes. Then Eliza's father Alfred Doolittle comes to demand the return of his daughter, though his real intention is to hit Higgins up for some money. The professor, amused by Doolittle's unusual rhetoric, gives him five pounds. On his way out, the dustman fails to recognize the now clean, pretty flower girl as his daughter.For a number of months, Higgins trains Eliza to speak properly. Two trials for Eliza follow. The first occurs at Higgins' mother's home, where Eliza is introduced to the Eynsford Hills, a trio of mother, daughter, and son. The son Freddy is very attracted to her, and further taken with what he thinks is her affected "small talk" when she slips into cockney. Mrs. Higgins worries that the experiment will lead to problems once it is ended, but Higgins and Pickering are too absorbed in their game to take heed. A second trial, which takes place some months later at an ambassador's party (and which is not actually staged), is a resounding success. The wager is definitely won, but Higgins and Pickering are now bored with the project, which causes Eliza to be hurt. She throws Higgins' slippers at him in a rage because she does not know what is to become of her, thereby bewildering him. He suggests she marry somebody. She returns him the hired jewelry, and he accuses her of ingratitude.The following morning, Higgins rushes to his mother, in a panic because Eliza has run away. On his tail is Eliza's father, now unhappily rich from the trust of a deceased millionaire who took to heart Higgins' recommendation that Doolittle was England's "most original moralist." Mrs. Higgins, who has been hiding Eliza upstairs all along, chides the two of them for playing with the girl's affections. When she enters, Eliza thanks Pickering for always treating her like a lady, but threatens Higgins that she will go work with his rival phonetician, Nepommuck. The outraged Higgins cannot help but start to admire her. As Eliza leaves for her father's wedding, Higgins shouts out a few errands for her to run, assuming that she will return to him at Wimpole Street. Eliza, who has a lovelorn sweetheart in Freddy, and the wherewithal to pass as a duchess, never makes it clear whether she will or not.