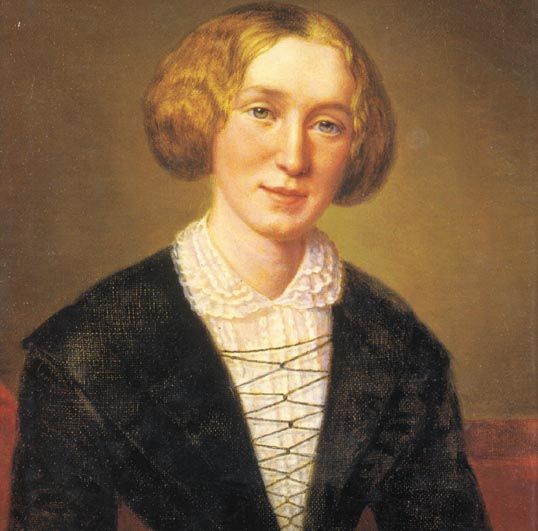 (1819 - 1880)
Mary Anne Evans, who wrote under the pseudonym George Eliot, was born on November 22nd 1819, at South Farm, Arbury Hall in Warwickshire. She was the youngest of five children. Mary Anne had the privileges of a private education. She enjoyed books and learning from a young age. She was introspective and quiet. Unfortunately, Mary Anne was forced to leave school at the age of 16, when her mother died. Her father continued to indulge her love of learning, buying books for her and helping her to learn German and Italian.
In 1841, Mary Anne's father moved the family to the larger town of Foleshill, where Mary Anne met Charles and Cara Bray, who would become good friends of hers. Through the Brays, Mary Anne was introduced to Ralph Waldo Emerson. Mary Anne soon, however, became very self-conscious about her unconventionality among this group of friends. She also began to renounce her faith in Christianity, which caused distance between Mary Anne and her father. They reconciled for the most part, and Mary Anne cared for her father closely when he became ill in 1847 until his death in 1849.
Through the Brays, she also met John Chapman, a publisher and bookseller from London. Chapman and Mary Anne became good friends, and he asked Mary Anne to become the behind-the-scenes editor for the Westminster Review. Mary Anne worked at the Review for two years, despite the fact that she received no credit for her work. In 1851, Mary Anne met George Henry Lewes, and the pair became romantically involved. Though Lewes was already married, he and his wife had been separated for some years and his wife was living with another man, with whom she had three children.
It was all but impossible for Lewes to divorce his wife because he had condoned her adultery, so his and Mary Anne's options were limited. They decided to try living together abroad first, so in 1854 they traveled to Germany together. They were as vague with their friends and relatives as possible, but after some months abroad they started to receive word that even their most liberal-minded friends disapproved of their lifestyle. They returned to England in 1855, and Mary Anne remained separate from Lewes until his wife declared that she had no intention of ever reuniting with him. After this, Mary Anne moved in with Lewes in London, and insisted on being called Mrs. Lewes, which caused great scandal and her general isolation from society. Mary Anne's decision meant a break with the Brays, who disapproved of her decision. She and George were very happy, despite the stir that their relationship caused.
Mary Anne Evans became a fiction writer in 1856. In 1858, George Eliot's second novel, Adam Bede, became a critical and popular success; soon after, George Eliot's identity as Mary Anne "Lewes" became known. Adam Bede was followed by two more highly successful novels also set in the English Midlands, The Mill on the Floss (1860) and Silas Marner (1861). Encouraged by her success, Eliot began exploring continental and political themes in her next works: Romola (1863), which was set in Renaissance Italy, and Felix Holt, The Radical (1866), which depicted the political controversy surrounding the Reform Bill of 1832.
Mary Anne began writing Middlemarch in 1869. The novel was serialized through 1871 and 1872, and became a great success, making George Eliot (and Mary Anne) even more famous. By this time, public sentiment had begun to soften toward Mary Anne. George Lewes and Mary Anne became very social and popular as her writing continued to make a great deal of money for the couple. They continued living together until 1878, when Lewes suddenly became ill. Lewes's death in November of 1878 was heartbreaking for the writer, and she began a period of intense mourning that lasted more than a year.
John Cross, the couple's "business manager" of sorts, became very concerned about Mary Anne's well-being during this trying period. He proposed marriage to her several times until she finally accepted in 1880. Their union was one of companionship rather than romance; Cross was more than 20 years younger than Mary Anne, who turned 61 soon after their marriage. In December 1880, after only seven months of marriage, Mary Anne became seriously ill. She passed away in her sleep on December 22nd 1880, and was buried next to her lifelong companion, George Lewes.
My selection:
The Mill On The Floss : 1860 (Le Moulin Sur La Floss)
Tom and Maggie Tulliver are two kids growing up at Dorlcote Mill, which has been in their family for generations. The kids have a lot of extended family living nearby, and their aunts and uncles frequently come by to argue amongst themselves and to scold Tom and Maggie. The Tulliver kids have a stormy relationship. They spend most of their time getting along really well or else fighting horribly. Maggie in particular is very smart and very emotional and is always getting into trouble.
Two major things are in the works for the Tullivers: school and a lawsuit. Tom and Maggie are both sent to schools and Tom gets a fancy, if useless, education. While at school he meets a deformed boy named Philip Wakem, who is the son of Mr. Tulliver's arch-nemesis. Mr. Tulliver dislikes Mr. Wakem, a lawyer, since he is involved in a lawsuit against one of Wakem's clients. Mr. Tulliver loses his lawsuit and things go rapidly downhill for the Tulliver family. They go bankrupt and Mr. Tulliver's health begins to fail. Mr. Wakem buys the Tulliver family mill, which causes Mr. Tulliver to hate the Wakems even more and to curse them in the family Bible.
After the lawsuit fiasco, the Tulliver kids are forced to leave school and start working. Tom slaves away for one of his uncles and is obsessed with paying off the family debts. Maggie finds comfort in an extreme form of religion, but she later puts that aside in favor of a secret friendship with Philip Wakem, who has been in love with Maggie ever since they first met. Maggie's passionate nature continues to cause her a lot of emotional distress.
Tom discovers Maggie's relationship with Philip and forbids her from seeing him again. Maggie is torn but decides that family loyalty comes first. Her relationship with Tom is badly damaged. Shortly after this, Tom manages to pay off the family debts, but the triumph is ruined when Mr. Tulliver attacks Mr. Wakem and then dies shortly afterwards. The Tullivers must move away from the mill.
A few years go by and Maggie returns from a stint as a governess to stay with her cousin Lucy. Tom has worked his way up in his uncle's business and is now successful. Maggie meets Stephen Guest, Lucy's boyfriend, and the two quickly fall in love. Philip also returns and Maggie is embroiled in a messy love quadrangle. Eventually, Stephen and Maggie are unable to control their feelings and the two try to elope. But Maggie has a crisis of conscience and leaves Stephen, returning home in disgrace.
Though Maggie reconciles with those closest to her, she is unable to make amends with the judgmental Tom. After a period of intense emotional suffering for Maggie, the local river floods. Maggie goes to rescue Tom and the two reconcile their differences. But Tom and Maggie are drowned in the flood. The other characters all survive and move on with their lives and Tom and Maggie are buried together.
Silas Marner : 1861
Silas is a weaver living in a manufacturing city in the north of England. He and his friends are Dissenters, Christians who don't belong to the state-sponsored Anglican Church that was (and is) dominant in England. Things are good. He's got a best friend named William Dane, a best girl named Sarah, and the only minor issue is that he occasionally spaces out—like, really spaces out, to the point that he doesn't know what's going on around him.
And then he's accused of theft. The group kicks him out, and Silas makes his way south to the Midlands, where he sets up his loom and settles down in the village of Raveloe. Business is good, but the villagers think he's a weird loner. For fifteen whole years, he weaves and holds nightly sessions with his growing hoard of money.
Meanwhile, things aren't going well for Raveloe's wealthy family up at the Red House. The head of the family, old Mr. Cass, is a jerk, and he's got a jerky younger son, Dunstan. His older son, Godfrey is secretly married to the opium-addled Molly. This is depressing to Godfrey, because these are pre-regular divorce days, and he's got his eye on another girl, Nancy Lammeter.
When the main action of the story opens, Dunstan convinces Godfrey to sell his horse to pay a debt, and even offers to sell it for him. Big mistake, Godfrey. Before getting the money, Dunstan takes the horse off hunting, but he makes a stupid move and the horse ends up dead. As Dustan is walking home, he spies Silas's cottage and has the bright idea to steal the money everyone suspects Silas has.
Silas, who can't catch a break and knows it, promptly sinks into depression. He's depressed all through Christmas, and then New Year's arrives. Up at the Red House, Mr. Cass is giving his big annual party. Godfrey recklessly flirts with Nancy. Dunstan is nowhere to be found, and hasn't been for a while.
Down near the Stone-Pits by Silas's cottage, Molly trudges along the snow-covered road carrying a child. She takes some opium (dumb), sits down under a bush (dumber), and falls asleep (really, really dumb, but also sad). The child wakes up and toddles off, accidentally—or miraculously?—deciding to cuddle up in front of Silas's hearth.
Silas refuses to let anyone take the child: she's his replacement for the gold. Cue the life-changing montage. Silas takes advice from his neighbors, has her baptized, and stops hoarding for the sake of hoarding. The next sixteen years pass in a haze of neighborly good-feeling and childish hijinks.
When Part Two opens, we meet a grown-up Eppie. She's eighteen, adorable, and everyone loves her, most especially Dolly Winthrop's son Aaron. But all is not well up at the Red House: Godfrey and Nancy are childless. One day, Godfrey comes to give Nancy some news: first, they've found Dunstan. He was lying drowned at the bottom of the quarry, which has been drained as a nearby landowner improves his land. Second, Dunstan had stolen Silas's money, and the money has now been returned to Silas. Third, Eppie is Godfrey's child.
Nancy and Godfrey offer to adopt Eppie, but she refuses. She loves Silas, she loves the villagers, and she's going to marry Aaron. The novel ends with a wedding. As Aaron, Silas, and Eppie—who would be unbearably annoying, if she weren't fictional—enter their little cottage, Eppie sighs with happiness.