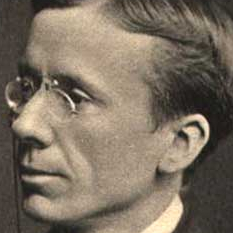 (1847 - 1912)
George Grossmith was born on December 9th 1847 in London.
He was an English comedian and singer who created many of the chief characters in the original productions of Gilbert and Sullivan light operas.
His father, also named George (1820–1880), was the chief reporter for The Times and other newspapers at the Bow Street Magistrates' Court and was also a lecturer and entertainer. His mother was Louisa Emmeline Grossmith née Weedon. Over the years, Grossmith's father spent less of his time at Bow Street and more of it touring as a performer. As a young man, Grossmith was usually credited as "Jnr" to distinguish him from his father, especially when they performed together, but for most of his career, he was credited simply as "George Grossmith".
After several years of journalistic work, Grossmith began about 1870 as a public entertainer, with songs, recitations, and sketches. His long connection with Gilbert and Sullivan began in 1877 at the Opera Comique, London, in the comic opera The Sorcerer. Thereafter, he appeared regularly at the Opera Comique, being transferred, in 1881, with the Gilbert and Sullivan productions to the new Savoy Theatre, London.
In 1889 Grossmith left the Savoy and again set up as an entertainer, visiting all the major cities of Great Britain and the United States. He wrote an autobiography, A Society Clown (1888), and, with his brother Weedon Grossmith (1852–1919), an actor and playwright, wrote the amusing Diary of a Nobody (1892). His humorous songs and sketches exceeded 600. Both of his sons, George (1874–1935) and Lawrence Grossmith (1877–1944), were distinguished actors. George, Jr., became a well-known figure in musical comedies, entered the motion-picture industry in 1932, and wrote musical plays. He died on March 1st 1912 in Folkestone, Kent.
My selection:
The Diary of a Nobody : 1892 (Journal d'un Homme sans Importance)
The Diary of a Nobody is an English comic novel written by the brothers George and Weedon Grossmith, with illustrations by the latter. It originated as an intermittent serial in Punch magazine in 1888–89 and first appeared in book form, with extended text and added illustrations, in 1892. The Diary records the daily events in the lives of a London clerk, Charles Pooter, his wife Carrie, his son Lupin, and numerous friends and acquaintances over a period of 15 months.
Mr. Charles Pooter is perfectly average in every way. Actually, he doesn't really like being average (as he is a smidgen snobbish) but he certainly isn't a 'nobody' either. He is rather just one of us, a person trying to get ahead in life and be as successful as he can be in the face of life's little embarrassing disasters. And believe you me there are plenty of those in this book!
This is his diary, wherein he faithfully records all of the aforementioned moments including the stress of moving into a new house. British comedy is famous for its sarcasm and dry wit, and 'The Diary of a Nobody' has this in spades as it was written by George Grossmith, a rather famous comedian of his time. The humour here is of the domestic variety, and includes sharp observations of moments between long-married couples like the Pooters, whose spats are not funny at the time of happening but become hilariously so in retrospect.
All families have their dysfunctional side, and the Pooter 'black sheep' is none other than Lupin, the son – a young, cad about town with a bad work ethic and a penchant for making money fast through dubious means. Like most fathers, Charles Pooter is seriously concerned for his boy as he can't seem to hold down a job and has taken to slang and courting chorus girls, which to him are marks of indecency. Attached to the Pooter household are the maids and two longstanding friends Cummings and Gowing, who (like their names) arrive whenever they want and always manage to finish off Mr. Pooter's spirits.
The problem with Pooter, (or rather the sad part of it) is that he is an intelligent man, but for some reason is never entirely taken seriously by his friends and family. Everyone is making jokes at his expense and his own jokes aren't all that good either. He is a rather sensitive character, and comes across as a bit of a pushover. In fact, he reminds me a little of Kenneth Williams of 'Carry On' fame' with a large helping of John Cleese.
All in all rather funny in a quaint way. Despite being written in the late 1800's, it is very easy to read and relate to.