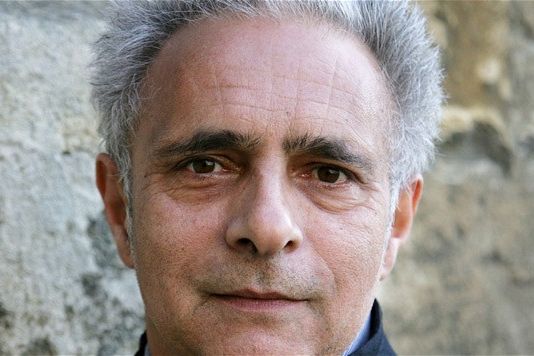 (1954 - )
Hanif Kureishi was born on 5th December 1954. He is a British Pakistani playwright, screenwriter, filmmaker and novelist. Kureishi was born in Bromley, South London, to a Pakistani father, Rafiushan (Shanoo) Kureishi, and an English mother, Audrey Buss. His father was from a wealthy Madras family, most of whose members moved to Pakistan after the Partition of British India in 1947. Rafiushan came to the UK in 1950 to study law but for financial reasons worked at the Pakistani embassy instead. Here he met his wife-to-be, Buss. He wanted to be a writer but his ambitions were frustrated. The couple were married, the family settled in Bromley where Kureishi was born. Hanif Kureishi attended Bromley Technical High School and studied for A-levels at Bromley College of Technology. While at this college he was elected as Student Union President (1972) and some of the characters from his semi-autobiographical work The Buddha of Suburbia are from this period. He went on to spend a year studying philosophy at Lancaster University before dropping out. Later he attended King's College London and took a degree in philosophy.Kureishi started his career in the 1970s as a pornography writer,under the pseudonyms Antonia French and Karim. He went on to write plays for the Hampstead Theatre, Soho Poly and by the age of 18 was with the Royal Court. He wrote My Beautiful Laundrette in 1985, a screenplay about a gay Pakistani-British boy growing up in 1980s London for a film directed by Stephen Frears. The screenplay, especially the racial discrimination experienced, contained elements from Hanif's own experiences as the only Pakistani student in his class. It won the New York Film Critics Best Screenplay Award and an Academy Award nomination for Best Screenplay. He also wrote the screenplay for Sammy and Rosie Get Laid (1987). His book The Buddha of Suburbia (1990) won the Whitbread Award for the best first novel and was made into a BBC television series with a soundtrack by David Bowie. 1991 saw the release of the feature film entitled London Kills Me, written and directed by Kureishi.
His novel Intimacy (1998) revolved around the story of a man leaving his wife and two young sons after feeling physically and emotionally rejected by his wife. This created some controversy as Kureishi had recently left his own partner (the editor and producer Tracey Scoffield) and two young sons; it was assumed to be at least semi-autobiographical. In 2000/2001 the novel was adapted to a movie Intimacy by Patrice Chéreau, which won two Bears at the Berlin Film Festival: a Golden Bear for Best Film and a Silver Bear for Best Actress (Kerry Fox). It was controversial for its explicit sex scenes. The book was translated into Persian by Niki Karimi in 2005.
Kureishi's drama The Mother was adapted to a movie by Roger Michell, which won a joint First Prize in the Director's Fortnight section at Cannes Film Festival. It showed a cross-generational relationship with changed roles: a seventy-year-old English lady and grandmother (played by Anne Reid) who seduces her daughter's boyfriend (played by Daniel Craig), a thirty-year-old craftsman. Explicit sex scenes were shown in realistic drawings only, thus avoiding censorship. His 2006 screenplay Venus saw Oscar, BAFTA, Screen Actors Guild, Broadcast Film Critics Association and Golden Globe nominations for Peter O'Toole in the best actor category.
A novel entitled Something to Tell You was published in 2008. His 1995 novel The Black Album, adapted for the theatre, was performed at the National Theatre in July and August 2009. In May 2011, he was awarded the second Asia House Literature Award on the closing night of the Asia House Literary Festival where he discussed his Collected Essays (Faber).
My selection:
The Black Album : 1995 (Black Album)
It is the story of a 'paki' facing an identity crises in England. It centres around a young Pakisthani lad born and brought up in Kent, in England. When we meet Shahid, he's just got into university - a small college in London. As the story moves along, we are told that his dad, now dead, ran a travel business. His brother, Chilli, is a colourful Brit Asian, who has no existential dilemmas to deal with. Flashy sporty, he's into big brands and an expensive lifestyle. Shahid is quieter, introspective - he read Shelley to a girl at a date - but not averse to having a good time. Obviously he doesn't come from a disadvantaged corner-shop-owning kind of background.
The story begins surrealistically with Shahid being spirited away for a meal by his two housemates, where he is slowly introduced in to the world of Muslim fundamentalism. Riaz, a cool, rational character of mythic proportions, delves deep into Shahid's psyche to root out his feelings of not belonging, of loneliness. Riaz is the frighteningly intelligent face of terror, well-educated, charismatic, media savvy and irreproachable in his dealings with people. His understudy, the huge Chad aka Trevor, a Pakistani adopted by whites, is its unquestioning, blindly fanatic side. The master and his minion. Or the brain and the brawn.
Shahid is torn between the sense of belonging that being with Riaz and his friends gives him, and the world at large. In his case, the 'world at large' revolves around his sexy, sensitive radical English professor, Deedee Osgood, who of course, is white! She sweeps him into a world of books and booze, ecstasy-popping and partying. Inspite of her own derelict lifestyle, she becomes the voice of dissent in Shahid's life.
Shahid's conflicts come to a head as the story progresses. It's 1989 and Rushdie's book, The Satanic Verses has just been banned. This becomes something of a cause celebre for Riaz. Deedee on the other hand, hates censorship, especially of the religious kind. Shahid's subsequent actions unleash a wave of violence.
The Black Album is racy and absorbing, though quite graphic and even sordid at times. The seamy side of life is sometimes too much in evidence. Whites, blacks or Asians, we see them sink to depths as low as can be. But for all that, this novel is highly sensitive.
The Buddha of Suburbia : 1990 (Le Bouddah de Banlieue)
The Buddha of Suburbia is said to be very autobiographical. It is about Karim, a mixed-race teenager, who is desperate to escape suburban South London and make new experiences in London in the 1970s. Gladly, he takes the unlikely opportunity when a life in the theatre announces itself. When there is nothing left for him to do in London, he stays in New York for ten months. Returning to London, he takes on a part in a TV soap opera and the book leaves its reader on the verge of Thatcherism.
In The Buddha the move into (and later through) the city is like an odyssey or pilgrimage. On the first page Karim introduces himself as follows: "My name is Karim Amir, and I am an Englishman born and bred, almost". This motif is reinforced throughout the novel.
Pop music is an important theme in Kureishi's novels. One could even say that his novels have a soundtrack. London itself is associated by Karim to a sound. "There was a sound that London had. It was, I'm afraid, people in Hyde Park playing bongos with their hands; there was also the keyboard on The Doors' "Light My Fire". There were kids in velvet cloaks who lived free lives".
Through his work with two theatre companies, Karim gets to know new people from completely different backgrounds, like the working-class Welshman Terry who is an active Trotskyist and wants him to join the party, or Karim's lover Eleanor who is upper middle-class but pretends to be working-class. Through the latter group of people, surrounding Eleanor or Pyke (a strange theatre director), he realises that they are speaking a different language, because they received a good education, which was not valuable in the suburbs.
In The Buddha other characters and their struggle to make it in London are described, too. Kureishi portrays Eva, as a social climber at war with the city. Later in the novel the main character's father (an Indian immigrant, a boring bureaucrat living with his family in a grey London suburb) is suddenly discovered by the London high society, that is hungry for exotic distractions, and so he becomes their Buddha-like guru, though he himself does not believe in this role. His son does not believe in him either and, at the same time, has his first erotic experiences.
Even though The Buddha is set in the 1970s and ends just before the Thatcher era begins, Kureishi was writing it under the direct influence of the outcome of Thatcherism. It is not surprising then, looking back, that he can see the roots of conservatism already in the '70s.