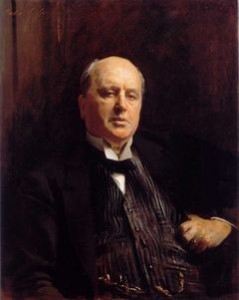 (1843 - 1916)
Henry James was born in New York City on april 15th 1843. His father wrote about theology and philosophy and his younger brother William James was a famous psychologist and philosopher. From 1845 to 1855, James lived in the United States and was educated by various tutors and schools. During this time, he knew Ralph Waldo Emerson, Washington Irving, and William Makepeace Thackeray, the first in a long line of renowned writers and artists with whom he associated throughout his life in the United States and Great Britain and on the Continent. As it turned out, this decade was also to be the longest continuous residence in the United States for James. As a boy, he was shy and a great reader. Due to the frequent travel of his parents his education was then scattered between his hometown and the European capital cities of Geneva, Paris and London. Having returned to Newport, Rhode Island, in 1860, James was prevented from joining the Union army in the American Civil War, which began in 1861, by a back injury, though his two younger brothers did so. Instead, he went to Harvard Law School in 1862 and began to write and publish stories; he dropped out of law school after one year to pursue his writing career fulltime. He finally settled in Europe in 1875 having given up the intention of a legal career. His novels, however, began to be published at the time of his return to Europe. Roderick Hudson (1876) was the first of these, and in the ensuing twenty years he spent in London he produced many more of his most famous works, often focusing upon the relationship between 'old' Europe and 'young' America. During this time he wrote The American (1877), Daisy Miller (1879), Washington Square (1881) and Portrait of a Lady (1881) as well as certain travel books. Although James wrote the famous short-story The Turn of the Screw in 1898, this period one of depression as his writings for the stage were poorly received. Despite these problems, he wrote twelve plays in all. The first years of the twentieth century were far more dignified for the writer who had moved out of London in 1898 to live in Lamb House, Rye. He wrote The Wings of a Dove (1902), now considered his finest work, at this time and followed its success with The Ambassadors (1903) and The Golden Bowl (1904). This later period was a return to James's theme of the contrast between America and Europe is widely regarded as his most effective. His final novels, The Ivory Tower and The Sense of the Past were unfinished. He became a British subject in 1915. Given his novels' perspective, however, he remains a strangely trans-Atlantic figure very much in the sense that T.S. Eliot is. He was awarded the Order of Merit in January 1916. He died of pneumonia on 28th Febuary 1916. His ashes were interred at the Cambridge Cemetery in Massachusetts in the United States. His stone inscribed "Novelist, Citizen of Two Countries, Interpreter of His Generation On Both Sides Of The Sea". A memorial stone was placed for him in the Poets' Corner of Westminster Abbey in London in 1976.
My selection:
The Aspern Papers : ( Les Papiers de Jeffrey Aspern ) 1888
In an elegant and crumbling palazzo Miss Bordereau lives on with her niece, closely guarding her most precious treasure, a hoard of letters written to her in her youth by the great American love poet Jeffrey Aspern. Adopting a nom de guerre the tale's narrator, a literary researcher, arrives at the palazzo and inveigles (amener qq'un à faire qq ch par la ruse) the two ladies into taking him in as their lodger. There he watches and waits for the moment to pounce (sauter sur). For he is determined to gain possession of the Aspern papers and willing to pay almost any price.
Washington Square : 1880
Catherine Sloper lives in Washington Square with her widowed father, a rich physician. She is plain, shy, without social graces or conversation. Dr Sloper cannot conceal his disappointment that she has nothing of her dead mother's beauty and wit. When the handsome, but penniless and indolent, Morris Townsend begins to court her, he casts him, correctly, as a fortune hunter. Dr Sloper will disinherit Catherine if she marries Morris. The greedy Morris jilts her. Life in Washington Square continues soberly. Catherine, despised by her father, pitied by her aunt, refuses later chances of a suitable match and withdraws into a lonely humdrum life. After his father's death (cautiously, he has largely disinherited her in any case) Morris reappears to try his luck again. His continued lack of success has made him less ambitious. But Catherine finds no charm in this balding middle-aged stranger. With some bitter reminders of his past cruelty, she turns him away.
The Turn Of The Screw : (Le Tour d'Ecrou) 1898
A young governess is send to Bly, a country house, to take charge of two orphan children. She has been engaged by their uncle, a handsome man to whom she feels attracted. Everything is fine, but soon she begins to feel the presence of intense evil and the figures of the ex-valet, Peter Quint, and her predecessor Miss Jessel. In fact, they are both dead, and she learns of the guilty liaison that existed between them. These terrible figures have returned to claim the children, and the governess is determined to exorcise them. It is left to the reader to decide whether these ghosts exist, or whether they are simply the hysterical fantasies of the young governess.