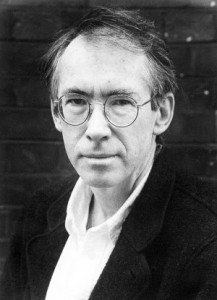 (1948 - )
Ian Russell McEwan was born on June 21st, 1948, in the military town of Aldershot in Southern England, to Rose Lillian Violet (Moore) McEwan and David McEwan. His mother was a war widow with two children; his father, later to become a major, had joined the army due to the bleak employment situation in Glasgow. As a soldier's son, Ian spent a significant part of his early childhood at military outposts in Singapore and Libya. At the age of eleven, McEwan was sent to a state-owned British boarding school, Woolverstone Hall in Suffolk, where he stayed until 1966. Shy and quiet, he was a mediocre student unnoticed by teachers. In his late teens, however, he became competitive and developed a serious interest in English literature and the popular culture of the 1960's. After completing his secondary education, McEwan went to London, where he read voraciously and worked as a garbage collector for Camden Council. He went on to study French and English literature at the University of Sussex, and received his honors B.A. in 1970. The following year he earned an M.A. in creative writing at the celebrated University of East Anglia, where he studied under novelists Malcolm Bradbury and Angus Wilson. In 1972 McEwan's short story "Homemade" was published in New American Review. Following his publication debut, the young author joined a somewhat disappointing hippie-trail trip to Afghanistan. Back in England, he spent time writing notes and teaching English as a second language. He successfully sold his short story "Disguises" to New American Review. McEwan settled in London in 1974. Two years later, he published his first collection of short stories, First Love, Last Rites, which received the Somerset Maugham Award. The collection, based on his M.A. thesis, explores the themes of childhood and adolescence, focusing on the intimate workings of the protagonists' minds. The year 1976 also marked McEwan's television debut, with the airing of the play Jack Flea's Birthday Celebration on the BBC. McEwan's second short-story collection, In Between the Sheets, was published in 1978. As in the case of First Love, Last Rites, critical response to the volume concentrated on the violently sexual content of the stories, neglecting the formal experimentation that had been the author's primary concern. Thus, McEwan became labeled as the author of the morbid and the perverse, a classification that was to follow him throughout most of his career.McEwan's first novel, The Cement Garden, continued the mode of his short stories with its closely observed psychology, its fascination with childhood, and its macabre gothic mood. Many other long-form works have followed over the years, including the Booker Prize-winning Amsterdam, Atonement, Saturday and Sweet Tooth.
My selection:
On Chesil Beach : (Sur la plage de Chesil) 2007
This is a novel of remarkable depth and poignancy. It takes place in July 1962. Florence is a talented musician who dreams of a career on the concert stage and of the perfect life she will create with Edward, an earnest young history student at University College of London, who unexpectedly wooed and won her heart. Newly married that morning, both virgins, Edward and Florence arrive at a hotel on the Dorset coast. At dinner in their rooms they struggle to suppress their worries about the wedding night to come. Edward, eager for rapture, frets over Florence's response to his advances and nurses a private fear of failure, while Florence's anxieties run deeper: she is overcome by sheer disgust at the idea of physical contact, but dreads disappointing her husband when they finally lie down together in the honeymoon suite.
Saturday : (Samedi) 2005
Saturday is a masterful novel set within a single day in February 2003. Henry Perowne is a contented man — a successful neurosurgeon, happily married to a newspaper lawyer, and enjoying good relations with his children. Henry wakes to the comfort of his large home in central London on this, his day off. He is as at ease here as he is in the operating room. Outside the hospital, the world is not so easy or predictable. There is an impending war against Iraq, and a general darkening and gathering pessimism since the New York and Washington attacks two years before. On this particular Saturday morning, Perowne's day moves through the ordinary to the extraordinary. After an unusual sighting in the early morning sky, he makes his way to his regular squash game with his anaesthetist, trying to avoid the hundreds of thousands of marchers filling the streets of London, protesting against the war. A minor accident in his car brings him into a confrontation with a small-time thug. To Perowne's professional eye, something appears to be profoundly wrong with this young man, who in turn believes the surgeon has humiliated him — with savage consequences that will lead Henry Perowne to deploy all his skills to keep his family alive.
Black Dogs : (Les Chiens Noirs) 1992
It is the tale of an older couple June and Bernard Tremaine, living in different countries but still in love. The clever narrator, their son-in-law whose own parents died when he was eight, pieces together the interlacing of the private lives and world events of his adoptive parents from deathbed interviews with once-stunningly beautiful June and her big-chinned rational Marxist politician husband. The action toggles in space and time between 1946, the end of WWII, and 1989, the fall of the Berlin Wall. The metaphysical dilemma posed is reminiscent of the yin-yang symbol: though they finally fit together hand-in-glove, Bernard is a skeptic, scientific and rational, concerned with the welfare of the masses and worldly problems; June, originally a communist like her husband, undergoes a spiritual revelation in which she confronts evil, a mysterious light, and intuitive knowledge of God beyond material (and Marxist) strivings. This, for her husband, is a turn toward bourgeois blarney, while his idealistic faith in a better world to her ultimately seems unreasonable. At the book's end the wild dogs, killers of sheep and would-be killers of June, are left alive, metaphorically representing the potential return of spiritual and material menace to the mending but still wary continent of Europe.
First Love, Last Rites : 1975
The book is composed of eight short stories :
"Last Day of Summer" is a haunting story of a twelve-year-old boy who, having lost his own mother, finds another mother figure in Jenny, a large woman who comes to stay with him. On one of their many journeys in his rowing boat on the Thames, however, Jenny and the baby Alice drown and die. The event is described hauntingly by McEwan "Jenny is big and my boat is small...it goes over quickly like a camera shutter" and we hear no moral judgement, no remorse, just the narrator "hanging on to the green shell with nothing in my mind." The significance seems all the more heavy because of this, Kiernan Ryan believing it to in fact suggest a "matricidal fantasy."
"Homemade", the second story in the collection, is an unsettling tale of a self-satisfied teenager, confident in his ability to outperform his friend in every 'adult' discipline: drinking, smoking, etc., until he realises he is still a virgin. The protagonist then sets out to have sex with his ten-year-old sister, whom he does not find in the least attractive ("you could almost pass her off as plain"), under the grotesque pretence of playing 'Mummies and Daddies". We get the impression that the narrator wants to lose the shameful tag of virginity above everything else, and is desperate to assert his masculinity on something, anything. This criticism of male thinking is best summed up in the narrator's thoughts as he "felt proud, proud to be fucking, even if it were only Connie, my ten-year-old sister, even if it had been a crippled mountain goat..."
"Butterflies" again sails close to the wind of obscenity, being told through the eyes of a young, sexually frustrated teenage boy who is not remarkable in any positive way. On one of his walks into his town's decaying underbelly, he meets a young girl and walks with her. On arrival at a deserted dry canal, he demands that she touch his penis, and after this sordid encounter, drowns her. Perhaps most harrowing is the way the protagonist describes the murder, "My mind was clear, my body was relaxed and I was thinking of nothing... I ... eased her quietly into the canal." Again morality is completely detached and the reader is made to squirm at the lack of remorse or even feeling shown.
"Solid Geometry" takes a narrator who shuns his wife, Maisie (who seems desperate to elicit some affection from him) in favour of reading his great-grandfather's eventful diary. Ryan sees the diary as a 'symbol of patriarchal heritage," and it is fitting that it should provide the means for the protagonist to dispose of his wife once and for all. He reads a section in which his great-grandfather sees a scientist contort his body in a way that makes him disappear inside himself, and applies this to his wife. The murder is disturbingly clean, just as is the case with many of McEwan's atrocities, "As I drew her arms and legs through, Maisie appeared to turn in on herself like a sock.... all that remained was the echo of her question above the deep-blue sheets."
"Conversation with a Cupboard Man" takes the form of a confessional by a man who was treated as a baby by his mother until the age of seventeen, when he was thrown out due to his mother remarrying and forced to fend for himself. The narrator is torn between knowing how wrong his mother's actions were "I could hardly move without her, and she loved it, the bitch" and still yearning for them "I don't want to be free."
"Cocker at the Theatre" is the shortest story. It is an account of some acting couples who simulate sex, only to be interrupted by a couple who are having sex for real.
"First Love, Last Rites" the title story tells the tale of a narrator and his teenage lover, Sissel, who enjoy a long summer of love making. As well as acknowledging the immense gratification he gains from satisfying his most base instincts "sperms... inches from my cock's end... the unstoppable chemistry of a creature growing out of dark red slime" the narrator details the temptation he and his lover have of wallowing in animalistic decadence. This is personified by a giant pregnant rat whose presence is felt more and more, until it bursts out from its den and attacks. The narrator bludgeons it to death and realises the significance of it when he sees "a translucent purple bag, and inside five pale crouching shapes" i.e., the baby rats. Again a female has been killed and the reader must determine the relevance themselves.
"Disguises" involves a boy, Henry, taken under the wing of his eccentric aunt, who puts Henry in elaborate costumes for their evening meals. Things turn strange when Henry is faced with a costume consisting of a girl's wig and frock. The odd pressure on his sexuality is released when he falls in love with Linda, and McEwan seems to dissolve the boy's masculinity by having him revel in the girl's dress "invisible inside this girl." The ending is far from conclusive and we do not learn what becomes Henry.