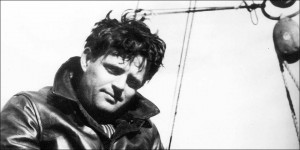 (1876 - 1916)
Jack Griffith London was born on 12th January 1876 in San Francisco. His father worked as and astrologer while his mother was a spiritualist. The name he took was that of his stepfather, John London, although he grew up without a father. He grew up in difficult and deprived circumstances. This led him in his early years to earn a modest living as an oyster pirate at fifteen, a worker in a canning factory and at seventeen as a deep-sea sailor. He also showed literary promise early, winning $25 for his first story in a competition for the San Francisco Morning Call. London was also involved in the Klondike gold rush in 1897. Crucially, at eighteen he was arrested for vagrancy at the Niagara Falls. Deloused and sentenced to thirty days' hard labour he was put on a chain gang and witnessed appalling conditions the images and thought of which he never escaped.The hardship and adventure of these years did however offer literary ammunition and gave him a hard-line socialist edge despite his distinctly non-politically correct views on race and women. London included many of his experiences in his novels. He made his name writing stories about the Far North although hardly aided by using a typewriter that only printed capital letters. The first of these was The Son of the Wolf (1900) gave him some success but hardly great fame. That was to come with the publication of The Call of the Wild (1903). Sadly this did not make London his fortune since he had sold the rights to the book in 1903 for $2,000 and therefore missed out on more than $100,000 by not taking royalties. Of course this would have gone against his anti-capitalist tendencies anyway. In 1914 Jack was a war correspondent in Mexico, covering the role of US troops and Navy ships in the Villa-Carranza revolt. In 1915 and 1916, Chamian persuaded her husband to spend time in Hawaii, a relaxing and healthful respite for the two of them. But London's greatest satisfaction came from his ranch activities. His amibitious plans to expand the ranch and increase productivity kept him in debt and under pressure to write as fast as he could, even though this might mean sacrificing quality for quantity. He continued to push to complete 1000 words per day regardless of his location, duties, or health. When London's doctors urged him to change his work habits and his diet, stop all use of alcohol and get more exercise, he refused. If anything, the pressure of his financial commitments to helping friends and relatives and his increasingly severe health problems only made him dream larger dreams and work harder and faster. On November 22nd, 1916, 40 year old Jack London died of gastrointestinal uremic poisoning. He had been suffering from a variety of ailments, including a kidney condition, but up to the last day of his life he was full of bold plans and boundless enthusiasm for the future.
My selection:
The Call of the Wild : (L'Appel de La Forêt) 1903
It was the 1903 novella that brought Jack London to the world's attention. The book was set in the Far North, and was unusual for being the story of a dog and not a human. Yet Buck, the crossbred hound in question, has distinctly human characteristics learnt perhaps from his owner back in California. He is part St Bernard and part Scotch shepherd dog and the strengths of these breeds come to his advantage as he his stolen by an unscrupulous gardener and sent to the Yukon. This was the time of the gold rush and strong dogs such as Buck were at a premium. He is worked to the bone and brutalised with a pack of dogs pulling a sled but is rescued from this dire cruelty by John Thornton who shows him care as his master once had. When he returns free to the wild, Buck has learnt skills of self-defence and survival that are respected by other beasts and he becomes in his way a great leader. This is an extremely moving and heartening book that affects both children and adults.
White Fang : (Croc-Blanc) 1906
The story begins before the three-quarters wolf-dog hybrid is born, with two men and their sled dog team on a journey to deliver a coffin to a remote town named Fort McGurry in the higher area of the Yukon Territory, Canada. The men, Bill and Henry, are stalked by a large pack of starving wolves over the course of several days. Finally, after all of their dogs and Bill have been eaten, four more teams find Henry trying to escape from the wolves; the wolf pack scatters when they hear the large group of people coming. The story then follows the pack, which has been robbed of its last prey. When the pack finally brings down a moose, the famine is ended; they eventually split up, and the story now follows a she-wolf and her mate, One Eye. The she-wolf gives birth to a litter of five cubs by the Mackenzie River, and all but one die from hunger. One Eye is killed by a lynx while trying to rob her den for food for the she-wolf and her cub; his mate later discovers his remains near the lynx's den. The surviving cub and the she-wolf are left to fend for themselves. Shortly afterward (possibly as revenge), the she-wolf kills all the lynx's kittens to feed her cub, prompting the lynx to track her down, and a vicious fight breaks out. The she-wolf eventually kills the lynx but suffers severe injury; the lynx carcass is devoured over a period of seven days by when the she-wolf recovers from her injuries. The cub comes across five Native Americans one day, and the she-wolf comes to his rescue. One man, Grey Beaver, recognizes the she-wolf as Kiche, his brother's wolfdog, who left during a famine. Grey Beaver's brother is dead, so he takes Kiche and her cub and christens the cub White Fang. White Fang has a harsh life in the Indian camp; the current puppy pack, seeing him as a wolf, immediately attacks him. The Indians save him, but the pups never accept him, and the leader, Lip-lip, singles him out for persecution. White Fang grows to become a savage, callous, morose, solitary, and deadly fighter, "the enemy of his kind". It is at this time that White Fang is separated from his mother who is sold off to another Indian Camp. He realizes how hard life in the wild is when he runs away from camp and earns the respect of Gray Beaver when he saves his son Mit-Sah from a gang of bullies. When a famine occurs, he runs away into the woods and reunites with his mother Kiche, only for her to chase him away for she has a new litter of Cubs. He also encounters Lip-Lip whom he fights and kills before returning to the camp. When White Fang is five years old, he is taken to Fort Yukon so that Grey Beaver can trade with the gold-hunters. There, he is bought with several bottles of whiskey by a dog-fighter, Beauty Smith, who gets Grey Beaver addicted to alcohol. White Fang defeats all opponents pitted against him, including several wolves and a lynx, until a bulldog called Cherokee is brought in to fight him. Cherokee has the upper hand in the fight when he grips the skin and fur of White Fang's neck and begins to throttle him. White Fang nearly suffocates but is rescued when a rich, young gold hunter, Weedon Scott, stops the fight and forcefully buys White Fang from Beauty Smith. Scott attempts to tame White Fang, and after a long, patient effort, he succeeds. When Scott attempts to return to California alone, White Fang pursues him, and Scott decides to take the dog with him back home. In Sierra Vista, White Fang must adjust to the laws of the estate. At the end of the book, a murderous criminal, Jim Hall, tries to kill Scott's father, Judge Scott, for sentencing him to prison, not knowing that Hall was "railroaded". White Fang kills Hall and is nearly killed himself but survives. As a result, the women of Scott's estate name him "The Blessed Wolf." The story ends with White Fang relaxing in the sun with the puppies he has fathered with the sheep-dog Collie.