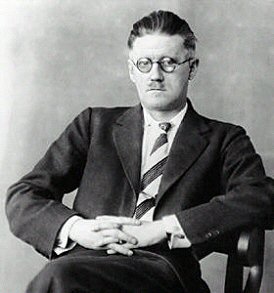 (1882 - 1941)
James Joyce was born at 41 Brighton Square, Rathgar in Dublin, on 2nd February 1882. Joyce came from a big family. He was the eldest of ten children born to John Stanislaus Joyce and his wife Marry Murray Joyce. His father, while a talented singer (he reportedly had one of the finest tenor voices in all of Ireland), didn't provide a stable a household. He liked to drink and his lack of attention to the family finances meant the Joyces never had much money. His father invested unwisely, and the family's fortunes declined steadily. Because of his intelligence Joyce's family pushed him to get an education. Largely educated by Jesuits, Joyce attended the Irish schools of Clongowes Wood College and later Belvedere College before finally landing at University College Dublin, where he earned a Bachelor of Arts degree with a focus on modern languages in 1902. He briefly studied medicine in Paris, but his mother's impending death brought him back to Dublin. She died in 1903. In 1904, Joyce began Stephen Hero, which he later re-worked as A Portrait of the Artist as a Young Man. Joyce stayed in Ireland for a short time, long enough to meet Nora Barnacle, a hotel chambermaid who hailed from Galway and later became his wife. He sailed from Dublin with Nora in October 1904. Joyce found work in a language school in Trieste. There with his wife, Joyce taught English and learned Italian, one of 17 languages he could speak, a list that included Arabic, Sanskrit, and Greek. Other moves followed, as the Joyce and Barnacle (the two weren't formally married until some three decades after they met) made their home in cities like Rome and Paris. To keep his family above water (the couple went on to have two children, Georgio and Lucia) Joyce continued to find work as a teacher. In 1909, he made two trips to Dublin, to arrange publication of Dubliners, and to open a short-lived cinema. His last visit was in 1912, when he failed to overcome his publisher's doubts about Dubliners. In 1914 the book was published in England, and A Portrait was serialised in a London magazine. With the outbreak of World War I, Joyce moved to Zurich in neutral Switzerland, where in 1917 he underwent the first of many operations for glaucoma. He had serious health issues. His most problematic condition concerned his eyes. Ulysses, his masterpiece, was serialised in New York in 1918-20, but was eventually halted by a court action. Joyce returned to Trieste in 1919, then moved to Paris, where in 1922 Ulysses was published by Sylvia Beach, owner of a celebrated bookshop. Its portrait of Dublin, and of the Jewish advertisement canvasser Leopold Bloom, revolutionised the novel with its 'stream of consciousness' technique; it was not published in Britain until 1936. In 1923, Joyce began the almost impenetrable Finnegans Wake, which was published in 1939. Joyce and Nora finally married in 1931, and in 1940 returned to Zurich, where he died on 13th January 1941.
My selection:
Ulysses : (Ulysse) 1922
This novel deals with the events of one day in Dublin on 16th June 1904. The principle characters are Stephen Dedalus; Leopold Bloom, a jewish advertisement canvasser; and his wife Molly. The plot follows the wanderings of Stephen and Bloom through Dublin, and their eventual meeting. The last chapter is a monologue by Molly Bloom. The various chapters roughly correspond to the episodes of Homer's Odyssey, Stephen represents Telemachus, Bloom Odysseus, and Molly Penelope. In the course of the story a public bath, a funeral, a newspaper office, a library, pubs, a maternity hospital, and a brothel are visited. A number of other Dublin scenes and characters are introduced. (the style especially employs the stream of consciousness)
Dubliners : (Gens de Dublin) 1914
This series of 15 short stories paints a vivid and realistically complex picture of everyday life in Dublin just before the independence from Britain. It is Joyce's most accessible writing, and includes the superb love story "the dead".
1/ The Sisters:
A young boy deals with the death of his friend, an elderly priest who ended his life paralyzed. His mother brings him to the wake, where they sit with the priest's sisters, and learn some unsettling facts about the priest's last days.
2/ An Encounter:
A young boy, longing for adventure and escape from the tedium of school life, plays hooky with a classmate. The boys traipse about some of Dublin's seedier areas, finally coming across a very strange old man, who may have some dark intentions.
3/ Araby:
A youth in the throes of his first passion hopes to win a girl's affection by buying a gift at Araby, an Orientalist bazaar. But when he does go to Araby, he finds nothing but disappointment.
4/ Eveline:
A nineteen-year-old girl struggles with poverty and the difficulties of supporting her family. Her means of escape is a sailor named Frank, who promises her a new life in Buenos Aires. At the end, however, she is too frightened to leave Dublin.
5/ After the Race:
Jimmy Doyle, the dilettante son of a nouveau riche merchant, tries to keep up with his wealthy and sophisticated friends from the continent. He ends up losing badly in a card game aboard a wealthy American's yacht.
6/ Two Gallants:
Corley and Lenehan, the seediest characters of the collection, plot to get some money out of Corley's newest girl. While Corley works on her, Lenehan has all too much time alone. He reflects on the unreliability of friends and the unchangeable poverty he lives in. But in the end, Corley works his magic and gets his girlfriend to give him a shiny golden coin.
7/ The Boarding House:
Mrs. Mooney, proprietor of one Dublin's boarding houses, learns that her daughter Polly has been carrying on an affair with Mr. Doran, one of the boarders. She responds by trying to trap Mr. Doran in a marriage with Polly.
8/ A Little Cloud:
Little Chandler has drinks with Gallagher, an old friend who now lives in London. Chandler is trapped in a dead end job in Dublin, but he has vague poetic aspirations. Later that night at home, he comes to realize that he'll never be able to maintain the focus to become a poet; his family life is too demanding.
9/ Counterparts:
Farrinton, an alcoholic scrivener, is trapped in a dead end job where his boss despises him. One day he spends an exorbitant sum in an attempt to get drunk. He ends up humiliated before his friends, and finishes his evening angry and not drunk enough to suit his tastes. When he gets home, he takes out his frustrations on his young son.
10/ Clay:
Maria, an elderly Catholic woman working in a Protestant charity, goes to spend the eve of Hallowe'en with Joe Donnelly, a man who has been like her own son. The evening goes well, but during the divination game, Maria picks clay, the emblem of death.
11/ A Painful Case:
Mr. James Duffey begins a sexless affair with Mrs. Sinico, an unhappy married woman. The two never manage to break through their inhibitions, and they stop seeing each other. Years later, Mr. Duffey reads in the paper that Mrs. Sinico has died in a tram accident.
12/ Ivy Day in the Committee Room:
Various canvassers for different candidates meet up in the committee room. As they talk about their work and Irish politics, a strong picture of Irish political culture emerges.
13/ A Mother:
Mrs. Kearney, a domineering and stubborn woman, becomes involved with the Eire Abu attempts to mount a musical production. When the production flops, Mrs. Kearney threatens to ruin the whole performance by insisting that her daughter be paid the contractual fee promised.
14/ Grace:
Mr. Kernan, a man in social decline, struggles with alcoholism. His friends plot to him on a church retreat. When they visit Mr. Kernan in his sickbed, their wild conversation about Church history and doctrine manages to get every central event and tenet of the Catholic Church hopeless jumbled up.
15/ The Dead:
At their annual holiday season dance, Aunt Julia and Aunt Kate entertain a wide range of guests. Among them is their nephew Gabriel, a sensitive man of letters who makes a speech honoring his aunts. Later that night, Gabriel finds himself swept away with passion for his wife Gretta. But when they return to their hotel room, he finds she has been thinking about Michael Furey, her first love, who died for love of her.