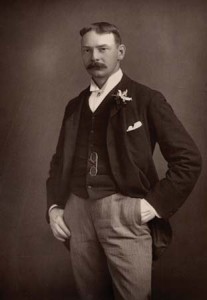 (1859 - 1927)
Jerome Klapka Jerome was born on 2nd May, 1859 in Belsize House, Bradford Street, Walsall in Stradffordshire in England. He was born to father Jerome Clapp Jerome and mother Marguerite Jones. His father was a non-conformist lay preacher, ironmonger and architect by profession and his mother was a daughter of a solicitor. Jerome was their fourth child. He had two sisters and a brother. Jerome lost his father at the age of 14 and he lost his mother at the age of 15. As a young boy Jerome always wanted to join politics and become a member of parliament but due to the crisis at home front, he was forced to quit his studies and find work to support his living. He studied at the Philological School later known as Marylebone but he had to leave his school for doing a job at the London and North Western Railway. Initially his work was all about collecting coal and he continued doing it for four years. Initially Jerome was registered as Jerome Clap Jerome and later his name was amended as Klapka. Jerome faced a lot of poverty due to bad investment in the local mining industry and debt collectors were frequent visitors in their house. Jerome later described his experiences of childhood in his autobiography My Life and Times published in 1926. In 1877, Jerome had decided to try his hand at acting, under the stage name Harold Crichton. After three years on the road and with no evident success, a 21 year old Jerome decided he had had enough with stage life. He tried to become a journalist, writing essays, satires and short stories, but most of these were rejected. Over the next few years he was a school teacher, a packer, and a solicitor's clerk. Finally, in 1885, he had some success with On the Stage — and Off, a humorous book whose publication opened the door for more plays and essays. Idle Thoughts of an Idle Fellow, a collection of humorous essays, followed in 1886. Jerome volunteered to offer his service during World War I at 56 years of age. The British Army considered him too old and rejected him on the basis of his age. Jerome got married to Georgina Elizabeth Henrietta Stanley Marris (Ettie), who was a divorcee. She had a daughter from her previous marriage of five years named Elsie who died in 1921. Jerome spent most of his last days at his farmhouse in Ewelme near Wallingford. He died of stroke and a cerebral haemorrhage at the age of 68 on 14th June, 1927 in Northampton in England. He was cremated at Golders Green and his ashes were buried at St Mary's Church, Ewelme, and Oxfordshire alongside his wife, sister and step-daughter.
My selection:
Three Men In a Boat (To Say Nothing of the Dog) : (Trois Hommes Dans Un Bateau) 1889
This book written in 1889, is a humorous account of a boating holiday on the Thames between Kingston and Oxford. The book was initially intended to be a serious travel guide, with accounts of local history along the route, but the humorous elements took over to the point where the serious and somewhat sentimental passages seem a distraction to the comic novel. One of the most praised things about Three Men in a Boat is how undated it appears to modern readers - the jokes seem fresh and witty even today. The three men are based on Jerome himself (the narrator J.) and two real-life friends, George Wingrave (who went on to become a senior manager in Barclays Bank) and Carl Hentschel (the founder of a London printing business, called Harris in the book), with whom he often took boating trips. The dog, Montmorency, is entirely fictional, but "as Jerome admits, developed out of that area of inner consciousness which, in all Englishmen, contains an element of the dog." The trip is a typical boating holiday of the time in a Thames camping skiff. This is just after commercial boat traffic on the Upper Thames had died out, replaced by the 1880s craze for boating as a leisure activity.The story begins by introducing George, Harris, 'J.' (the narrator) and Montmorency, the dog. The men are spending an evening in J.'s room, smoking and discussing illnesses they fancy they suffer from. They conclude they are all suffering from 'overwork' and need a holiday. A stay in the country and a sea trip are both considered, then rejected (J. describes the bad experiences had by his brother-in-law and a friend on sea trips). Eventually, the three decide on a boating holiday, up the River Thames, from Kingston upon Thames to Oxford, during which they'll camp, notwithstanding J.'s anecdotes regarding previous mishaps with tents and camping stoves. They embark the following Saturday. George must go to work that morning ("George goes to sleep at a bank from ten to four each day, except Saturdays, when they wake him up and put him outside at two") so J. and Harris make their way to Kingston by train. They are unable to find the correct train at Waterloo Station (the station's confusing layout was a well-known theme of Victorian comedy) so they bribe a train driver to take his train to Kingston, where they collect their hired boat and start their journey. They meet George later, up-river at Weybridge. The remainder of the story relates their river journey and the incidents that occur. The narrator describes the passing landmarks and villages such as Hampton Court Palace, Monkey Island, Magna Carta Island and Marlow, and muses upon historical associations of these places. However, he frequently digresses into anecdotes that range from the unreliability of barometers for weather forecasting to the difficulties that may be encountered when learning to play the Scottish bagpipe. The most frequent topics are river pastimes such as fishing and boating and the difficulties they present to the inexperienced and unwary.
Idle Thoughts Of an Idle Fellow : (Les Pensées paresseuses d'un paresseux) 1886
It was published in 1886. It is a collection of humorous essays. It was the author's second published book and it helped establish him as a leading English humorist. While widely considered one of Jerome's better works, and in spite of using the same style as Three Men in a Boat, it was never as popular as the latter.
The book consists of 14 independent articles arranged by themes:
On being idle.On being in love.On being in the blues.On being hard up.On vanity and vanities.On getting on in the world.On the weather.On cats and dogs.On being shy.On babies.On eating and drinking.On furnished apartments.On dress and deportment.On memory.
Here's an extract from the book that I particularly enjoyed: 'It is impossible to enjoy idling thoroughly unless one has plenty of work to do. There is no fun in doing nothing when you have nothing to do. Wasting time is merely an occupation then, and a most exhausting one. Idleness, like kisses, to be sweet must be stolen.''