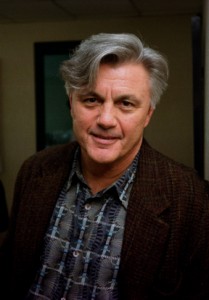 (1942 - )
He was born in Exeter, New Hampshire, on March 2nd, 1942. He was raised by his biological mother and stepfather, who was a Russian history teacher at Phillips Exeter Academy. Irving attended Exeter as well, and during his teens took up wrestling, in which he would compete for 20 years. When he was 15, Irving read Great Expectations by Charles Dickens, which had a profound effect on his life and inspired much of his future writing. Irving studied as an undergrad at the University of New Hampshire, and went on to earn an Master of Fine Arts degree at the University of Iowa, studying fiction and graduating in 1967. He attended the University of Pittsburgh and the Institute for European Studies in Vienna, a city that figures prominently in his earlier fiction. He published his first book, Setting Free the Bears, in 1968, and taught at the University of Iowa and Mount Holyoke through the '70s, while continuing to write and publish novels.Irving's novels often deal with controversial subject matter in a way that's been heralded as quirky, humorous and brave. He's dealt with the issue of married couples swapping partners, parental loss, feminism, childhood abuse, and both open bisexuality and repressed homosexuality in narratives that explore conventionality and challenge tradition. John Irving is a highly imaginative storyteller whose fictional values and narrative techniques have invited comparison with Charles Dickens and other popular nineteenth-century novelists. He has been awarded fellowships from the National Endowment for the Arts, the Rockefeller Foundation, and the Guggenheim Foundation. Irving has been married twice, and wed his literary agent, Janet Turnbull, in 1987. He is the father of three sons and lives in Vermont and Toronto with his wife.
My selection:
The world according to Garp : (Le Monde Selon Garp) 1978
It is a tragi-comic satire of sexual attitudes in 1960s America. The story deals with the life of T. S. Garp. His mother, Jenny Fields, is a strong-willed nurse who wants a child but not a husband. She encounters a dying ball turret gunner known only as Technical Sergeant Garp who was reduced to a perpetually priapic mental vegetable by pieces of shrapnel that pierced his head. Jenny rapes Garp in his bedridden, uncomprehending, dying state to impregnate herself, and names the resultant son after him "T. S." (standing only for "Technical Sergeant"). Jenny raises young Garp alone, taking a position at an all-boys school. Garp grows up, becoming interested in sex, wrestling, and writing fiction—three topics in which his mother has little interest. He launches his writing career, courts and marries the wrestling coach's daughter, and fathers three children. Meanwhile, his mother suddenly becomes a feminist icon after publishing a best-selling autobiography called A Sexual Suspect (referring to the general assessment of her as a woman who does not care to bind herself to a man, and who chooses to raise a child on her own). Garp becomes a devoted parent, wrestling with anxiety for the safety of his children and a desire to keep them safe from the dangers of the world. He and his family inevitably experience dark and violent events through which the characters change and grow. Garp learns (often painfully) from the women in his life (including transsexual ex-football player Roberta Muldoon) struggling to become more tolerant in the face of intolerance. The story is decidedly rich with (in the words of the fictional Garp's teacher) "lunacy and sorrow", and the sometimes ridiculous chains of events the characters experience still resonate with painful truth.
The Cider House Rules : ( L'Œuvre de Dieu, la part du Diable) 1985
Homer Wells grows up in an orphanage where he spends his childhood "being of use" as a medical assistant to the director, Dr. Wilbur Larch, whose history is told in flashbacks: After a traumatic misadventure with a prostitute as a young man, Wilbur turns his back on sex and love, choosing instead to help women with unwanted pregnancies give birth and then keeping the babies in an orphanage. He makes a point of maintaining an emotional distance from the orphans, so that they can more easily make the transition into an adoptive family, but when it becomes clear that Homer is going to spend his entire childhood at the orphanage, Wilbur trains the orphan as an obstetrician and then comes to love him like a son. Wilbur's and Homer's lives are complicated by Wilbur also secretly being an abortionist. Wilbur came to this work reluctantly, but he is driven by having seen the horrors of back-alley operations. Homer, upon learning Wilbur's secret, considers it morally wrong. As a young man, Homer befriends a young couple, Candy Kendall and Wally Worthington, who come to St. Cloud's for an abortion. Homer leaves the orphanage, and returns with them to Ocean View Orchards (Wally's family's orchard) in Heart's Rock, near the Maine coast. Wally and Homer become best friends and Homer develops a secret love for Candy. Wally goes off to serve in the Second World War and his plane is shot down over Burma. He is presumed missing by the military, but Homer and Candy both believe he is dead and move on with their lives, which includes beginning a romantic relationship. When Candy becomes pregnant, they go back to St. Cloud's Orphanage, where their son is born and named Angel. Subsequently, Wally is found in Burma and returns home, paralyzed from the waist down. He is still able to have sexual intercourse but is sterile due to an infection received in Burma. They lie to the family about Angel's parentage, claiming that Homer decided to adopt him. Wally and Candy marry shortly afterward, but Candy and Homer maintain a secret affair that lasts some 15 years. Many years later, teenaged Angel falls in love with Rose. Rose, the daughter of the head migrant worker at the apple orchard, becomes pregnant by her father, and Homer performs an abortion on her. Homer decides to return to the orphanage after the death of Wilbur, to work as the new director. Though he maintains his distaste for abortions, he continues Dr. Larch's legacy of honoring the choice of his patients, and he dreams of the day when abortions are free, legal, and safe, so he'll no longer feel obliged to offer them. A subplot follows the character Melony, who grew up alongside Homer in the orphanage. She was Homer's first girlfriend in a relationship of circumstances. After Homer leaves the orphanage, so does she in an effort to find him. She eventually becomes an electrician and takes a female lover, Lorna. Melony is an extremely stoic woman, who refuses to press charges against a man who brutally broke her nose and arm so that she can later take revenge herself. She is the catalyst that transforms Homer from his comfortable but not entirely admirable position at the apple orchard to becoming Dr. Larch's replacement at the orphanage.