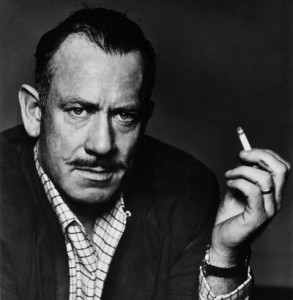 (1902 - 1968)
John Steinbeck was born on 27th February 1902 in Salinas, California. His family were descendants of German immigrants and lived in a small rural town. Steinbeck had a comfortable but modest upbringing. In the summer, he spent his time working on the nearby ranches to help with the harvest and earn money. His work on the farms, gave him an insight into the life of migrant workers, and his experiences would later provide material for his greatest works. Steinbeck studied at Salinas High school, and then went to Stanford University in Palo Alto. Despite staying there for five years, he left without a degree. In 1925, he left university and sought to establish himself as a writer in New York. However, he was unable to make a career for himself and he was forced to support himself doing odd jobs. In 1928, discouraged, Steinbeck returned to California where he got a job as a caretaker in Tahoe city. Despite working full time, in 1929, he was able to get his first novel, Cup of Gold, published.However, after a few years, Steinbeck received some financial support from his father, this allowed him to give up his full time job. Steinbeck was able to devote more time to writing from his father's cottage in Pacific Grove, Monterery, California. He also married Carol Henning in 1930.This period led to some of his most productive writing years. In particular, his short book 'Of Mice and Men' (1939) and the epic novel – The Grapes of Wrath (1939) established his reputation as one of the pre-eminent modern American writers. Steinbeck was an active supporter of the FDR's Liberal New Deal and had strong contacts with left-wing writers and labour union figures. In 1967, he went to Vietnam and wrote strongly in support of the war, which many felt was compromising his earlier liberal ideas. Steinbeck complained of government harassment because of his political views, arguing J. Edgar Hoover of the FBI encouraged the tax authorities to harass him. In 1942, he divorced his first wife and remarried, Gwndolyn Conger, they had one child – John Steinbeck IV. During the Second World War, Steinbeck served as a war correspondent, he saw action in the Mediterranean and North Africa. In 1944, he was wounded after a munitions explosion and returned home. After the war, he visited the Soviet Union with renowned photographer, Robert Capa. He published his experiences in 'A Russian Journal' it was a rare American insight into post-revolutionary Russia. In 1948, Steinbeck experienced a period of mental depression after a close friend, Ed Ricketts died in a motor accident, and his second wife insisted on divorce shortly after. Ricketts had encouraged much of Steinbeck's writing during his most productive period in the late 1930s. Steinbeck remarried for the third time in 1950. In 1962, he was awarded the Nobel Prize for literature but was typically modest, questioning whether he really deserved it. After 1962, he didn't write any more novels until his death in 1968.
My selection:
Tortilla Flat : 1935
This novel was published to critical acclaim. The novel was set in Monterey after World War I and portrays a bunch of homeless and classless men who reject the social mores of society. Danny returns from the army to learn he has inherited two houses in Tortilla Flat. After being arrested for drunk and disorderly and escaping jail, Danny talks an old friend, Pilon, into renting one house, thereby setting them up for conflict. To cover rent, Pilon sublets to friends Pablo Sanchez and Jesus Maria Corcoran. A candle that Pablo has dedicated to St. Francis but uses for profane purposes sets fire to the house. Pilon, Pablo, and Jesus Maria escape, sleep in the forest and raid a picnic to obtain a peace offering for Danny, who relents and accepts them as guests.Pilon talks the Pirate out of living in a chicken coop with his five dogs and into joining the household, the better to gain access to the Pirate's horde of quarters. They learn his woodcutting income is dedicated to St. Francis for miraculously curing a dog. The Pirate's begging becomes the mainstay of the household's food supply. Big Joe Portagee comes home from the army and, after a term in jail for drunk and disorderly, meets Pilon and joins the household. They spend St. Andrew's Eve searching for treasure, but only dig up a useless U.S. Geodetic Survey marker. Pilon and Joe get drunk on the Seaside beach, and Pilon trades Joe's pants for wine while Joe sleeps. Pilon later reclaims the pants and Danny's hocked blanket from Mrs. Torrelli.Danny falls for "Sweets" Ramirez and gives her a vacuum cleaner, although her house has no electricity. Needing to break them up, the paisanos steal the vacuum and trade it to Torrelli, who grows furious when he sees it has no motor. Jesus Maria befriends a Mexican corporal, who tells the paisanos his tragic story. Ever-sleepy Big Joe is pursued by Tia Ignacia and ends up making love with her in the road. The paisanos discover the Pirate's moneybag missing and turn savagely vigilante against Big Joe. The surrendered bag holds enough quarters for the Pirate to redeem his vow to St. Francis. Decked out in the paisanos' best clothing, the Pirate attends mass, hears his donation praised, and preaches to his dogs all the priest has said about Francis. The paisanos go on a robbery binge to provide for Teresina Cortez and her children after the bean crop is destroyed and contemplate the funny-but-sad cases—Cornelia Ruiz's pig, Tall Bob Smoke, and the Ravannos.Danny grows depressed, disappears into the forest, runs amok and sells his house to Torrelli, who foolishly shows off the bill of sale, enabling the paisanos to grab and burn it. When Danny returns, the paisanos earn enough money to throw him the best party ever, with all of Tortilla Flat helping and turning out. Danny makes love to the women, challenges the men to fight, races off, and dies in a fall down a dry gulch. His military funeral is a major social event, but the paisanos cannot attend because they lack appropriate clothing. They watch from afar, raid Torrelli's for wine to celebrate Danny's memory, and allow the house to burn down as a fitting tribute. The talisman that binds them is broken, and they go their separate ways.
Of Mice and Men : (Des Souris et Des Hommes) 1937
It's a story of two friends, Lennie Small and George Milton , who wander from town to town looking for work in order to raise the capital to one day settle down in a farm of their own and count out their days. The one snag in this plan is Lennie, a giant of a man with the mind of a child who, although full of good intentions, finds himself trouble at every stop. Steinbeck often tackles weighty issues (most evident in Grapes Of Wrath) and the theme of the future and the dreams of simple men is a hefty one but he handles this book with such poetic grace that you can't help but be drawn into the lives of these two men and as the book draws to its climax nothing can prepare you for the almighty hammer blow at its conclusion. This is a book for all those who have a dream of the future or those who have found themselves somehow lost in life. It deals with how complicated the simple life can be and how elusive true contentment is. There has been many a film made of this film but nothing can compare to the vivid world that the pages of this book generates inside your minds eye and as you turn the final page it will stay there with you and be with you always.
The Grapes of Wrath : (Les Raisins de la Colère) 1939
It is a deeper discussion of the social, economic and cultural implications of the Great Depression. It focuses on a family of poor tenant farmers and their difficulties during the Great Depression; it offers a sympathetic account of migrant workers and is critical of capitalism. The Grapes of Wrath became the best selling book of 1939, and it led to Steinbeck being awarded the Pulitzer prize for fiction. Steinbeck concentrated on the circumstances of one family, The Joads, tenant farmers in Oklahoma until they were forced out by the larger companies who wanted their land back. With dreams of luscious grapes and peaches in abundance waiting to be picked, they loaded up their belongings and began their journey on Route 66 headed for Bakersfield, California. They began their trip with a bevy of colorful characters led by Ma and Pa Joad. It's amazing how much power Steinbeck gave to Ma Joad -- years before women had any right to a voice. Unfortunately, just as the Joads were heading out, so were thousands upon thousands of other families.
The Pearl : (La Perle) 1947
When Coyotito, a very young child, is stung by a scorpion, Kino, his father, must find a way to pay the town doctor to treat him. The doctor denies Kino out of racism, which enrages him. Shortly thereafter, Kino discovers an enormous, lucid pearl which he is ready to sell to pay the doctor. Everyone calls it "the Pearl of the World," and many people begin to covet it. That very night Kino is attacked in his own home. Determined to get rid of the pearl, the following morning he takes it to the "pearl buyers auction" in town; however, the "auction" is actually a corrupt sham and always has been. The "buyers" normally pretend to auction each pearl and pretend bid against each other, but in reality they are all paid a salary by a single man, they all turn the pearls over to him and he resells them outside the village, thus cheating the locals. The corrupt pearl buyers try to convince Kino that the pearl is the equivalent of "fools gold" and they refuse to pay any more than incredibly low amounts of money. Kino decides to go over the mountains to the capital to find a better price. Juana, Kino's wife, sees that the pearl brings darkness and greed, and sneaks out of the house late at night to throw it back into the ocean. When Kino catches her, he furiously attacks her and leaves her on the beach. While returning to his hut with the pearl, Kino is attacked by an unknown man whom he stabs and kills. Kino thinks the man has taken the pearl, but Juana shows him that she has it in her possession. When they go back to their hut, they find it has been set on fire. The family's canoe had also been ruined, an offense that enraged Kino. Kino and Juana then spend the day hiding in the hut of Kino's brother Juan Tomás and his wife, gathering provisions for their trip to the capital city. Kino, Juana, and Coyotito leave in the dark of the night. After a brief rest on their journey in the morning, Kino spots trackers he believes are following them. Well aware they will be unable to hide from the trackers, they begin hiking into the mountains. They find a cave near a natural water hole where the exhausted family hides and waits for the trackers to catch up to them. Kino realizes they must get rid of the trackers if they are to survive the trip to the capital. As he prepares to attack, the men hear a cry like a baby's, though they decide it's more like a coyote with a litter. One of the men fires his rifle in the direction of the crying, where Juana and Coyotito lie. Kino kills all three of the trackers. Realizing that something is wrong, he climbs back up to the cave to discover that Coyotito has been shot in the head when the tracker fired. In the morning, Kino and Juana return to La Paz with Coyotito's dead body wrapped in a sling. No longer wanting the pearl, Kino throws the pearl back into the ocean.