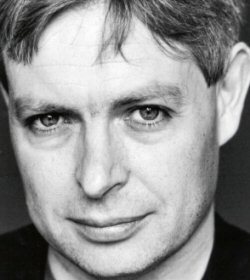 (1961 - )
Jonathan Coe was born on 19th August 1961 in Lickey, a suburb of south-west Birmingham. His father worked in the motor industry as a research physicist; his mother was a music and PE teacher. Jonathan began writing at an early age. His first surviving story, a detective thriller called The Castle of Mystery, was written at the age of eight. He was then educated at Trinity College in Cambridge. He taught English Poetry at Warwick, subsequently working as a professional musician, writing music for jazz and cabaret. He also worked as a legal proofreader before becoming a freelance writer and journalist. He is the author of several novels including The Dwarves of Death (1990), the acclaimed What a Carve Up! (1994), a caustic satire of British life in the 1980s and winner of the Mail on Sunday/John Llewellyn Rhys Prize and the French Prix du Meilleur Livre Étranger (France); and The House of Sleep (1997), which won the Writers' Guild Award (Best Fiction) and the Prix Médicis Etranger (France) and recounts the adventures of a group of former university students, reunited at the mysterious cliff-top house where they used to live. The Rotters' Club (2001), is set in Birmingham during the 1970s and tells the story of a group of school friends working on the school magazine. It was adapted for BBC Television in 2005. A sequel, The Closed Circle, was published in 2004. Jonathan Coe is also the author of two biographies of film actors, Humphrey Bogart and James Stewart. His biography of the novelist B. S. Johnson was published in 2004 and won the Samuel Johnson Prize. Jonathan lives in London with his wife and two daughters.
My selection:
What A Carve Up! or The Winshaw Legacy : (Testament à l'Anglaise) 1994
Well connected, with lots of money, and possessed of a remote Yorkshire family seat, the Winshaws are a breed of the old school. One of their number, Hilary, pens one of those tawdry, right-wing newspaper columns, informed solely by her own contradictory and ill-educated opinion; Henry is an ex-Labour MP whose politics use the party and everyone around him to further his own, less than left-wing motives; Dorothy is a callous factory farmer to whom animal welfare is a alien concept; and yet another, Mark, is an arms dealer growing rich from peddling his inventory to Iraq. Which is not to mention Thomas who, uninterested in more orthodox sexual relations, collects the more risqué outtakes from cutting room floors. Pity then Michael Owen, the not-so-holy-innocent employed by a vanity publisher at the request of mad Aunt Tabitha to pen the warts and all The Winshaw Legacy. Fixated on the old Kenneth Connor/Sid James country house comedy-horror What A Carve Up! since a formative cinema visit as a boy, and with a failed marriage behind him, Michael is almost as big a fuck-up as any of the Winshaws. Then someone steals his manuscript from the publishers and things start getting very peculiar indeed.
The House Of Sleep : (La maison Du Sommeil) 1997
This novel follows four students who knew each other in college in the eighties. Sarah is a narcoleptic who has dreams so vivid she mistakes them for real events. Robert has his life changed forever by the misunderstandings that arise from her condition. Terry spends his wakeful nights fueling his obsession with movies. And an increasingly unstable doctor, Gregory, sees sleep as a life-shortening disease which he must eradicate. But after ten years of fretful slumber and dreams gone bad, the four reunite in their college town to confront their disorders. In a Gothic cliffside manor being used as a clinic for sleep disorders, they discover that neither love, nor lunacy, nor obsession ever rests.
The Rain Before It Falls : (La pluie avant qu'elle tombe) 2007
The Rain Before it Falls is the story of three generations of one family riven by tragedy. When Rosamund, a reluctant bearer of family secrets, dies suddenly, a mystery is left for her niece Gill to unravel. Some photograph albums and tapes point towards a blind girl named Imogen whom no one has seen in twenty years. The search for Imogen and the truth of her inheritance becomes a shocking story of mothers and daughters and of how sadness, like a musical refrain, may haunt us down the years.
The Terrible Privacy of Maxwell Sim : (La vie très privée de Mr Sim) 2010
It is a book with a picaresque plot. It is told by the title character in the first person as he journeys first from Australia to his home in Watford in England and then on a promotional race for a toothbrush manufacturer to a remote chemist in the Shetland Islands. The story includes narratives written by other characters that greatly impact on Maxwell Sim, who is also preoccupied and influenced by the life and death of yachtsman Donald Crowhurst. The book examines identity and isolation, exploring the paradox of loneliness experienced at a time when technology makes connections with other humans easier than ever.