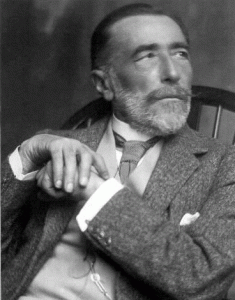 (1857 - 1924)
Józef Teodor Konrad Nalecz Korzeniowski (Joseph Conrad) was born to Joseph Theodore Appollonius Korzeniowski and Evelina Korzeniowski on December 3rd, 1857, in Berdyczew in Poland. His father was a writer and a translator of the works of William Shakespeare. He was also a member of a movement seeking Polish independence from Russia. In 1862 the family was forced to move to Russia because of his father's political activities. Conrad's mother died three years later in 1865. It was not until 1867 that Conrad and his father were allowed to return to Poland. In 1868 Conrad attended high school in the Austrian province of Galicia for one year. The following year he and his father moved to Cracow in Poland, where his father died in 1869. From the time spent with his father, Conrad became a lover of literature, especially tales of the sea. After his father's death, his uncle, Thaddus Bobrowski, took Conrad in and raised him.In the autumn of 1874 Conrad went to Marseilles in France, where he entered the French marine service. For the next twenty years Conrad led a successful career as a ship's officer. In 1877 he probably took part in the illegal shipment of arms from France to Spain in support of the pretender to the Spanish throne, Don Carlos (1788–1855). At this time Conrad fell in love with a girl who was also a supporter of Carlos. The affair ended in a duel with an American named J. M. K. Blunt. This was the first time Conrad thought of taking his own life.In June 1878 Conrad went to England for the first time. He worked as a seaman on English ships, and in 1880 he began his career as an officer in the British merchant service, rising from third mate to master. His voyages took him to distant and exotic places such as Australia, India, Singapore, Java, and Borneo, which provided the background for much of his fiction. In 1886 he became a British citizen. He received his first command in 1888. In 1890 he traveled to the Belgian Congo, Zaire, and Africa, which inspired his short novel Heart of Darkness.In 1896 he married Jessie George, an English woman. Two years later, just after the birth of Borys, the first of their two sons, they settled in Kent in the south of England, where Conrad lived for the rest of his life. John Galsworthy was the first of a number of English and American writers who befriended Conrad. Others were Henry James and Rudyard Kipling. In 1923 he visited the United States. The year after, he declined an offer of knighthood in England. On August 3rd, 1924, Conrad died of a heart attack and was buried in Canterbury in England.
My selection:
Heart Of Darkness : (Au Coeur des Ténèbres) 1899
A masterpiece of twentieth-century writing, Heart of Darkness exposes the tenuous fabric that holds "civilization" together and the brutal horror at the center of European colonialism. Conrad's crowning achievement recounts Marlow's physical and psychological journey deep into the heart of the Belgian Congo in search of the mysterious trader Kurtz. The book retells the story of Marlow's job as an ivory transporter down the Congo. Through his journey, Marlow develops an intense interest in investigating Kurtz, an ivory-procurement agent, and Marlow is shocked upon seeing what the European traders have done to the natives. Joseph Conrad's exploration of the darkness potentially inherent in all human hearts inspired the 1979 film, Apocalypse Now, although the setting was moved to Vietnam.
Lord Jim : 1900
Jim (his surname is never disclosed) is a young, good-looking, genial, young British seaman who becomes first mate on the Patna, a ship full of pilgrims travelling to Mecca for the hajj. When the ship starts rapidly taking on water and disaster seems imminent, Jim joins his captain and other crew members in abandoning the ship and its 800 passengers. A few days later, they are picked up by a British ship. However, the Patna and its passengers are later also saved, and the reprehensible actions of the crew are exposed. The other participants evade the judicial court of inquiry, leaving Jim to the court alone. The court strips him of his navigation command certificate for his dereliction of duty. Jim is angry with himself, both for his moment of weakness, and for missing an opportunity to be a 'hero'. At the trial, he meets Charles Marlow, a sea captain, who in spite of his initial misgivings over what he sees as Jim's moral unsoundness, comes to befriend him, for he is "one of us". Marlow later finds Jim work as a ship chandler's clerk. Jim tries to remain incognito, but whenever the opprobrium of the Patna incident catches up with him, he abandons his place and moves further east. Later, Marlow's friend Stein suggests placing Jim as his factor in Patusan, a remote inland settlement with a mixed Malay and Bugis population, where Jim's past can remain hidden. While living on the island he acquires the title 'Tuan' ('Lord'). Here, Jim wins the respect of the people and becomes their leader by relieving them from the predations of the bandit Sherif Ali and protecting them from the corrupt local Malay chief, Rajah Tunku Allang. Jim wins the love of Jewel, a woman of mixed race, and is "satisfied... nearly". The end comes a few years later, when the town is attacked by the marauder "Gentleman" Brown. Although Brown and his gang are driven off, Dain Waris, the son of the leader of the Bugis community, is slain. Jim returns to Doramin, the Bugis leader, and willingly takes a fatal bullet in the chest from him as retribution for the death of his son.