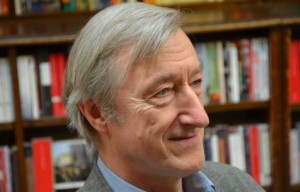 (1946 - )
Julian Barnes was born in Leicester in England on January 19th, 1946. Both of his parents were teachers of French. At the age of 10, Barnes was told by his mother that he had "too much imagination". He was educated at the City of London School from 1957 to 1964 and at Magdalen College in Oxford, where he studied Modern Languages and from which he graduated in modern languages (with honours) in 1968. After graduation, he worked as a lexicographer for the Oxford English Dictionary supplement for three years. In 1977, Barnes began working as a reviewer and literary editor for the New Statesman and the New Review. From 1979 to 1986 he worked as a television critic, first for the New Statesman and then for the Observer. Julian Barnes maintains a high level of privacy with regard to his personal life, though he is often very candid in interviews. He is a patron of human rights organisation Freedom from Torture, for which he has sponsored several fundraising events, and Dignity in Dying, a campaign group for assisted dying. He lives in London. Barnes is an atheist. His wife Pat Kavanagh, who was a literary agent, died on 20th October 2008 of a brain tumour. Barnes wrote about his grief over his wife's death in an essay in his book Levels of Life. Barnes has received several awards and honours for his writing. Julian Barnes has written numerous novels, short stories, and essays. He has also translated a book by French author Alphonse Daudet and a collection of German cartoons by Volker Kriegel. His writing has earned him considerable respect as an author who deals with the themes of history, reality, truth and love.
My selection:
Arthur & George : 2005
Set at the turn of the 20th century, the story follows the separate but intersecting lives of two very different British men: a half-Indian solicitor and son of a Vicar, George Edalji, and the world-famous author of the Sherlock Holmes stories, Sir Arthur Conan Doyle. Roughly one-third of the book traces the story of Edalji's trial, conviction, and imprisonment for a crime he did not commit. About one-third of the book traces the story of Doyle's life and his relationships with his first wife Louisa Hawkins and his platonic lover Jean Leckie. Roughly one-third of the book concerns Doyle's attempt to clear the name of Edalji and uncover the true culprit of the crime. Julian Barnes called it "a contemporary novel set in the past" and the book does not aim to stick closely to the historical record at every point.Arthur and George is laden with the unique and complex form of irony, simultaneously comic and tragic, that Barnes is known for. In this novel, however, Edalji's race, and the question as to how large a part it played in his wrongful conviction, represents a new theme for Barnes. Other themes, however, are more familiar Barnes territory: "Britishness" in its frustrating complacence, death and spirituality, and the challenges faced by the human heart. As always, Barnes is interested in how characters are shaped over time.
England, England : 1998
England, England is divided into three parts entitled "England", "England, England" and "Anglia". The first part focuses on the protagonist Martha Cochrane and her childhood memories. Growing up in the surrounding of the English countryside, her peaceful childhood gets disrupted when her father leaves the family. Martha's memories of her father are closely related to playing a Counties of England jigsaw puzzle with him.The second part, "England, England", is set in the near future in what is clearly marked as a postmodern age. Martha is now in her forties and gets employed by the entrepreneur Sir Jack Pitman for his megalomaniac project. Sir Jack aims to turn the Isle of Wight into a gigantic theme park which contains everything that people, especially tourists, consider to be quintessentially English, selected according to what Sir Jack himself approves of. The theme park called 'England, England' thus becomes a replica of England's best known historical buildings, figures and sites. Popular English tourist attractions and icons of 'Englishness' are crammed together to be easily accessible without having to travel whole 'real' England.While working on the set-up of the project, Martha starts an affair with one of her colleagues, Paul Harrison. They find out about Sir Jack's questionable sexual preferences and blackmail him with the incriminating evidence when Sir Jack wants to dismiss Martha. She thus becomes CEO of the Island project, which turns out to be a highly popular tourist attraction. As a consequence of the huge success, 'England, England' becomes an independent state and part of the European Union, while the real, 'Old England' suffers a severe decline and increasingly falls into oblivion. After a major scandal in the theme park, however, Martha is eventually expelled from the island.The third part of the novel, "Anglia", is set decades later and depicts Martha who has returned to a village in Old England after many years of wandering abroad. The original nation has regressed into a vastly de-populated, agrarian and pre-industrial state without any international political influence, while 'England, England' continues to prosper. The chapter describes the villagers' endeavour to re-establish a traditional village fête with the help of Martha's memories. Martha ultimately spends her final days in this rural setting pondering about her past. Beyond the basic twin plots surrounding Pitman and Cochrane, England, England is a novel of ideas – mainly ideas that correspond to the criticism of society voiced by French philosophers of the second half of the 20th century.
Flaubert's Parrot : (Le Perroquet de Flaubert) 1984
The novel recites amateur Gustave Flaubert expert Geoffrey Braithwaite's musings on his subject's life, and his own, as he looks for a stuffed parrot that inspired the great author. We follow Geoffrey Braithwaite, a widowed, retired English doctor, visiting France and Flaubert locations. While visiting sites related to Flaubert, Geoffrey encounters two incidences of museums claiming to display the stuffed parrot which sat atop Flaubert's writing desk for a brief period while he wrote Un Coeur Simple. While trying to identify which is authentic Braithwaite ultimately learns that Flaubert's parrot could be any one of fifty that had been held in the collection of the municipal museum.Although the main focus of the narrative is tracking down the parrot, many chapters exist independently of this plotline, consisting of Braithwaite's reflections, such as on Flaubert's love life and how it was affected by trains, and animal imagery in Flaubert's works and the animals with which he himself was identified (usually a bear, but also a dog, sheep, camel and parrot).One of the central themes of the novel is subjectivism. The novel provides three sequential chronologies of Flaubert's life: the first is optimistic (citing his successes, conquests, etc.), the second is negative (citing the deaths of his friends/lovers, his failures, illnesses etc.) and the third compiles quotations written by Flaubert in his journal at various points in his life. The attempts to find the real Flaubert mirror the attempt to find his parrot, i.e. apparent futility.