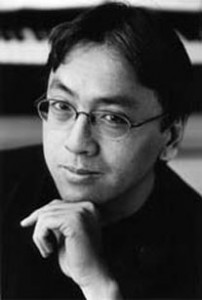 (1954 - )
Kazuo Ishiguro was born in Nagasaki, Japan, on 8th November 1954. He migrated to England in 1960 with his family so his father, who was an oceanographer, could work with the National Institute of Oceanography. He went to 'Stoughton Primary School' and the 'Woking County Grammar School' in Surrey, England. During the gap year that he took after school, Ishiguro wrote a journal and sent its tapes to various record companies. In 1974, he enrolled in the University of Kent in Canterbury and attained a degree of Bachelor of Arts with two majors; English and Philosophy. After his graduation, Ishiguro started working on fiction novels for almost a year after which he entered the University of East Anglia in 1980 for a master's program in Creative writing. Afterwards he worked as a grouse-beater for the Queen Mother at Balmoral before enrolling at the University of Kent, Canterbury, where he read English and Philosophy. He has been writing full-time since 1982. In 1983, shortly after the publication of his first novel, Kazuo Ishiguro was nominated by Granta magazine as one of the 20 'Best of Young British Writers'. His best known novels include The Unconsoled (1995), a formally inventive narrative in which a concert pianist struggles to fulfil a schedule of rehearsals and performances in an unnamed European city, was awarded the Cheltenham Prize in 1995, When We Were Orphans (2000), is set in Shanghai in the early part of the twentieth century, and is narrated by a private detective investigating his parents' disappearance in the city some 20 years earlier. It was shortlisted for both the Whitbread Novel Award and the Booker Prize for Fiction. He was awarded the Chevalier de l'Ordre des Arts et des Lettres by the French government in 1998. His work has been translated into over 30 languages. Kazuo Ishiguro married Lorna MacDougal in 1986. They currently live in London with their daughter Naomi.
My selection:
The Remains Of The Day : (Les Vestiges du Jour) 1989
It is Ishiguro's third novel and it is set in post-war England. It tells the story of an elderly English butler confronting disillusionment as he recalls a life spent in service, memories viewed against a backdrop of war and the rise of Fascism. It was awarded the Booker Prize for Fiction, and was subsequently made into an award-winning film starring Anthony Hopkins and Emma Thompson. In The Remains of the Day, the most critically successful of Ishiguro's novels to date, we are offered the narrative of Stevens, a butler. The privileged, isolated world of Darlington Hall reveals a society seemingly detached from national and international affairs. Yet it gradually becomes clear that the late Lord Darlington was himself a Nazi sympathiser during the war, a fact that Stevens struggles throughout the text to reconcile with his own view of his employer as a great man. It is 1956 and Darlington Hall has a new master, an American businessman, who encourages Stevens to take some time off. As he travels by motor car to the West Country to visit former housekeeper, Miss Kenton, Stevens' memories unfold in the form of a travelogue/journal. Stevens' flashbacks help us to make sense of his past and simultaneously expose that past as provisional, partial and unreliable. As the text progresses, we learn that Stevens helped his master entertain Fascist leaders like Mosley and that his visit to Miss Kenton (a former lover) has an ulterior motive. Stevens is a deluded character whom we as readers sympathise with but cannot quite place our faith in.