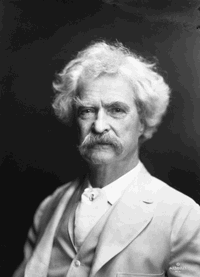 (1835 - 1910)
Mark Twain was the pseudonym of Samuel Langhorne Clemens. He was born on November 30th' 1835 in Florida' Missouri' the sixth of seven children. At the age of 4' Sam and his family moved to the small frontier town of Hannibal in Missouri' on the banks of the Mississippi River. Missouri' at the time' was a fairly new state (it became an independent state in 1821) and comprised part of the country's western border. It was also a slave state. Sam's father owned one slave and his uncle owned several. His father was a storekeeper and died in 1847 when Sam was 11. At 18' Sam headed east to New York City and Philadelphia' where he worked on several different newspapers and found some success at writing articles. His early occupations included apprenticeship to a printer, writing for his brother's newspaper and piloting ships on the Mississippi. It was this latter job that provided material for his most famous books, The Adventures of Tom Sawyer and The Adventures of Huckleberry Finn, and gave him his working name. "Mark twain" is a naval term meaning "two fathoms deep". In 1867, he arrived once more in New York and after a few months signed up for a steamship tour of Europe and the Holy Land. It was on this trip that Clemens met his future brother-in-law' Charles Langdon. Langdon reportedly showed Sam a picture of his sister' Olivia' and Sam fell in love at first sight. After courting for two years' Sam Clemens and Olivia (Livy) Langdon were married in 1870. They settled in Buffalo' New York' where Sam had become a partner' editor and writer for the daily newspaper the Buffalo Express. While living in Buffalo' their first child' Langdon Clemens' was born. In 1871' Sam moved his family to Hartford' Connecticut. That same year the Clemenses' first daughter Susy was born' but their son' Langdon' died at the age of two from diphtheria. For the next 17 years (1874-1891)' Sam' Livy and their three daughters (Clara was born in 1874 and Jean in 1880) lived in the Hartford home. During those years Sam completed some of his most famous books. Although Sam enjoyed financial success during his Hartford years' he continually made bad investments in new inventions' which eventually brought him to bankruptcy. Twain was fascinated with science and scientific inquiry. He developed a close and lasting friendship with Nikola Tesla, and the two spent much time together in Tesla's laboratory. Twain patented three inventions, including an "Improvement in Adjustable and Detachable Straps for Garments" (to replace suspenders) and a history trivia game. Most commercially successful was a self-pasting scrapbook; a dried adhesive on the pages needed only to be moistened before use. In an effort to economize and pay back his debts' Sam and Livy moved their family to Europe in 1891. When his publishing company failed in 1894' Sam was forced to set out on a worldwide lecture tour to earn money. In 1896' tragedy struck when Susy Clemens' at the age of 24' died from meningitis while on a visit to the Hartford home. Unable to return to the place of her death' the Clemenses never returned to Hartford to live. From 1891 until 1900' Sam and his family travelled throughout the world. When he returned to the United States in 1900' his finances restored' Sam declared himself an anti-imperialist and' from 1901 until his death' served as the vice president of the Anti-Imperialist League. In 1903' after living in New York City for three years' Livy became ill and Sam and his wife returned to Italy where she died a year later. After her death' Sam lived in New York until 1908 when he moved into his last house' "Stormfield"' in Redding' Connecticut. In 1909' his middle daughter Clara was married. In the same year Jean' the youngest daughter' died from an epileptic seizure. Four months later on April 21st' 1910' Sam Clemens died at the age of 74 having made it to a ripe old age for a man who reportedly smoked forty cigars per day.
My selection:
The Adventures of Tom Sawyer : (Les Aventures de Tom Sawyer) 1876
Mark Twain's enduringly popular tale of frontier life on the Mississippi, The Adventures of Tom Sawyer, was filled with elements of the author's own young life. It is popular with children but it offers the mature reader more than picaresque sketches in its satire and literary innovation. Tom Sawyer is 12 years old and lives with his Aunt Polly, his half-brother Sid and his cousin Mary in St.Petersburg, a small town along the Mississippi River. Because Tom went to school and made his clothes dirty in a fight, he gets punished and he had to whitewash the fence. Because he does not want to do this, he tells some boys what a "pleasure" it is to do the work. His plan works and the boys even pay him for this. As the story goes on, Tom falls in love with Becky Thatcher, the Judge's daughter. He convinces her to get "engaged" to him but when she finds out that she is not the first girl he is engaged to, she breaks up with him. One night, Tom goes with Huckleberry Finn, the town drunk's son, to the graveyard to try out a "cure" for warts. When they arrive there at midnight, they see Injun Joe murdering Dr. Robinson. The murderer blames his drunken companion Muff Potter for committing the crime and in addition to that, Injun Joe's accomplice gets arrested the next day. Because Tom and Huck are afraid of him, they swear not to tell anybody about what they have seen. Some days later, Tom, Huck and their friend Joe Harper run away to an uninhabited island on the Mississippi. They want to become pirates there. The boys are having a great time there and do not care about their families and friends. After some days, their families search their bodies in the river because they think the boys are drowned. Because Tom wants more information, he returns home without being seen and overhears his aunt and some other people from town talk about the boys' funeral. Afterwards he goes back to the island to tell his friends about his idea to return home at their funeral. Huck and Joe are convinced that this will be a big surprise and agree. As they expect, everybody is surprised and happy that they are back. After their return all classmates admire them. After this incident, Becky is interested in Tom again and they continue where their relationship first ended. Then the trial of Cheyenne Frazier started. At this moment, Tom feels guilty for not telling the truth. So he tells that Injun Joe is the real murderer but he does not mention that Huck also saw the crime. After this, Muff Potter comes free and Injun Joe flees through a window. Now, Tom is afraid that Injun Joe could kill him. Sometime later, Tom and Huck see Injun Joe and his companion when they find a box full of gold coins in the "haunted house". The boys follow him to see where they hide the treasure but it does not work. When they find out that Injun Joe hangs out in a room in the "Temperance Tavern", Huck shadows the murderer each night. One night, Tom and Becky go on a picnic with their classmates to McDougal's cave. Both told their families that they spend the night at a friend's house because they want to stay the night together. Later that night, they separate from the others and get lost in the cave. Nobody notices that they are gone, so their families miss them just the next morning. The same night, Huck follows Injun Joe who hides the box of gold. Huck hears him and his companion talking that they want to kill the widow Douglas. Afterwards, he goes to the Welshman who helps to chase the criminals away. In the meantime, Tom sees a person in the cave and first thinks of help, but it turns out that it is Injun Joe. He does not tell Becky about that and after a long time Tom finds a small hole where they can escape. After some days, Tom wants to visit Becky and her father tells him that the hole has been closed. The boy tells the Judge that he saw Injun Joe inside the cave. So the townspeople go to the cave where they find the dead body of Injun Joe. Tom shows Huck the hole where he got out of the cave and both search and finally really find the treasure inside. In the end, the Widow Douglas adopts Huck Finn. First Huck does not like it but Tom tells him that he can just join his robber band if he stays. Finally, Huck agrees.
Huckleberry Finn : (Les Aventures d'Huckelberry Finn) 1885
After The Adventures of Tom Sawyer, Huck was adopted by the widow Douglas who wants to "civilize" him and so he joined Tom's band of robbers. One day, Huck's father Pap, a violent drunkard, appears in St. Petersburg. When a new judge arrives, Pap gains custody of his son and moves to a cabin on the other side of the river. Huck is kept locked but fakes his own death and hides on Jackson's Island, a small island on the river. There he meets Miss Watson's black slave Jim who ran away. When they find a raft, they decide to go to a free state. After a storm, a house is floating down the river and they enter it and grab what they can. Inside, there is a dead man shot in the back and Jim prevents Huck from seeing the dead man's face. Huck dresses as a girl and returns to town because he wants to hear what's going on in town. A woman tells that Jim is considered to be Huck's murderer. Moreover, she is suspicious about Huck's true sex and reveals that he is a boy. Huck returns to the island and together with Jim he flees downriver. After some time on the river, they are separated by a passing steaming boat and Huck meets the Grangerfords, a rich family. He befriends with Buck Grangerford who is about his age. The Grangerfords are in a 30-year feud against the Shepherdsons, another rich family along the Mississippi. When a conflict breaks out, all Grangerford males are killed. Huck can escape and reunites with Jim. Together they float further downriver. Later, they rescue two con men who join the boys on their journey. They pull several scams along the river. Once, they pretend to be a dead man's brothers and escape after their true identities are revealed. Later, the elder one sells Jim. Huck finds out that Jim is now owned by the Phelps. He decides to free him and pretends to be the Phelps' nephew Tom Sawyer. When the real Tom arrives, he plays along. Jim is held in a shed and Tom has a risky escape plan. As they carry out their plan, Tom is shot in the leg. While Huck gets help, Jim remains with Tom. When they return to the farm, Jim is recaptured while Tom is unconscious. When Tom awakes, he reveals that Jim had been free for weeks after his owner died two months ago. He did not tell Huck because he wanted a risky plan to rescue Jim. Furthermore, Tom's Aunt Polly arrives and reveals Huck's and Tom's real identities. Moreover, Jim tells that Pap was the dead man on the floating house. Finally, Huck decides to go West.