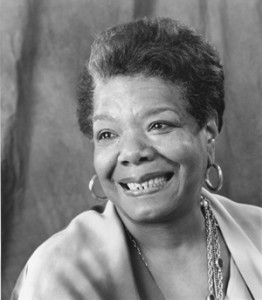 (1928 - 2014)
She was born on April 4th, 1928 as Marguerite Johnson in St. Louis and was raised in segregated rural Arkansas. Angelou had a difficult childhood. Her parents split up when she was very young, and she and her older brother, Bailey, were sent to live with their father's mother, Anne Henderson, in Stamps, Arkansas. As an African American, Angelou experienced racial prejudices and discrimination in Arkansas. She also suffered at the hands of a family associate around the age of 7. During a visit with her mother, Angelou was raped by her mother's boyfriend. Then, as vengeance for the sexual assault, Angelou's uncles killed the boyfriend. So traumatized by the experience, Angelou stopped talking. She returned to Arkansas and spent years as a virtual mute. In 1944, a 16-year-old Angelou gave birth to a son, Guy (a short-lived high school relationship had led to the pregnancy), thereafter working a number of jobs to support herself and her child. During World War II, Angelou moved to San Francisco in California, where she won a scholarship to study dance and acting at the California Labor School. Also during this time, Angelou became the first black female cable car conductor (only for a brief period) in San Francisco. In 1952, the future literary icon married Anastasios Angelopulos, a Greek sailor from whom she took her professional name (a blend of her childhood nickname, "Maya," and a shortened version of his surname). she lived in Egypt and then in Ghana, working as an editor and a freelance writer. Angelou also held a position at the University of Ghana for a time.After experiencing health issues for a number of years, Maya Angelou died on May 28, 2014, at her home in Winston-Salem, North Carolina.
My selection:
I Know Why the Caged Bird Sings : (Je sais pourquoi chante l'oiseau en cage) 1969
In this first of five volumes of autobiography, Maya Angelou recounts a youth filled with disappointment, frustration, tragedy, and finally hard-won independence. Sent at a young age to live with her grandmother in Arkansas, Angelou learned a great deal from this exceptional woman and the tightly knit black community there. These very lessons carried her throughout the hardships she endured later in life, including a tragic occurrence while visiting her mother in St. Louis and her formative years spent in California where an unwanted pregnancy changed her life forever. Marvellously told, this remarkable autobiography by a black woman from Arkansas captures, a world of which most people are ignorant.