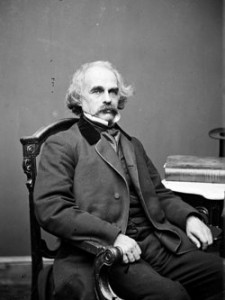 (1804 - 1864)
He was born in Salem, Massachusetts on July 4th 1804. Nathaniel Hawthorne's life was rooted in the Puritan legacy. An early ancestor, William Hathorne, first emigrated from England to America in 1630 and settled in Salem, where he became a judge known for his harsh sentencing. William's son, John Hathorne, was one of three judges during the Salem Witch Trials in the 1690s. Nathaniel later added a "w" to his name to distance himself from this side of the family. His father, a sea captain, died in 1808 of yellow fever while at sea. The family was left with meager financial support and moved in with his mother's wealthy brothers. At an early age he suffered from a leg injury which left Nathaniel immobile for several months during which time he developed a voracious appetite for reading. With the help of his wealthy uncles, Nathaniel attended Bowdoin College from 1821 to 1825. Then he met Sophia Peabody, a painter and illustrator. After a long courtship, partially prolonged by Sophia's poor health, the couple were married on July 9, 1842. They quickly settled in Concord, Massachusetts, and rented Old Manse, owned by Ralph Waldo Emerson. In 1844, their first of three children was born. With mounting debt and a growing family, they moved to Salem. During the 1852 election, Nathaniel Hawthorne wrote a campaign biography for his college friend Franklin Pierce. When Pierce was elected president, he appointed Hawthorne an American Consul to Britain as a reward. The Hawthorne's stayed in England from 1853-1857. After serving as consul, Nathaniel Hawthorne took his family on a long holiday to Italy and then back to England. In 1860, Hawthorne moved his family back to the United States and took permanent residence at The Wayside in Concord, Massachusetts. After 1860, his health began to fail and he seemed to age considerably, hair turning white and experiencing slowness of thought. For months, he refused to seek medical help and died in his sleep on May 19th, 1864, at Plymouth New Hampshire.
My selection:
The Scarlet Letter : ( La Lettre Ecarlate ) 1850
In the Puritan New England of the 17th century, an aged English Scholar has sent his young wife, Hester Prynne, to Boston. He intended to follow her, but was captured by the Indians and delayed for 2 years. He arrives to find her in the pillory, with a baby in her arms. Because she has refused to name her lover, she has also been sentenced to wear for the rest of her life the red letter A, adulteress, upon her breast. The husband assumes the name of Roger Chillingworth and makes Hester swear that she will conceal his identity. Hester goes to live in the outskirts of the town. She devotes herself to work, and gradually wins the respect of the townsfolk. Chillingworth sets out to discover who Hester's lover was. He is in fact a young and revered minister, Arthur Dimmesdale, whose lack of courage has prevented him from declaring his guilt. Chillingworth discovers him and endlessly tortures him. After 7 years, Dimmesdale is on the verge of lunacy and death, Hester proposes him to flee to Europe. But eventually he will make public confession on the pillory and die in Hester's arms.
The House of The Seven Gables : (La Maison aux Sept Pignons) 1851
The house of the title is a gloomy mansion, haunted since its construction by fraudulent dealings, accusations of witchcraft, and sudden death. The current resident, Hepzibah Pyncheon, opens a shop in a side room to support her brother Clifford, who has completed a thirty year sentence for murder. She refuses all assistance from her rich but unpleasant cousin, Judge Jaffrey Pyncheon. A distant relative, the lively and pretty young Phoebe, arrives and quickly becomes invaluable, charming customers and rousing Clifford from depression. A delicate romance grows between Phoebe and the mysterious attic lodger Holgrave, who is writing a history of the Pyncheon family. The house was built on ground wrongfully seized from its rightful owner, Matthew Maule, by Colonel Pyncheon, the founder of the Massachusetts branch of the family. Maule was accused of practicing witchcraft and was executed. According to a legend, at his death Maule put a curse on the Pyncheon family. During the housewarming festivities, Colonel Pyncheon was found dead in his armchair; whether he actually died from the curse or from a congenital disease is unclear. His portrait remains in the house as a symbol of its dark past and the weight of the curse upon the spirit of its inhabitants. Phoebe arranges to visit her country home, but plans to return soon. Clifford, depressed by his isolation from humanity and his lost youth spent in prison, stands above the stairs and suddenly wants to jump. The departure of Phoebe, the focus of his attention, leaves him bed-ridden. Judge Pyncheon arrives to find information about land in Maine, rumored to belong to the family. He threatens Clifford with a hearing unless he reveals details about the land or the location of the missing deed. Clifford is unable to comply. The Judge mysteriously dies while sitting in Colonel Pyncheon's chair. Hepzibah and Clifford flee by train. The next day, Phoebe returns and discovers the Judge's body. The townsfolk begin to gossip about Hepzibah and Clifford's sudden disappearance. Phoebe is relieved when Hepzibah and Clifford return, having recovered their wits. New evidence in the crime that sent Clifford to prison proves his innocence. He was framed for the death of his uncle by Jaffrey, who was even then looking for the missing deed. Holgrave is revealed as Maule's descendant, but he bears no ill will toward the Pyncheons. The missing deed is discovered behind the old Colonel's portrait, but the paper is worthless: the land is already settled by others. The characters abandon the old house and start a new life in the countryside, free from the burdens of the past.