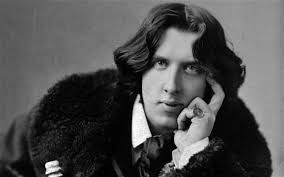 (1854 - 1900)
Oscar Wilde was born in Dublin on 16th October 1854 to Sir William Wilde and his wife Jane. Oscar's mother, Lady Jane Francesca Wilde (1820-1896), was a successful poet and journalist. She wrote patriotic Irish verse under the pseudonym "Speranza". Oscar's father, Sir William Wilde (1815 - 1876), was a leading ear and eye surgeon, a renowned philanthropist and gifted writer, who wrote books on archaeology and folklore. Oscar had an elder brother, Willie, and a younger sister, Isola Francesca, who died at the early age of 10. He was educated at Portora Royal School (1864-71), Trinity College in Dublin (1871-74), and Magdalen College in Oxford (1874-78). While at Oxford, he became involved in the aesthetic movement and became an advocate for 'Art for Art's Sake' (L'art pour l'art). Whilst at Magdalen, he won the 1878 Newdigate Prize for his poem Ravenna. In 1879, after he graduated, he moved to Chelsea in London to establish a literary career. In 1881, he published his first collection of poetry - Poems that received mixed reviews by critics. He worked as an art reviewer in 1881 and lectured in the United States and Canada in 1882. In 1883, he went to live in Paris. He also lectured in Britain and Ireland between 1883 and 1884. On May 29th, 1884, Oscar married Constance Lloyd (who died 1898). She was the daughter of wealthy Queen's Counsel Horace Lloyd. They had two sons, Cyril (born in 1885) and Vyvyan (born in 1886). To support his family, Oscar accepted a job as the editor of Woman's World magazine, where he worked from 1887 to 1889. In 1888, he published The Happy Prince and Other Tales, fairy-stories written for his two sons. His first and only novel, The Picture of Dorian Gray, was published in 1891 and received quite a negative response. This had much to do with the novel's homoerotic overtones, which caused something of a sensation among some Victorian critics. Wilde's greatest talent was for writing plays. His first successful play, Lady Windermere's Fan, opened in February 1892. He produced a string of extremely popular comedies including A Woman of No Importance (1893), An Ideal Husband (1895), and The Importance of Being Earnest (1895). These plays were all highly acclaimed and firmly established Oscar as a playwright. In 1891, Wilde began an affair with Lord Alfred Douglas, nicknamed 'Bosie', who became both the love of his life and his downfall. Wilde's marriage ended in 1893.
Lord Alfred's father, the Marquess of Queensberry, was known for his outspoken atheism, brutish manner and creation of the modern rules of boxing. Queensberry, who feuded regularly with his son, confronted Wilde and Lord Alfred about the nature of their relationship several times, but Wilde was able to mollify him. In June 1894, he called on Wilde at 16 Tite Street, without an appointment, and clarified his stance: "I do not say that you are it, but you look it, and pose at it, which is just as bad. And if I catch you and my son again in any public restaurant I will thrash you" to which Wilde responded: "I don't know what the Queensberry rules are, but the Oscar Wilde rule is to shoot on sight". Queensberry had planned to insult Wilde publicly by throwing a bouquet of rotting vegetables onto the stage; Wilde was tipped off and had Queensberry barred from entering the theatre.On 18th February 1895, the Marquess left his calling card at Wilde's club, the Albemarle, inscribed: "For Oscar Wilde, posing somdomite". Oscar Wilde, encouraged by Douglas and against the advice of his friends, initiated a private prosecution against Queensberry for libel, since the note amounted to a public accusation that Wilde had committed the crime of sodomy. Oscar's case was unsuccessful and he was himself arrested and tried for gross indecency. He was sentenced to two years of hard labour for the crime of sodomy. During his time in prison he wrote De Profundis, a dramatic monologue and autobiography, which was addressed to Bosie. Upon his release in 1897, he wrote The Ballad of Reading Gaol, revealing his concern for inhumane prison conditions. He spent the rest of his life wandering Europe, staying with friends and living in cheap hotels. He died of cerebral meningitis on November 30th, 1900, penniless, in a cheap Paris hotel.
Wilde was initially buried in the Cimetière de Bagneux outside Paris; in 1909 his remains were disinterred and transferred to Père Lachaise Cemetery, inside the city. His tomb was designed by Sir Jacob Epstein, commissioned by Robert Ross, who asked for a small compartment to be made for his own ashes which were duly transferred in 1950. The modernist angel depicted as a relief on the tomb was originally complete with male genitalia which have since been vandalised; their current whereabouts are unknown. In 2000, Leon Johnson, a multimedia artist, installed a silver prosthesis to replace them.
My selection:
The Picture of Dorian Gray : (Le Portrait de Dorian Gray) serialised in 1890, published in book form in 1891.
The novel is set in England in the 1890s. The artist Basil Hallward is painting the portrait of Dorian Gray, a handsome young man whom he idolises. Basil's friend, Lord Henry Wotton, persuades Dorian that the most important things in life are youth and beauty. When Basil gives Dorian the finished painting, Dorian wishes that he might remain young and the portrait grow old. Soon after, Dorian becomes infatuated with Sybil Vane, a young actress. But when Sybil falls in love, she suddenly loses her ability to act. After an embarrassing night at the theatre, during which her previously gifted acting has become completely wooden, Dorian tells Sybil that he no longer loves her. When Dorian gets home, he discovers that the expression on his portrait has changed: it has become sinister and cruel. Ashamed of himself, he writes to Sybil to beg her forgiveness, only to learn that she has killed herself. Dorian the locks his portrait away and, encouraged by Lord Henry, throws himself completely into a life of vice and sensual pleasure. Some years later, Dorian shows his portrait to Basil, who is horrified to see how cruel its expression has become. Basil begs Dorian to repent. But Dorian kills him instead, and continues with his hedonistic way of life. His behaviour brings further calamity, but when Dorian finally resolves to change, the face in the portrait just continues to grow more evil. Desperate, Dorian stabs the painting. He dies, becoming hideously haggard, while the face on the portrait returns to its youthful and beautiful self.
The Importance of Being Earnest : (L'Importance d'être Constant) Performed in 1895 and published in 1898.
It is Wilde's best-known work and definitely my favourite play with its dazzling dialogue. In genre, it is a mixture of comedy of manners, social satire, parody and nonsense. In theme, it treats trivial things very seriously and serious things trivially.
Act I : Algernon Moncrieff's flat in Half Moon Street.
The play opens with Algernon Moncrieff, an idle young gentleman, receiving his best friend, John Worthing, whom he knows as Ernest. Ernest has come from the country to propose to Algernon's cousin, Gwendolen Fairfax. Algernon, however, refuses his consent until Ernest explains why his cigarette case bears the inscription, "From little Cecily, with her fondest love to her dear Uncle Jack." 'Ernest' is forced to admit to living a double life. In the country, he assumes a serious attitude for the benefit of his young ward, the heiress Cecily Cardew, and goes by the name of John (or, as a nickname, Jack), while pretending that he must worry about a wastrel younger brother named Ernest in London. In the city, meanwhile, he assumes the identity of the libertine Ernest. Algernon confesses a similar deception: he pretends to have an invalid friend named Bunbury in the country, whom he can "visit" whenever he wishes to avoid an unwelcome social obligation. Jack refuses to tell Algernon the location of his country estate.
Gwendolen and her formidable mother Lady Bracknell now call on Algernon who distracts Lady Bracknell in another room while Jack proposes to Gwendolen. She accepts, but seems to love him very largely for his professed name of Ernest. Jack accordingly resolves to himself to be rechristened "Ernest". Discovering them in this intimate exchange, Lady Bracknell interviews Jack as a prospective suitor. Horrified to learn that he was adopted after being discovered as a baby in a handbag at Victoria Station, she refuses him and forbids further contact with her daughter. Gwendolen, though, manages covertly to promise to him her undying love. As Jack gives her his address in the country, Algernon surreptitiously notes it on the cuff of his sleeve: Jack's revelation of his pretty and wealthy young ward has motivated his friend to meet her.
Act II : The Garden of the Manor House, Woolton.
Cecily is studying with her governess, Miss Prism. Algernon arrives, pretending to be Ernest Worthing, and soon charms Cecily. Long fascinated by Uncle Jack's hitherto absent black sheep brother, she is predisposed to fall for Algernon in his role of Ernest (a name she, like Gwendolen, is apparently particularly fond of). Therefore, Algernon, too, plans for the rector, Dr. Chasuble, to rechristen him "Ernest". Jack, meanwhile, has decided to abandon his double life. He arrives in full mourning and announces his brother's death in Paris of a severe chill, a story undermined by Algernon's presence in the guise of Ernest. Gwendolen now enters, having run away from home. During the temporary absence of the two men, she meets Cecily, each woman indignantly declaring that she is the one engaged to "Ernest". When Jack and Algernon reappear, their deceptions are exposed.
Act III : Morning-Room at the Manor House, Woolton.
Arriving in pursuit of her daughter, Lady Bracknell is astonished to be told that Algernon and Cecily are engaged. The revelation of Cecily's trust fund soon dispels Lady Bracknell's initial doubts over the young lady's suitability, but any engagement is forbidden by her guardian Jack: he will consent only if Lady Bracknell agrees to his own union with Gwendolen — something she declines to do. The impasse is broken by the return of Miss Prism, whom Lady Bracknell recognises as the person who, twenty-eight years earlier, as a family nursemaid, had taken a baby boy for a walk in a perambulator (baby carriage) and never returned. Challenged, Miss Prism explains that she had absentmindedly put the manuscript of a novel she was writing in the perambulator, and the baby in a handbag, which she had left at Victoria Station. Jack produces the very same handbag, showing that he is the lost baby, the elder son of Lady Bracknell's late sister, and thus indeed Algernon's elder brother. Having acquired such respectable relations, he is acceptable as a suitor for Gwendolen after all. Gwendolen, though, still insists that she can only love a man named Ernest. What is her fiancé's real first name? Lady Bracknell informs Jack that, as the first-born, he would have been named after his father, General Moncrieff. Jack examines the army lists and discovers that his father's name—and hence his own real name—was in fact Ernest. Pretence was reality all along. As the happy couples embrace—Jack and Gwendolen, Algernon and Cecily, and even Dr. Chasuble and Miss Prism—Lady Bracknell complains to her newfound relative: "My nephew, you seem to be displaying signs of triviality." "On the contrary, Aunt Augusta", he replies, "I've now realised for the first time in my life the vital importance of being Earnest."
The Complete Fairy Tales : (Les contes l'intégrale) 1888
This collection comprises both The Happy Prince compilation and The House of Pomegranates compilation of Oscar Wilde's short stories. The Happy Prince contains these stories: The Happy Prince, The Nightingale and the Rose, The Selfish Giant, The Devoted Friend, The Remarkable Rocket. The House Of Pomegranates contains these stories: The Young King, The Birthday of the Infanta, The Fisherman and His Soul, The Star-Child.
These stories are suitable for adults as well as children. Wilde's adherence to the socialist philosophy is seen in many of the tales here. Basically, equal distribution of wealth, accompanied by tolerance, humility, and natural love would lead to true individualism. Many figures will have to become Christ-like martyrs to achieve such a world, regardless of whether the receiver of the gift will appreciate their sacrifice, as is the heartbreaking story of "The Nightingale And The Rose." Examples of this include The Happy Prince, where the prince, a living statue, gives up the jewels of his sword, the jewels making up his eyes to those less fortunate and finds himself happier as a result. The same motif can be found in "The Selfish Giant", who builds a wall around his garden to keep the children from playing in it; as a result, Spring never comes to the garden and it's perpetual Winter. The giant realizes his selfishness and tears down the wall. And like the giant, the title character in "The Star-Child" goes from being proud of his good looks and standing, adopting a philosophy like the Remarkable Rocket, then undergoes humility and suffering when those are taken from him, and becomes selfless and repentant as a result of his suffering. Other main characters never see beyond their selfish egotism. The Infanta in "The Birthday of the Infanta" is amused by a dancing dwarf, who is hunchbacked and ugly to behold. She and her companions are doubled with laughter at his entertainment. The poor dwarf, whom the Infanta has given a rose, thinks the Infanta loves him, and also, raised in the forest, is blissfully unaware of his countenance. It is only when he looks in the mirror that he dies of a broken heart. The Infanta then declares that no one should have a heart. A denunciation to the upper class of the British Empire, who have an aura of self-importance around them, is given in "The Remarkable Rocket" The Rocket's philosophy, "the only thing that sustains one through life is the consciousness of the immense inferiority of everyone else" is telling of the misguided romantic mentality of this upper class. But only in the psyches of certain individuals does true social consciousness arrive, such as "The Young King" whose dreams of the horrible cost of ordinary people who have suffered so that the upper class may prosper, deeply distresses him to the point that he refuses wear the luxurious signs of power symbolizing the raiment of the king. "...on the loom of sorrow, and by the hands of Pain, has this robe been woven. There is Blood in the heart of this Ruby, and Death in the heart of this pearl." "Shall a man not eat bread till he has seen the sower, nor drink wine till he has talked with the vinedresser" adds the King, in a foretelling of the sweatshops and maquiladoras of today.