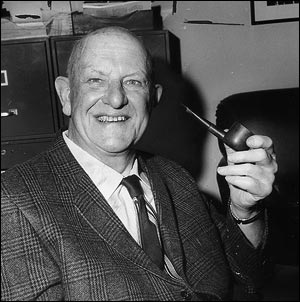 (1881 - 1975)
Pelham (Plum) Grenville Wodehouse was born on October 15th 1881 in Guilford, Surrey, England. At the time of his birth, Plum's mother was visiting her sister in England, but after only a few weeks she and young Plum returned to Hong Kong, where his father was a magistrate. At an early age he was sent to Dulwich College in London.
At the age of 14, he moved with his parents in to what they would call "the old house." After completing school, he spent two years as a banker at the Hong Kong and Shanghai Bank, but he soon switched jobs to the old Globe newspaper as a sports reporter and columnist on "By the way..." About that time he started to write his own little stories. At first he wrote school novels about life in the famous universities in England and mainly for a boys magazine called "The Captain", but soon he developed a talent for comic dialogue and started to put his talents to that instead.
By 1910, he became successful. He soon had established himself in such a way that he could spend time between residences both in the US and France. It was also at about this time he acquired his obsession with golf, a sport around which many of his short stories circle. In a few years he was reaching millions of readers in dozens of countries.
He met Ethel, an American widow who became the woman of his life, in 1913 and they married in 1914. World War II caught Plum in his newly-purchased home in Le Touquet in France. He was captured by German forces and put in a prison camp. He was treated well and got the means to keep writing his books. Joseph Goebbels, it was revealed later, understood what a big fish they had caught and lured Plum into giving some brief, humorous appearances on German radio. Being the political fool he was, Plum fell into the trap. The broadcasts, which were supposed to be heard in the US only, were redirected to Britain, in a cunning scheme to annoy British authorities. As word of the broadcasts spread, back in Britain Plum's readers and publisher went berserk. They wanted him charged with treason. However, it was obvious he had been tricked and as the war ended, he returned to America, where he became a citizen in 1955.
His popularity increased to such a degree that in 1975, a few weeks before his death, he was forgiven his wartime mistakes by the British establishment and was knighted by Her Majesty the Queen. At the time of his knighthood he was in poor health and couldn't attend the ceremony. Queen Elizabeth the Queen Mother, a devout Wodehouse fan, offered to go to the US to personally present the knighthood.
In his final years, Plum was in and out of the hospital with pneumonia, heart problems and lung failures. Seeking comfort, as always, in his typewriter, Sir Plum kept writing until the end. Lady Ethel lived until 1984. They had no mutual children, only from Ethel's daughter from her previous marriage, Leonora, who Plum adopted and who died during surgery in 1942, devastating Plum.
He died in hospital in Southampton, New York, on Febrary 14th 1975, from a heart attack after a long illness at age 93. In that time he managed to write close to 200 novels, short stories, plays and song lyrics.
My selection:
The Code of the Woosters : (Bonjour Jeeves) 1938
The story opens with Bertie recovering from a bachelor party he has thrown the night before for Gussie Fink-Nottle, his fish-faced, newt-fancying friend. While still convalescing, he is summoned before his beloved Aunt Dahlia and ordered by her to go to a particular antique shop and "sneer at a cow creamer". This is an effort to sap the confidence of the shop's owner and thus drive down the piece's price before it is purchased by Dahlia's collector husband Tom Travers. While in the shop, Bertie has his first run-in with Sir Watkyn (another collector of silver pieces) and Spode (whose aunt Sir Watkyn is planning to marry). Bertie escapes this ordeal relatively unscathed, but later learns that, via underhanded skulduggery involving lobsters and cold cucumbers, Sir Watkyn has obtained possession of the creamer ahead of Uncle Tom and spirited it away to Totleigh Towers. Bertie was already headed there in a frantic attempt to patch over the sudden rupture in the engagement of Gussie and Madeline Bassett, Sir Watkyn's droopy and oversentimental daughter. This engagement is very important to Bertie because Madeline believes Bertie is in love with her, and has resolved to "make him happy" by marrying him if her engagement to Gussie should ever fail. Bertie is terrified by the prospect of spending his life with the goofy Madeline, but his personal code of chivalrous behavior will not allow him to reject her since she believes so strongly in his love.
Additionally, Bertie has been assigned an impossible task by Aunt Dahlia: to recover the cow creamer, which is being guarded both by Spode and the local police. His situation is complicated further by the presence at Totleigh Towers of Stiffy Byng, Sir Watkyn's anarchic young ward, who draws Bertie into her plan to marry the local curate, another old pal of Bertie's named "Stinker" Pinker. Matters are further complicated by a certain leather-covered notebook of Gussie's, in which he has lovingly and extensively detailed Sir Watkyn and Spode's many character failings, and which has escaped Gussie's possession and may be found and read by Sir Watkyn at any time. This would infallibly cause Sir Watkyn to forbid Madeline to marry Gussie, which would in turn cause her to marry Bertie.
Jeeves's intellect is strained to the utmost, but in the end, the two couples are still engaged to be married, the cow creamer is headed back towards the hands of its rightful owner, and Bertie has not been beaten to a pulp by Spode, thrown in jail for stealing a policeman's helmet, roped into marriage with either Madeline or Stiffy, or cut off from partaking in the cooking of the famed Anatole. In gratitude, he agrees to take the Round-The-World cruise Jeeves has been promoting, thinking that at absolute worst, he won't be seeing Stiffy Byng.
Spode has two jobs -- he is the leader of the Black Shorts, a Fascist organisation (and is closely modelled on the real-life fascist leader Sir Oswald Mosley), but also designs and sells women's underwear. He is perpetually in fear that his followers in his first role will discover his second one and it is the threat of this disclosure which is used by Jeeves to stop him assaulting Bertie. The actual code of the Woosters is "Never let a pal down."
Something Fresh : Bienvenue à Blandings (1915)
It is the first installment of P. G. Wodehouse's Blandings Castle stories. This story follows Ashe Marson into the drafty halls of Blandings Castle, where he will try to make "something new" of his life by purloining a rare Egyptian scarab — all for the best motives, of course.
Ashe Marson is a hack writer who churns out pulp detective stories which involve The Adventures of Gridley Quayle. Tired of this life, but not quite knowing what to do about it, he makes the acquaintance of his upstairs neighbor Joan Valentine. She prompts him to action: "Read the papers. Read the advertisement columns. I'm sure you will find something sooner or later. Don't get into a groove. Be an adventurer. Snatch at the next chance, whatever it is." And he does. After reading and answering the following want ad:
Wanted - Young Man of Good Appearance who is poor and reckless, to undertake delicate and dangerous enterprise. Good pay for the right man.
he finds himself in the employ of J. Preston Peters. He will appear as this American millionaire's valet on a trip to Blandings Castle, but his real mission will be to steal back a priceless scarab which has made its way into Lord Emsworth's collection through a series of misadventures. What follows is a delightful romp through the halls of the English country home...it seems everyone in the Castle has a reason to be roaming about at night and what should be a very simple little matter of picking up the scarab (it's not even in a locked case) and stowing it away in a handy pocket becomes a veritable circus of unlikely events. Who knew so many people would be interested in the scarab?
This may be early Wodehouse, but he is already on the top of his game with ready wit and impossible situations. I found myself chuckling throughout the entire piece. The night-time adventure involving Baxter (Lord Emsworth's impeccable secretary), a bottle of wine, a bit of cold tongue and various bits of crockery and furniture is the highlight of the adventure.