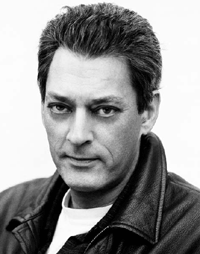 (1947 - )
Paul Auster was born in Newark, New Jersey on February 3rd 1947. His father was a landlord, who owned buildings with his brothers in Jersey City. The family was middle-class and the parents' marriage was not a happy one. Auster grew up in the Newark suburbs of South Orange and Maplewood. He read many books and developed an interest for writing. Auster attended high school in Maplewood, some twenty miles southwest of New York City. After his parents' divorce, during his senior year in high school, his mother moved, with his sister and him, to an apartment in the Weequahic section of Newark. Instead of attending his high-school graduation, Auster headed for Europe. He visited Italy, Spain, Paris and naturally James Joyce's Dublin. He returned to the United States in time to start at Columbia University in the fall. In early 1966 he began his relationship with Lydia Davis. Davis, who is now also a writer. In 1967 Auster again left the US to attend Columbia's Junior Year Abroad in Paris. Auster became disillusioned with the dull existence within the programme and quit college. But he was still reinstated at Columbia when he returned to New York. Auster's undergraduate years at Columbia coincided with a period of social unrest but he didn't participate actively in student politics. He supported himself with a variety of freelance jobs and wrote articles for university magazines. In June of 1969 Auster was granted a B.A. in English and comparative literature. The following year he received his M.A. from Columbia. A high lottery number saved Auster from having to worry about the Vietnam draft and he took a job with the Census Bureau. During this period he also began work on the novels "In the Country of Last Things" and "Moon Palace", which he would not complete until many years later. In February 1971 Auster left once again for Paris. He supported himself there with a variety of odd jobs and minor literary tasks. Auster began translating the works of French writers (including Mallarmé, Sartre, Blanchot) He also worked on several film projects, one of them being in Mexico. In 1973 he moved with Davis to Provence where they became caretakers of a farmhouse. After returning to the US in 1974, Auster has written poems, essays, novels, screenplays and translations. He directed his first motion picture in 1995. He lives in Brooklyn, New York City with his wife and two children.
My selection:
The New York Trilogy : (La Trilogie New Yorkaise) 1987
In these three short novels – City of Glass (Cité de Verre), Ghost (Revenants) and The Locked Room (La Chambre Dérobée) – Auster reinvents the detective story for a new age. Dark, paranoid tales. But who is pursuing whom ?
Moon Palace : 1989
The novel is set in New York in the period 1969-71. It is narrated by Marco Stanley Fogg, who was born the same year as Auster and, like him, is a graduate of Columbia University. While studying at Columbia, Fogg loses the only family he still has, his uncle Victor. After leaving university, he finds himself feeling completely alone and bewildered. He sleeps in Central Park, homeless and unemployed, before taking a job with an eccentric old man called Thomas Effing. Effing sets Fogg a variety of strange tasks and asks him to record the story of his life. He reveals that he was once a painter named Julian Barber who disappeared in 1916 in the Utah desert. Presumed dead, he survived by hiding in a cave and shooting a gang of outlaws, returning to New York with a new identity and the outlaws' fortune. When the old man dies, Fogg sends the autobiography to Solomon Barber, Effing's son whom he never knew. By a remarkable coincidence, Barber turns out to be Fogg's own father, having had a brief relationship with Fogg's mother when she was a student at the university where he taught. The two men grow close and Barber shows Fogg a novel he wrote as a young man, based on the stories he had heard about his father's death. When Barber himself is killed in an accident, Fogg sets out to search for the cave in which Effing claimed to have lived. The search is unsuccessful but, by undertaking it, Fogg achieves a kind of spiritual rebirth. The novel is linked together by a loose chain of lunar imagery (the Moon Palace of the title is a restaurant) and Auster's favourite theme of father-son relationships.
Mr Vertigo: 1994
In Paul Auster's eighth novel, a nine-year-old orphan boy is adopted by Master Yehudi, who promises to make him a millionaire and teach him how to fly. The scene is St. Louis, circa 1926, and the boy is a scrappy orphan named Walter Claireborne Rawley, ward of his crude and cruel uncle Slim. When a mysterious stranger calling himself Master Yehudi asks Slim for the boy, he blithely gives him away. Walt soon finds himself in the middle of Kansas, far from his beloved St. Louis Cardinals and the action of city streets. His seemingly omnipotent master subjects him to a series of hard trials, until, Walt is able to cavort in thin air. In no time, he's Walt the Wonder Boy, wowing audiences all across the country until his evil uncle Slim surfaces, looking for a payoff. Walt is our matter-of-fact narrator, ostensibly writing his memoir decades after these improbable events took place. His rags-to-riches-to-rags-to-riches story is spiked with bits of Americana, bursts of violence, condemnation of racism… This is an extraordinary, exuberant novel that captures the aspirations and excesses of a country ready to soar. I HIGHLY recommend this book.
The Music Of Chance: (La Musique Du Hasard) 1990
Nashe has decided to pursue a 'life of freedom', when he meets Pozzi, an itinerant gambler. Together they go in for an extraordinary game of poker with Flower and Stone, two eccentric recluses living on a vast estate in Pennsylvania. It is a gamble that Nashe and Pozzi will regret for the rest of their lives. The Music of Chance is strange haunting parable. Paul Auster shows extraordinary imagination and power.
The Brooklyn Follies: 2005
Set against the backdrop of the contested US election of 2000, it tells the story of Nathan and Tom, an uncle and nephew double-act. One in remission from lung cancer, divorced, and estranged from his only daughter, the other hiding away from his once-promising academic career, and life in general. I liked The Brooklyn Follies, but not for the same reasons that I liked The New York Trilogy or Moon Palace or The Book of Illusions. It's a gentler novel than any of those, without the hard edge, without the dark, slightly surreal veil. It could be a very good book to start with.