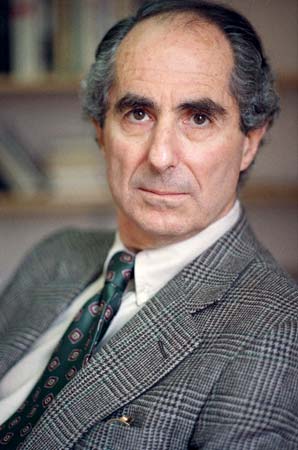 (1933 - )
Philip Roth was born in Newark, New Jersey, on March 19th 1933. Roth grew up with his older brother, Sandy, in a Jewish, middle-class family. He began his literary career in college. He attended Rutgers University before receiving his B.A. at Bucknell and his M.A. from the University of Chicago. Then he served in the U.S. Army from 1955 to 1956, but he was discharged after an injury during his basic training period. Even as a soldier, he continued to write. He has taught English at a number of universities including, most recently, the University of Pennsylvania where he was writer-in-residence for fifteen years. Philip Roth's first book, Goodbye, Columbus and Five Short Stories, was published in 1959 and won the National Book Award for fiction. His last three books have won three major literary awards: Patrimony (1991) was the recipient of the National Book Critics Circle Award, Operation Shylock (1993) of the PEN/Faulkner Award, Sabbath's Theater (1995) of the National Book Award.Philip Roth now lives in Connecticut. In 2005, he became the third living American writer to have his work published in a comprehensive, definitive edition by the Library of America. The last of the eight volumes is scheduled for publication in 2013. Sometimes Roth views his own life as a part of his fiction. He has been married twice. In 1959, Roth married Margaret Martinson. The pair were estranged, but not divorced before her death in a car accident in 1968. He later married actress Claire Bloom. The pair separated around 1993 and divorced two years later. She wrote about their relationship in her memoir, Leaving a Doll's House. He announced that he was retiring from writing in 2012, but it is difficult to believe that this great man of letters will stay away from the printed word forever.
My selection:
Goodbye, Columbus : 1959
It is the title of the first book published by Philip Roth, a collection of six stories. In addition to its title novella, set in New Jersey, Goodbye, Columbus contains the five short stories "The Conversion of the Jews," "Defender of the Faith," "Epstein," "You Can't Tell a Man by the Song He Sings," and "Eli, the Fanatic." Each story deals with the problems and concerns of second and third-generation assimilated American Jews as they leave the ethnic ghettos of their parents and grandparents and go on to college, the white-collar professions, and life in the suburbs.
The book was a critical success for Roth, winning the 1960 National Book Award and earning a name for him as a talented up-and-coming young writer. The book was not without controversy.
The title story of the collection, Goodbye, Columbus, is told from the point of view of the narrator, Neil Klugman. Neil is an intelligent graduate of Rutgers University who works in a low paying position in a library. He lives with his Aunt Gladys and Uncle Max in a working class neighbourhood of Newark. One summer, Neil meets and falls in love with Brenda Patimkin, a student at Radcliffe College who is from a wealthy family living in the affluent suburb of Short Hills. The novella explores the level of classism which afflicts the relationship, despite the fact that Brenda's father, Ben, is from the same environment as Neil. The issue of assimilation is intrinsic to the classism as well, since Brenda is much more assimilated than Neil. The title, Goodbye, Columbus refers to a record Brenda's brother listens to about his years as an athlete at The Ohio State University. As the book proceeds, Neil finds that their relationship is falling apart. It is finally realized that Neil and Brenda's relationship is not based on love but lust. Thus, the title may be seen as a metaphor for Neil saying goodbye to the affluent, assimilated world of the Patimkins. The title story of the novella was made into the 1969 film, Goodbye, Columbus, with Ali MacGraw and Richard Benjamin.
The Human Stain : (La Tache) 2000
It is a novel which is set in late 1990s rural New England. Its first person narrator is 65-year-old author Nathan Zuckerman, a character in previous Roth novels, including American Pastoral (1997) and I Married a Communist (1998); these two books form a loose trilogy with The Human Stain.
The story is set in 1990s America, the time of the culture wars, political correctness and the Bill Clinton-Monica Lewinsky scandal. The story is told by Nathan Zuckerman, a writer who lives a secluded life until Coleman Silk becomes his new neighbour. Silk is a classics professor and dean of faculty at Athena College, a fictional institution in Massachusetts. At 71, Silk falls victim to an unjustified charge of racism against two black students, whom he calls "spooks" (meaning ghosts) because they had never shown up in his seminar: "Do they exist or are they spooks?". This incident leads to Silk's resignation and soon after to the death of his wife Iris. Silk starts an affair with one of the school's janitors, Faunia Farley, a 34 year old illiterate who was married to an alcoholic, drug-addicted, abusive and disturbed Vietnam veteran. Through flashbacks, it is revealed that Coleman Silk has been living a lie for most of his life: he is actually a black man but has been passing as white and Jewish. The Human Stain was a national bestseller and was made into a film of the same name in 2003 starring Anthony Hopkins and Nicole Kidman.
Indignation : 2008
Set in America in 1951, the second year of the Korean War, Indignation is narrated by Marcus Messner, a Jewish college student from Newark, New Jersey, who describes his sophomore year at Winesburg College in Ohio. Marcus transfers to Winesburg from Robert Treat College in Newark to escape his father, a kosher butcher, who appears to have become consumed with fear about the dangers of adult life, the world, and the uncertainty that awaits his son.
At Winesburg College, Marcus becomes infatuated with a fellow student, Olivia Hutton, a survivor of a suicide attempt. The sexually inexperienced Marcus is bewildered when Olivia performs fellatio on him during their one and only date. Marcus' mother objects to his dating someone who attempted suicide and makes him vow to end their relationship.
Marcus has an adversarial relationship with the dean of men, Hawes Caudwell. In a meeting in Dean Caudwell's office, Marcus objects to the chapel attendance requirement on the grounds that he is an atheist. In this meeting, he quotes extensively from Bertrand Russell's essay "Why I Am Not a Christian". Later, the dean finds Marcus guilty of hiring another student to attend chapel in his place; when Marcus refuses to attend double the amount of chapel services as punishment, the dean expels him. His expulsion allows the U.S. Army to draft him and send him to fight in Korea where he is killed in combat. Early in the novel, Marcus explains that he is dead and telling his story from the afterlife; later it is revealed that he is unconscious from his combat wounds and the morphine that has been administered.
The backdrop of Winesburg is an homage to Sherwood Anderson's book Winesburg, Ohio.